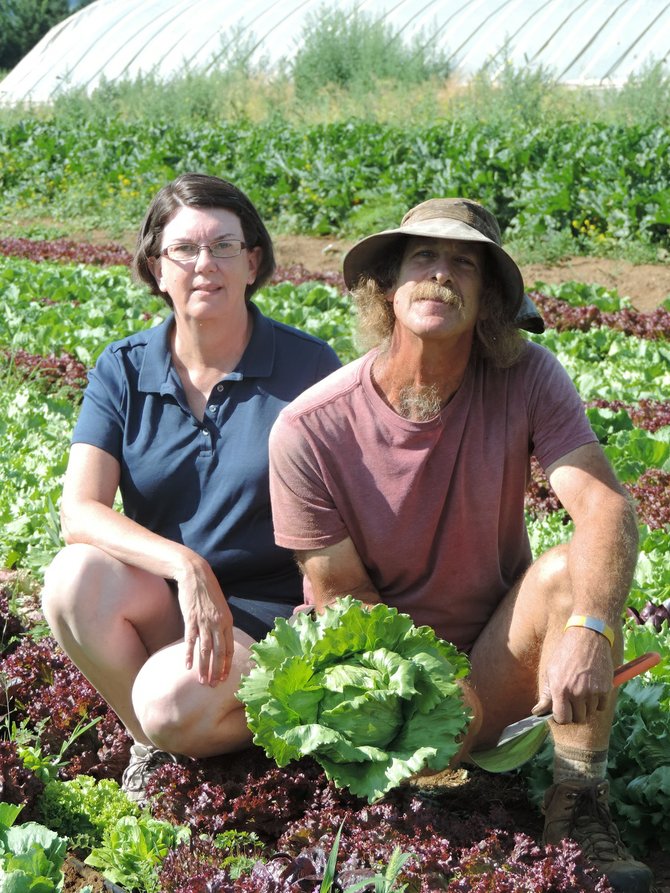 Ronny and Ellen Tannenbaum have only been farming in the Hood River Valley for a couple of years, but their farm, Nature's Finest, is quickly gaining a following.
The Tannenbaums have roughly 20 acres in production just off Dee Highway, north of Parkdale, and grow more than 15 kinds of vegetables, pumpkins and winter squash. Popular items this year have been early zucchini, sugar snap peas, lettuce, new potatoes, cucumbers and orange and purple cauliflower, but they're perhaps best known for their sweet corn and pumpkins.
"Most people remember our pumpkins because they were the featured ones piled in front of Rosauers last year," said Ellen. "Others know us by our corn from the Thursday Market and roadside sales on Tucker Road late last summer."
The Tannenbaums sell produce under the Nature's Finest banner at the Hood River Farmers' Market on Thursdays at Hood River Middle School, and on Saturdays at El Mercado del Valle in Odell in Mid Valley Elementary School's covered play area. They additionally sell produce at valley farm stands and to restaurants (Riverside Grill, Celilo), and can be found on Food Hub (food-hub.org), a website linking professional food buyers, wholesale producers, distributors and industry suppliers.
This past year, they provided several different items for Tasting Tables, an Oregon State University Extension Service program that brought seasonal, local fruits and vegetables to Parkdale, Mid Valley and Cascade Locks elementary schools as part of the Food Hero program.
"Some of the kids may remember our purple cauliflower and orange cauliflower," said Ellen.
The farm is not organic, but, as Ellen explained, "We have found that the need for chemical input is minimal here."
They decided to farm conventionally because "it would have taken three or four years to get the farm certified as organic, and in the meantime, we would have had to deal with pest and weed problems organically, without being able to sell our product as organic. The potential lost production and added effort did not pencil out for this operation."
The farm is a family endeavor. In addition to themselves, they employ an average of six during the growing season.
"Ronny does as much of the work himself as he can," said Ellen. "I handle the office work, marketing and smaller local deliveries."
Nature's Finest isn't the Tannenbaums' first farm. Ronny grew up in California; Ellen in Texas. It was Ronny who got them into farming.
"Ronny started out working in greenhouse production, helping his family with some small-scale operations," about 30 years ago, Ellen explained, "and then moved into larger-scale plant propagation businesses."
Twenty years ago, the Tannenbaums started a citrus orchard in the San Joaquin Valley. They also grew vegetables and melons.
"We knew we wanted to eventually relocate out of Central California, and began searching for an area that provided a good farming environment and access to mountains for hiking and skiing," said Ellen. "We have other close family members who live in Oregon, which helped narrow down the search.
"We visited Hood River about five years ago and decided it was the best match for all we were looking for."
They moved to the valley in December 2012, and by January 2013, they had started Nature's Finest.
"We were drawn here by the beautiful scenery, excellent farm land, and the growing support for smaller family farms. We are finding the valley to be a great fit for us and look forward to contributing to the local food system for many years," the couple states on their website naturesfinestfarm.com. "We chose to name our new farm 'Nature's Finest' to reflect our intent to deliver the very best produce that our customers deserve."
Learning how to work with the farm's local microclimate in the valley has been a challenge, as has finding customers for the wholesale volume of their production, Ellen said. But there are perks, too—being self-employed, working outside all day and receiving positive feedback from local customers.
Days are busy during the growing season. In the early morning, there are plants to harvest and transplant, and irrigation lines to set. The rest of the day involves starting new transplants in the greenhouse, weeding and more harvesting, making deliveries, irrigation management, checking on the status of growing crops, managing fertilizer and chemical applications and evaluating the next day's work needs. And then there's whatever maintenance issues that come up.
Evenings are devoted to paperwork, research, scheduling workers and planning for the next day.
Things might be quieter during the off-season, but there is still work to be done, from planning for the coming year "based on input from our customers," said Ellen, to maintaining and repairing equipment.
As far as the future goes, the Tannenbaums are "looking forward to continuing a positive working relationship with our current customers and adding more customers as we become more established," Ellen said. "We are large enough to provide the finest vegetables at an attractive price while remaining small enough to be flexible based on client preferences."