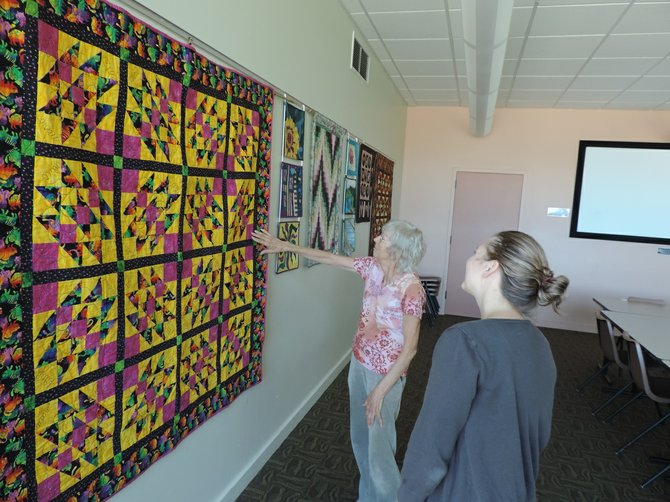 This 90-degree weather doesn't exactly say "warm blankets," but in fact August is the month to wrap yourself in quilting.
Three different events and displays celebrate the art of quilting at locations around Hood River.
The annual Columbia Gorge Quilters Guild Show returns to Hood River Aug. 14-16, from 10 a.m. to 5 p.m., at the Hood River Middle School, but before that you can find two other quilting displays.
Every Thread Counts (ETC) has announced that Helping Hands Against Violence in Hood River will be the recipient for the proceeds from its handmade annual Harvest Festival Quilt, a venerable Gorge tradition. The quilt will be on display at Columbia Center for the Arts from July 30 through Aug. 13.
Hood River Library presents a display of quilts from last year's Quilters' Guild Show, as a kind of preview of the Guild show at Hood River Middle School. View the works of Elizabeth Garber, Gayle Jacobson, Kathleen Roulet, and Kay Skov.
The library is promoting the Guild show, which this year features "Cover to Cover" groups, in which quilters use books as inspirations for quilts. The highlight of the Quilters Guild show will be a lecture and quilt presentations by Cover to Cover Book Club Quilters. For more information, visit the display at the library or www.gorgequilt-ersguild.org.
This display is free and open to the public for viewing during regular library hours. For more information, please contact the Hood River County Library District at 541-386-2535, info@hoodriverlibrary.org, or visit their website at http://hoodriverlibrary.org.
With August the Harvest Quilt tradition cycles back into view.
Have quilt will travel
Raffle tickets will be for sale for the Harvest Fest Quilt for the next few months. The quilt will be on display at the following locations.
Aug. 17-26 — ETC
Aug. 27-Sept. 2 — HR Sew and Vac
Sept. 3-16 — Shortt Supply
Sept. 17-Oct 2 — Twiggs
Oct. 3-5 — Rosauers
Oct. 8-14 — Waucoma Book Store
Oct. 17-19 — Harvest Fest
Raffle tickets will be drawn on Oct. 19 at the Hood River Harvest Festival. All proceeds from the quilt will go to Helping Hands Against Violence.
"The Harvest Festival Quilt has been a longstanding Hood River tradition for the past at least 30 years," said Tammie Erkert of ETC, Hood River's fabric store. "It's truly a community effort. Early each year, ETC creates the block fabric kit and guidelines. Local crafters make as many blocks as they want; however, each person may only submit two of them for the community quilt. The blocks are voted on at the Blossom Festival Quilt Show in April. The 30 winning squares get assembled by Elaine Kirby and quilted by Janine Scott into the final work of art."
This year, all proceeds will go to support the work of Helping Hands Against Violence, Inc. For the past 36 years, Helping Hands has been providing services to victims of abuse and their children. They offer 24-hour crisis intervention, emergency shelter, emergency subsistence assistance, transitional housing, medical and legal advocacy, and prevention education. Visitors will be able to see the quilt and purchase raffle tickets at various shops throughout Hood River (the quilt's traveling itinerary is attached) this summer, with a final display (and drawing) at Harvest Festival.
For more information about Helping Hands or this summer's quilt itinerary, contact Stephanie Irving at 541-386-4808 or www.helping-handsoregon.com.