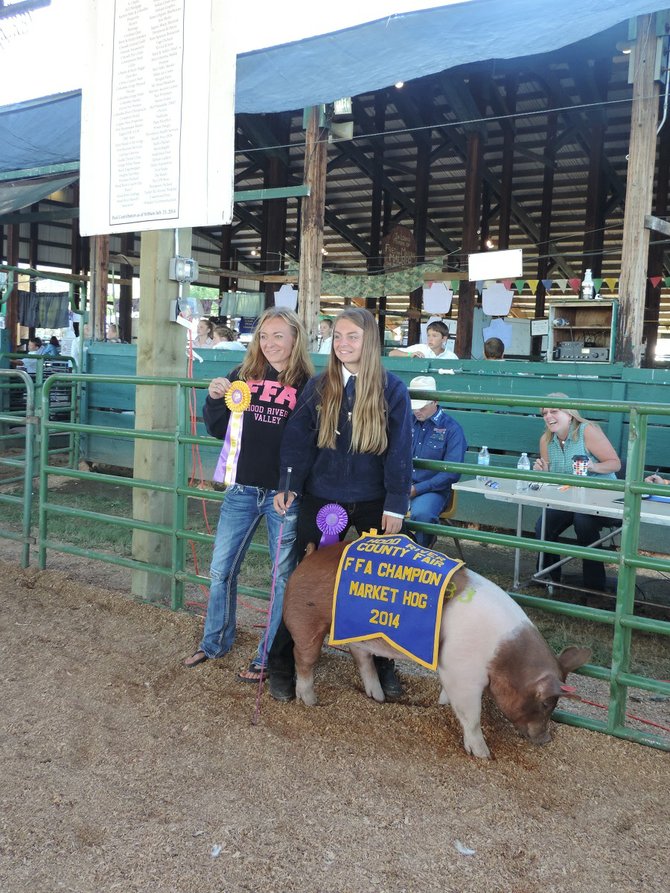 It's a community gathering like no other.
The annual 4-H/FFA Livestock Auction, held this year on July 25, brings out the best of the fair.
It's a bittersweet event in a lot of ways: you can see on the faces of the youth that they have mixed feelings about selling off their animals, which will go to market or somewhere else for breeding stock, or perhaps to another farm. Of course, some animals come back to the owner's farm, but often for just one more year in feeder class, with market auction the known fate for next year. Auction proceeds cover the youngsters' expenses, help them invest in next year's stock, and perhaps generate profits for the young agriculturalists.
But there is pride and a little fatigue on the youths' faces, too. It's been an intense fair, and a long year, and they have worked hard to get their hogs, goats and sheep to the shape they are now. This is their moment in the ring, with all eyes upon them.
It all happens under the cool tent of the Ralph Kirby Arena, this year with a newly-installed brushed metal sign gleaming in the setting sun. The auction always runs well into the night, so this year the starting time was moved up one hour to 4:30.
Tony White of Hood River said he and a group of contributors successfully bid on the first animal of the day, the Grand Champion steer raised by Jenny Packer of Odell.
In the six o'clock hour the hogs take the stage.
"$2.40? $2.40!?" booms caller Nick Nelson of Pendleton. "Now 50? $2.50! Now 60?" Nelson works the tent.
"I don't know if you folks noticed, but pork is up by 13 percent!" Nelson points out.
Spotters Don Schmidt, Torey Schmidt and Brent Ocheskey keep a sharp eye on things. The winning bid was $3.30 in this case.
Bidding and/or watching were folks including the father-daughter bidding team of Lyle and Katrina McAlexander of Parkdale's Mt. View Orchards, and David Griffith, who's also been the caller in the ring.
"Some guys golf, some guys fish, I do auctions," joked Griffith of Griffith Motors in The Dalles. "I do wish I was out there," he said. Griffith bought a sheep earlier and was looking to make one more purchase, as he spreads his auction budget to five counties.
Greg Simpson of Hood River Fire Department stood at about 7:30 and walked around a bit, after participating in the bidding for a while.
"When I sat down those seats were pine, now it's oak," he joked.
Edgar de la Cruz, an Oregon State University sophomore who was a familiar face in FFA for years, has been helping this year's participants. "There's a lot to know about moving the animals around at auction. You have to teach them they can't get their own way, but you have to bond with them. It's a fun challenge," de la Cruz said.
Front row auction seats go to four people: Nancy Lunt, Kim Cantrell, Damon Hulit, and Roberta Hulit. They were this year's pool auction team. Dozens of community groups and individuals donate money to a pool to help stimulate bidding and to make sure each animal gets a fair return in case bidding lulls on that entry. The pool auction team is drawn from community volunteers and auction committee members, and the team gets to spend that money.
But not all in one place.