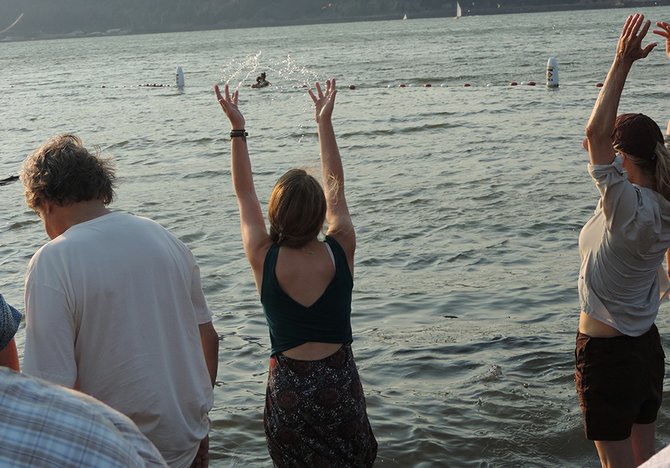 The 50 people gathered Monday for the health of the Columbia River invoked the names of many rivers and waterways where they had lived or had seen human impacts: the Pacific Ocean and Great Lakes, San Francisco Bay, Gulf of Mexico, Chesapeake Bay, Columbia, Willamette, Mississippi, Colorado, Merced, Potomac, Thames, James, Shannon, and the Mekong.
Monday's interfaith vigil, one of 16 this month along the Columbia, included a Christian prayer, Crow Indian dance, and finally a harmonica version of the folk song "Shenandoah," by Patrick Rawson, as the participants stood on the Waterfront Park beach or in the lapping waves and threw handfuls of the water into the air.
"It's good to have a ritual that connects what we have and a thoughtful way of how we can help," said Karen Harding of Mt. Hood. "I honor the mighty Columbia. She is a working river. She's been a working river for a long time."
Emily Long of the organizing group Columbia Riverkeeper welcomed the group as they gathered in the lee of a picnic shelter at Waterfront Park. She organized the vigil along with Robbie Lapp of Parkdale and Adam Wicks-Arshack of Portland. Wicks-Arshack last year paddled the length of the river and is now working with "a diverse group of people of faiths to bring positive energy to the river to help enact change.
"It's a call to modernize the Columbia River Treaty" (see sidebar). The vigil follows similar ones starting in Astoria at the mouth of the river, Longview, and Portland. Others are planned at points between here and Canal Plains, B.C.
"People are taking it upon themselves to do these vigils," said Wicks-Arshack. "Local organizers are working within communities to make it happen, and it involves tribes, NGOs, and politicians. People are coming to the river along commonalities, one of those is to bring salmon over the Grand Coulee Dam. People are coming together for something positive, coming around what we want to see. It evokes the spiritual and emotional story line along the river, and it sort of connects people to the river."
Among those at the vigil was Lauren Purdy, community organizer for League of Oregon League of Conservation Voters (www.olcv.org) which works "to hold election officials accountable for the way they vote." She arrived a month ago, and is setting up an office in Hood River,
Participants spoke of their reasons for attending, and generally expressed sentiments about the health and supply of water everywhere.
"We don't live very long without water," said Keith Harding, who with his wife, Karen, runs a pre-school from their home. He said they use irrigation water for outside play, "but now and again I have to remind the kids not to drink the water. It's coming off the mountain but it's coming through orchards and that's nothing compared to what this major water source the Columbia comes through."
Penny Hunting said she "has always lived near water," and is now learning to windsurf.
"I feel very concerned, but also I find myself taking it for granted and I feel like it's important" to be involved, Hunting said.
"I stand by the river with a lot of mixed emotions, both celebrating and lamenting," said John Boonstra of Hood River. His wife, Rev. Vicki Stifter, is currently on sabbatical from Riverside Community Church, focusing on the spirituality of rivers. "I'm afraid of this river," Stifter said, because of pollution. "I don't want to let my child to go into the water," said Stifter, who at the end of the vigil waded and splashed in the river with her daughter, Everly, 6.
Julie Anderson, who worked with the Parks Services service in North Cascade, worked with geoglaciolgist there, and grew concerned about glaciers receding. "I am honored to be bonding with you here in stewardship and caring of the river for future generations," Anderson said.
Wicks-Arshack had touched literally every mile of the Columbia, from Astoria to the headwaters in British Columbia. A year ago, he was in Hood River, on his way east on the Sea to Source paddle journey with three other people.
"I really care about this river and I really feel connected to it," he said. "We went ocean to source, stroke by stroke, upriver. I felt connected to the salmon. When the salmon finish their journey, they are beat up and bruised, and smelly, and that was happening to us. By the time we got to Canada, we were all beat up and smelly. The fish make it, but can only make it if people help, and people helped us, and I want to help fish make it over the Grand Coulee Dam and into Canada."
"We're still in the beginning," he said. "It's neat to see new people hearing about it."