Pastor Dean Kelly Jr. is the new pastor at Tucker Road Baptist Church, 1455 Tucker Road, succeeding Rev. Joe Gonzalez.
Aug. 3 was Kelly's first worship with his new congregation.
Kelly grew up in Woodbridge, Va., a small rural community about 20 miles south of Washington D.C.
"It was a great place to live, plenty of wide open spaces to run and play," Kelly said." When I was 15 our family moved to Kailua, Oahu, Hawaii. The move was just for two years, but we fell in love with Hawaii and stayed for twenty six years."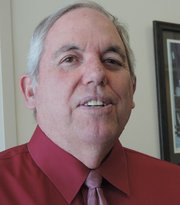 Kelly graduated from Kailua High School, attended the University of Hawaii, started a painting business, and started coaching Little League Baseball.
"I really loved coaching and in 1982 won the state championship." (Kelly also developed a love of surfing while living in Hawaii.)
"During this time I started attending First Baptist Church of Waimanalo, pastored by Rev. Robert Nagamine. It was here that I received my call into full time ministry. I attended Washington Bible College in Lanham, Md., and graduated in 1989 with a double major in Bible and a minor in missions.
In 1990 after living in Hawaii for 26 years Kelly moved to Vancouver, Wash., joining Trinity Baptist Church and serving there for 15 years.
"While serving at Trinity Baptist I felt the need to further my education and graduated from Golden Gate Baptist Seminary in 2003 with a master of divinity degree," Kelly said.