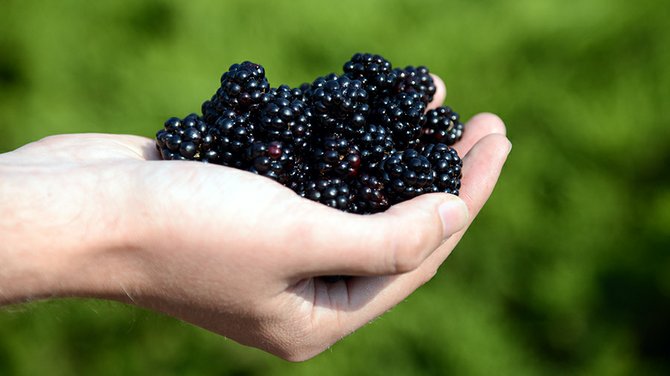 Thinking of a blackberry binge?
Rubus fruticosus are free, prodigious, and nutritious, and now is the time to go get them.
The berries have basked in this hot, muggy summer, and the fruit that's left is as juicy as it is sweet.
You can pick them yourself, and on this page are plenty of ideas for relatively pain-free harvesting.
Or, find them at a market or fruit stand; offerings vary from locally-harvested berries to cultivated ones from Western Oregon – all are tasty.
Blackberries are delicious, nutritious, and as versatile as they are prolific. A local chef, baker and fruit stand owner give their ideas on best use of blackberries.
Bake them, freeze them, use them in smoothies or juice them, or make jam or sorbet, as Ben Mitchell suggests.
Looking for summer splendor? Try a breakfast of fresh berries on your cereal –- and save some for that vanilla ice cream that night.
Berries still warm in the bowl (and other tasty culinary ideas)
By TRISHA WALKER
News staff writer
I'll admit I never foraged for wild blackberries before this weekend. My grandparents have a huge patch in their backyard, and getting vacuum-sealed bags of frozen berries was something I took for granted. Now that my grandparents are in their 90s, they're not picking berries anymore, so it was up to me to procure my own share this year.
Once I had my berries (and apparently blackberry pickers do not divulge the whereabouts of their patches, ever, so I'm not going to, either), I made a batch of blackberry jam… and then I was out of ideas, with a huge bowlful just screaming to be used.
As luck would have it, blackberry pickers love to talk about all the different ways to use their foraged treasures. Some have one go-to recipe; others have several. Almost everyone likes to stock their freezer, since blackberries keep so well. For those also looking for inspiration, here's what a few area food businesses are doing with their blackberries:
On the Heights at Pine Street Bakery, owners Megan Davis and Clint Harris use blackberries "almost daily when in season, in muffins, coffee cake and laminated dough handpies (kind of like turnovers)," said Harris. "We use seasonal fruit as a rule, but blackberries don't qualify since they freeze so well and generally behave better when used frozen."
Sorbet: A simple, refreshing summertime treat
I love fresh blackberries on cereal, on ice cream, in a fruit salad, or just by themselves, but they're not the hardiest fruit. The fresh berries are easily squashed and after a couple days in the fridge, one berry invariably sprouts molds and if gone unnoticed or unattended, will eventually ruin the rest.
This recipe for blackberry sorbet — a refreshing, fairly healthy summertime dessert — addresses both issues. It provides a home for any mushy berries you may have and eliminates the issue of mold formation since the dessert is frozen.
My girlfriend, Jennifer, uses this recipe for sorbet, which she modified from a recipe for strawberry sorbet that appeared in the July/August 2013 edition of Eating Well magazine. Other than the freezing, this dessert doesn't take much time to prepare, nor does it call for an exotic ingredient you're only going to use one time, although vanilla extract isn't exactly cheap. Sorbet is nice and light, making it a great dessert to have when it's a real scorcher outside.
Blackberry sorbet:
6 cups fresh blackberries
½ cup water
½ cup sugar
1 tablespoon lime juice (preferably fresh-squeezed)
2 teaspoons vanilla extract
Puree berries in a food processor or blender until smooth.
Combine water, lime juice, vanilla extract and sugar in a saucepan. Place over medium heat until sugar dissolves.
Take the syrup off the burner and stir it into the blackberry puree, or pour both into a bowl and stir. Then, take the mixture and pour into a metal cake pan and place in the freezer until the mixture has frozen solid — about 6 hours. If you're real desperate and don't mind some extra dishes, you can use ice cube trays as your freezing container.
After the sorbet mixture has frozen solid, take the pan out of the freezer and break the sorbet into chunks — a metal spoon usually does the trick. Pour the chunks into your blender or food processor and mix until smooth. Serve, eat, and repeat until gone.
This recipe will make about 3 ½ cups of sorbet. Put any leftovers back into the freezer, but make sure the next time you take it out you give the sorbet a few minutes to soften before serving.
—Ben Mitchell
A few steps from Pine Street Bakery is the Farm Stand organic market. Owner Rob Wright said he generally gets his blackberries from foragers, but not many have come in this year with their wares. The stand does, however, carry a blackberry honey from Oregon Growers and Shippers, and he's hoping that they will start seeing berries come in soon, too.
Wright enjoys foraging for blackberries, huckleberries and mushrooms ("foraging food in our forests gets you right back to the caveman," he said). His wife and shop co-owner, Elaina Wright, makes a blackberry crisp with what he brings in — that's his favorite, and that's really all he needs.
Lisa Perry of Cody Orchards prefers wild blackberries because they remind her of summers spent with her grandparents, but carries Wellington and Surveyor blackberries from Winters Farm in Troutdale at the family farm stand located in Odell. "They were developed to hold up for picking, whereas wild blackberries are soft," said Perry.
Whether wild or cultivated, Perry likes to "throw them in a cobbler, because nothing says summertime like a blackberry cobbler." She also likes to freeze blackberries and use them in winter baking projects.
Downtown at Celilo Restaurant and Bar, chef Ben Stenn features blackberries "primarily with our sweets," he said. This means blackberry sorbet and blackberry sauces to drizzle over vanilla ice cream or blackberry tarts. He also makes a fruit preserve to accompany assorted meats and cheeses because "I like to serve salty and sweet things together," Stenn said. "It's a great combination."
Celilo gets its blackberries from foragers, he said, noting that while he has a network of foragers, sometimes daughters Josephine and Isis Stenn will go out and pick for him as well.
Stenn's favorite way to eat blackberries are as quickly as he can pull them from the vine, he said. The family has friends who live just off Markham Road — "it's a good hot ripening spot with easy access," he said — where they pick their berries. "The Stenn family are pie makers, and my wife (Carol Adams) was just saying that summer isn't complete without a blackberry pie," he said. He describes picking blackberries and rushing home to bake a pie while the berries are still warm in the bowl.
All this research has convinced me of one thing: I'm going to need a lot more blackberries.
Bucket list: a guide to the prickly, delicious art of blackberry picking
By KIRBY NEUMANN-REA
News editor
My parents taught me to pick blackberries long before I could spell the word seed.
Most years since, and especially while living in blackberry-laden Hood River, I have honed my skills in the noble joust with the prickly vines and tendrils of the fruitful blackberry bramble.
My childhood home had a patch the size of small house out back, and after harvesting all those berries we would accompany my dad to roadside patches, filling up buckets of berries for my mom to turn into pies, cobblers, and jam or jelly.
So if blackberry picking is new to you, or you are considering getting back in the game what with all those berries you see all over the place, here are a few recommendations from a seasoned picker.
I admit it is not always easy, but it is always worth it, and there is that thrill of the hunt quality. The blackberry picker knows that dessert awaits that night, or jam or smoothie ingredients in February.
It's not hard to get a pint or two without getting poked, but if you want to wade farther in, wear long pants and sleeves and try a few of my techniques:
RULE THE VINES
Rather than trying to pinch the stalk between sharp thorns (though sometimes you have to in order to get to the goods) move them by grabbing the leaves, or if an unripe berry is handy, use that. These immature berries withstand removal and you can use them to guide the thorns out of harm's way. One of the ironic and advantageous things about the thorns is you can hook them to other vines to keep them clear.
GET IN TOUCH
More than any berry picking, blackberries require a discerning touch. Think of the Goldilocks approach: this one's too firm, this one's too soft, this one's just right.
Of course, the over-ripe one you know right away: it has turned to jam on the vine and you drop it and move on.
With a little practice, you can do a split-second tactile assessment of each berry. Just right …
After years of doing this, I'm up to the point where I can pull off cluster-picking, a la blueberries. Not often, for blackberries are like snowflakes in a way — no two alike — but it's fun when you find four or five prime berries that all come off together.
Fingerless gloves are another idea: this reduces back-of-the-hand scratches but keeps your fingers free for the delicate part.
HIGH AND LOW
One of the benefits of picking blackberries is that you can fill a bucket without ever bending over: many berries are 3-5 feet off the ground.
However, look beneath; it's my observation that many of the largest, ripest berries are on the interior of the bush, often low to the ground, and paradoxically in the shade.
EQUIPMENT
Three ideas for tools to take along:
Clippers or loppers, to either clear a path or to grab a fruitful stalk.
Loppers, especially the straight-blade kind, are remarkably adept at either cutting vines or gripping them. Reach out, get a hold with the tip, and bring it toward you.
(A three-foot stick with a hook on the end is a simple alternative.)
A stepladder: many berries you will find tantalizingly high off the ground, and the ladder can also be used to lie flat to do the same purpose as …
Wooden planks, for the adventurous picker: Take a couple of firm foot-wide boards, and use them to walk on and get to hard-to-reach berries. Take two (works for a duo or solo) and ferry the boards along as you go.
Buckets: take large ones for general collection, but use smaller plastic vessels to fill incrementally, so you don't have to schlep the bucket into the brambles and risk spilling everything.
(The old technique of hanging a bucket from your belt for two-handed picking works well with domesticated, thorn-free fruit such as raspberries and blueberries, but less effectively when going torso-first against wild brambles.)
FACTS AND LORE
Devoted blackberry pickers are a little like fishing folk: Please don't ask us to divulge prime patches and favorite fishing holes. Yes, they grow everywhere, but each patch is unique and some are better than others for footing, ease of approach, and lack of road dust.
A reliable recipe for blackberry wine: four quarts fruit, three quarts water, two cups of sugar.
If you live with someone who smokes, eat blackberries. They are high in ellagic acid, which is an antioxidant that acts as a scavenger to help make potential cancer-causing chemicals inactive. Ellagic acid reduced the genetic damage caused by carcinogens like tobacco smoke and air pollution. They also contain other antioxidants that help lower cholesterol and ward off cardiovascular disease.
Blackberries are also known as dewberries.
Worldwide, there are more than 2,000 varieties of blackberries.
In the U.S. Oregon is the leading commercial blackberry producer, at 53.5 million pounds in 2011.
"Himalayan blackberry control is a major problem," says OSU Extension Service. Himalayans make up most of what you see in Hood River County.
"Himalayan blackberry (Rusu armeniacus) is a European shrub that was introduced in the United States as a crop in the late 19th century. It escaped cultivation and has since invaded a variety of sites, including low-elevation streamside areas through the Northwest.

"Listed as a noxious weed in Oregon, Himalayan blackberry rapidly occupied disturbed areas, is very difficult to eradicate once establishes, and tends to out-compete native streamside vegetation."
That said, a plump Himalayan picked at its peak is in a class by itself: a round, rich flavor distinct from the smaller, perfumey trailing blackberry — also a unique treat. Smaller still, black caps are good for browsing while hiking, but too inconsistent to warrant the time it takes to pick them.