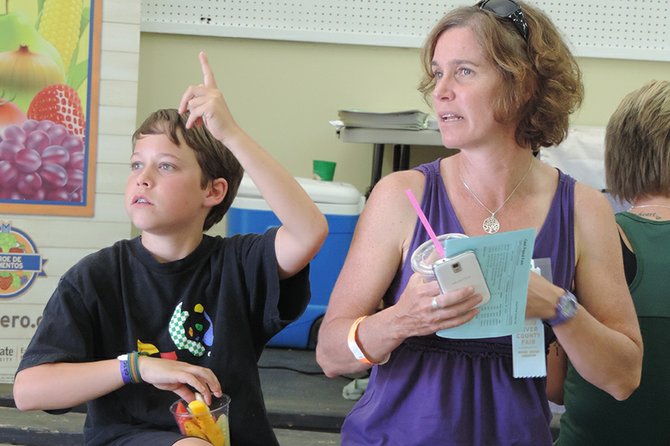 The best fruit in the fair is not available to eat.
The pears, apples, peaches and berries in the Community Building are for display purposes only.
But there was fruit to be found, be it chunks of strawberries in the St. Mary's Catholic Church agua frescas, or the fruit cups from the Raven's Nest booth on the midway.
"We got the good stuff out there," said Jackson Roof, 12, of Hood River, who shared a fruit cup of watermelon, pineapple and papaya with his mom, Laurel. "They put chili and lime on it – very tasty," said Laurel, who was serving a Saturday afternoon shift as hostess in the 4-H Summit building.
Fittingly, they sat on benches in front of the OSU Extension area where fresh fruit smoothies were sampled daily and information was offered on healthy food choices emphasizing fruits and vegetables.
Laurel and Jackson were surrounded by canned fruit, baked goods, textiles, educational displays and art work made by 4-H youth, and the Summit building served as a cool option to the 80-degree weather outside. Summit is a good choice on a hot day, thanks in large part to the mist machines next to the east doorway.
Keep it in mind for 2015; the building provides plenty to look at and appreciate while providing a respite from the heat. (Another unheralded cool place county fair is the park stage area, where a variety of large trees with thick canopies provide plenty of shade to go with the entertainment; it's next to the main entrance on Wy'east Road.)