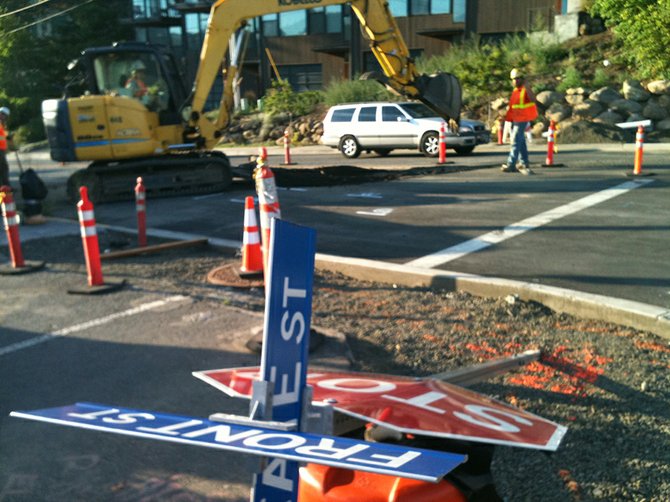 Paving and excavation work in Hood River and Odell happen in the next two weeks.
Paving in Odell and utility work in Hood River will cause delays all week on two of the county's busiest thoroughfares and one of the Heights' busiest intersections.
Odell Highway
All 3.5 miles of Oregon Highway 282, aka Odell Highway, will see single lane closures next week for a paving project, officials from Oregon Department of Transportation announced.
The closures will take place in the work zones, 6 a.m. to 4:30 p.m., starting Monday Aug. 4 through Friday Aug. 8, as crews pave the entire highway. Pilot cars and flaggers will control traffic through the work zones.
Variable message signs have been deployed to notify travelers in advance of the closures.
Highway 282 stretches on the north from its intersection with Dee Highway, aka Highway 281 (near Tucker Bridge) to Oregon Highway 35 just east of Odell.
State Street
As part of the ongoing State Street Urban Renewal project, Crestline Construction will begin excavation to extend underground utilities from Front and State Street East to the intersection of East Second and State streets.
Excavation will begin Monday, Aug. 4 for approximately a week. Traffic on State Street through this work zone will be limited to one lane. Traffic control flaggers will work to ensure safe passage. Traffic can expect delays of 10 to 15 minutes.
12th and May streets
As part of the Indian Creek Pump Station project, the northeast leg of the intersection of 12th and May Street will be closed to all traffic starting Monday, Aug. 11 through Friday, Aug. 15 from 7 a.m. to 7 p.m.
This is a repeat of the same closure schedule at 12th and May on July 27-28.
Northbound traffic will be detoured to 13th Street at May Street and southbound traffic will be diverted at Prospect. Access to Providence Hospital's main entrance will be open at all times.
Drivers can expect delays in these areas as the work progresses. If you have any questions or concerns, please contact Rick Peargin at 541-387-5220.