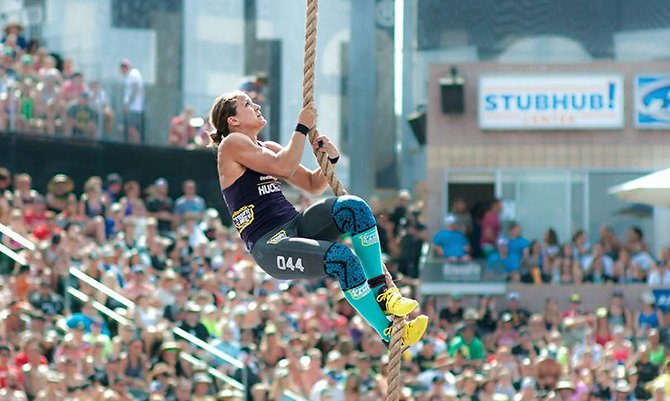 Christine Wells and Regan Huckaby can grant themselves a much-deserved break from training for the rest of summer, although neither is likely to do so.

The two local athletes represented CrossFit Hood River two weeks ago in Carson, Calif., at the 2014 CrossFit Games. The globally-televised event, considered the world championships of the sport, tests athletes with a wide range of demanding and unpredictable physical tasks, with the goal of "finding the fittest on Earth."
Competing in the women's open division, Huckaby qualified for the Games by finishing second in the Northwest regional contest. After seven grueling events over three days of competition in the hot California sun, Huckaby finished a solid 30th in the field and posted top-ten results in two of the seven events.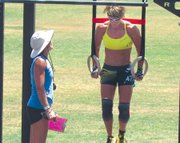 Wells, who competed in the women's 45-49 masters division, finished 10th overall, an outstanding accomplishment considering she entered the contest as an alternate after finishing 21st in the regional qualifier (the top 20 qualified automatically).
Both ladies trained extensively for the last several months through CFHR's West Cascade Ave. facility and are the first two athletes from Hood River to qualify for the Games. Part of what makes the Games so challenging is that competitors don't know what tasks they'll be challenged with, so they have to train for everything.
"CrossFit's aim is to find the fittest on Earth, and that requires athletes to excel at everything: running, weight lifting, gymnastics, speed, power, agility and the unknown," Wells explained. "In training you prepare for everything … You go in there every day, not knowing what the workouts are. They can be long, they can be short … it's all in an effort to test athletes across all types of constantly varied and functional movements."
For Wells, the Masters contest started with four events on the first day; Max rep. dead lift, max distance handstand walk, fastest 75 pound sled push for 100 yards and five rounds of two legless rope climbs, followed by 400 meter runs. She finished 17th, 3rd, 18th and 2nd in each event, respectively.
For Huckaby, the contest started with a giant curveball. The first event, simply called The Beach, was a workout that included three open ocean swims, with kettle bells, burpees and thrusters between each.
"That was definitely the scariest event for me," she said. "I've never done a swim in the open ocean before; it definitely took a mental toll. That's the way CrossFit works. You have to be ready for the unknown; you have to be well-rounded and ready for whatever they throw at you."
Huckaby was 34th in the first event and 24th in the second – an overhead squat, which she completed at 215 pounds – to finish the first day of competition.
"There were ups and downs for me, especially after that first event," she said. "But the whole experience is just amazing. Being there, surrounded by some seriously talented women, was pretty inspiring. My goal was to come out having enjoyed the experience and complete every workout, and I definitely achieved that. To finish in the top 30 in the world is just icing on the cake."
For Wells, finishing 10th in the world came as something of a shock.
"I was just so happy to have made it to the Cross Fit games, so then to actually come through with a Top 10 finish was an incredible reward," she said. "I learned a lot this is a big stage. There are a lot of distractions; there are TV cameras aimed at you, crowds and lots of other activities going on. All the distractions adds the extra challenge of staying focused on what you have to do."
Wells' best results came in the first day, when she finished third in the Max Distance – walking on hands as long as possible — and second in Run Rope – five rounds of two legless rope climbs followed by a 400 meter run.
"By the end of the day, I was in 6th place — not bad for being an alternate," she said.
For both ladies, the thrill of competing on such an elite stage is something they'll never forget, and something, they say, they would do again if given the chance.
"On a personal level, everyone keeps asking me how it feels to be the10th fittest athlete in the world in my age category," Wells said. "It's tough to find a word, other than incredible, and that I can't wait until next year."
Huckaby answers the "what's next" question with a laugh. "I'll answer that in about a month, after I recover. But at this point, I could definitely see myself doing it again, if I can get that far."
To get as far as they did, the two dedicated an enormous amount of time and energy to training – often multiple times a day, multiple days a week, and in addition to the personal grit and determination to succeed, they both acknowledge the help of their friends and family as an important factor in their success.
"I couldn't be more grateful for the support system that had been behind me this last year," Huckaby said. "Thank you to my wonderful husband, Curtis, for being my biggest supporter and making many selfless sacrifices so I could pursue my goals. Thank you to my family and friends who have followed me and helped me on this journey, especially my in-laws Brian and Jeanie Watts, who have put countless hours of watching our children to make training possible. CrossFit Hood River is the greatest gym I could ask for to help me follow my dreams; thank you all for believing in me and making this dream a reality."
Wells' offered similar sentiments. "I'm so appreciative and blessed for my family and friends and all those who supported me, Jeri McMaster (CFHR owner) for being flexible and allowing me extra time to train, Karen McCadam for coaching me through all the highs and lows of competition, and the CrossFit community in Hood River, who blew-up my phone with praise and support. That in itself was worth every bit of pain and sacrifice I endured."