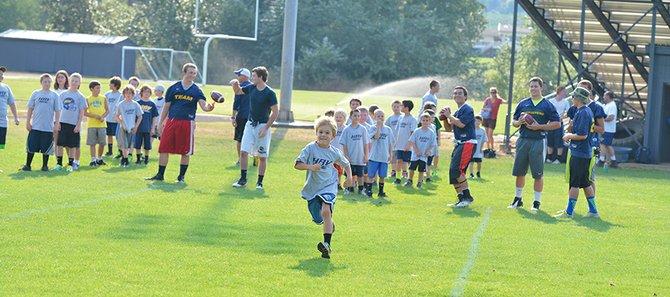 Hut, hut, hot.
Several dozen aspiring young football starts endured Monday's muggy afternoon heat for the first of the annual three-day Blue and Gold Football Camp at Hood River Valley High School. Captained by HRV head football coach Caleb Sperry, assistants and high school players, the camp is a crash course in football basics, aimed at getting local youth up to speed before the start of the 2014 youth season.
Practices for the various programs – all facilitated by Hood River Community Education – start next week, with games shortly after.
Other than the 3rd/4th grade age group (which is already full), a limited number of openings for each division remain; anyone interested in playing should sign up as soon as possible (www.hrcommunityed.com or 541-386-2055).
The youngest players, grades K-2, participate in a co-ed flag football league that is designed to teach players the rules of the game in a fun, friendly and safe environment. Games run from September through early October between teams from Hood River and The Dalles.
Tackle football starts with players in third grade and beyond, with leagues for players grades 3-4, 5-6, 7 and 8. As has been the case in recent years, the 3-4 and 5-7 teams compete in the Gorge Youth Tackle Football League, which encompasses teams from Hood River, White Salmon, The Dalles, Lyle, Goldendale and Stevenson. Teams practice twice a week and compete on the weekends.
New this year, the 7th and 8th grade teams – separate lineups consisting of players from both Wy'east and Hood River Middle School – have joined the Portland Youth Football League, where they'll compete in an eight-game season through October, with games on Saturdays. This change, says HRCE director John Rust, will benefit Hood River players in several ways.
"It should be much better," he said. "With games on Saturdays, kids will miss a lot less school, and the move will ensure an eight-game schedule. Last year we only had four and a half games because we couldn't get enough teams to play."
Rust said the season will start with a jamboree that will be used to evaluate team ability level, and based on that, easier and harder leagues will be formed to help ensure balanced competition.
Another big change this year, for all teams, is the level of coaching accountability HRCE is going to require, in particular with regards to coaches adhering to the rules about playing time. Rules dictate that every player on the team should play a minimum number of plays per game, which hasn't always been followed, or kept track of, in the past. This year coaches will be asked to keep track of playing time and be able to verify that each player is getting involved in the game.
"We're trying to put a bigger emphasis on all kids getting to play," Rust said. "We want teams to do well and strive to win, but not at the sacrifice of everyone getting to play, or player development."
In all, HRCE expects to have about 140 kids involved in youth football this year. The cap is 170, because that's the number of helmets and equipment sets HRCE has. Registration for the 3-4th grade team is full and has a waiting list, while each of the others have a handful of openings each, with the exception of the flag football program, which doesn't have a cap.