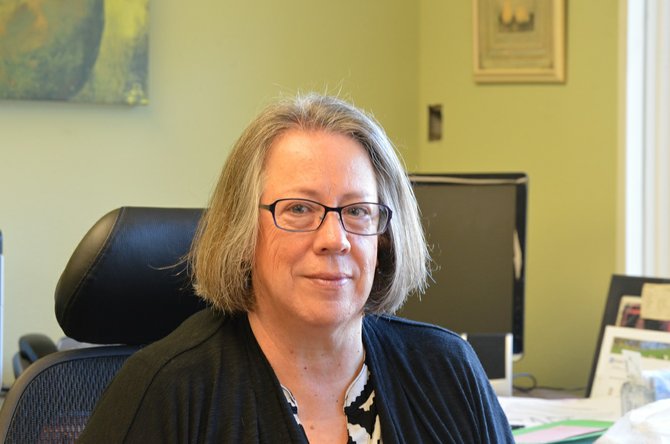 Jean Godfrey, executive director of Columbia Gorge Fruit Growers (CGFG), has a detailed job description with a simple purpose.
"We do anything we can to benefit the growers," she said.
The objective of the CGFG, according to its website (cgfg.org), is "to encourage and promote the fruit industry through legislation, research, education and marketing; to support growers through the exchange of information regarding sound practices and regulations; and to work cooperatively with other industries and organizations."
For Godfrey, this means many tasks — often, all at once.
"The whole term 'multitasking' was made for our office," she said. "We're doing reports for the industry — right now, I'm in the middle of gathering data for estimating crop size — the phone's ringing, we're answering growers' questions, we're scheduling classes, we're working with the county on our wing pest control — we have a contract with them — we work with Steve Castagnoli on extension projects…" And the list goes on.
Godfrey has been working at CGFG since 1999. In her 15 years with the company, 14 have been in the executive director's seat, although not necessarily with that title. She was working for a company in downtown Hood River when an administrative assistant position opened up at CGFG in 1999.
"It was right up my alley and I applied," she said. She was interviewed and hired by then executive director Thom Nelson, who had been on the job for 16 years.
Six months later, Nelson became ill and later passed away. She "fell into the job," working as executive director for about six months before another was hired to fill Nelson's place. That person stayed only three or four months, Godfrey said, so she kept doing the job.
"They never put a committee together to hire anyone, and finally the board said, 'Let's make Jean the manager'," she remembered. Eventually, they changed her title from administrative assistant to executive director, too.
While there are plenty of people who could do her job, the position requires "someone who has the heart and the real understanding" of the fruit industry, she said.
And Godfrey understands — and loves — the fruit industry well. Both her parents and grandparents had orchards on Dethman Ridge, where she grew up. Grandfather Cleo Henson and parents Richard and Verna Whitecotton grew pears; Henson grew apples as well.
There isn't enough room here to even minimally cover the many aspects of Godfrey's position, but there is one area that she enjoys the most: Problem solving.
"I love solving a problem, trying to track down information for somebody," she said. "But I like it all. I like working with the growers — I grew up here and know so many of them — and I love working with the Fruit Loop."
The Fruit Loop functions under CGFG but operates "pretty independently," she said, by various valley farm stands. "I just do a lot of their bookkeeping and accounting and that kind of stuff. They have their own steering committee that takes care of everything else."
Although the Fruit Loop is probably the best known of all CGFG programs, one of the most important is its research committee. "They determine what projects we will be funding at the Experiment Station," she explained. Godfrey's job is to collect all the project proposals from researchers and present them to committee members, and then bring findings back to the researchers.
She also assists GCFG lobbyist groups in Salem, Washington, D.C. and Washington state. She facilitates "the flow of all that information, where it needs to go, and if we need to galvanize the growers to write letters," she said. CGFG is a 501c5 nonprofit, meaning they can lobby "the right to farm, basically," she said.
One issue CGFG will be supporting on the Oregon ballot this fall is a measure that would allow non-documented workers to possess drivers licenses. "The reason we support this is that there are a lot of non-documented workers (in Oregon), and if they cannot get drivers licenses, that means they are driving without insurance, driving illegally. This license is only good for driving… nothing else in life but driving and purchasing insurance."
Godfrey was appointed to a state committee that looks at farm housing all over Oregon, although her main interest is the Mid-Columbia region, she said. She also serves on the Oregonians for Food and Shelter board, a nonprofit with the goal of protecting the right of the growers to access pesticides. Both groups meet in Salem.
"We're not against environmental groups, but there's the radical side of absolutely zero (pesticide use), and we have to protect that right. Otherwise, our industry would not be here," she explained.
Growers in the Mid-Columbia "are a very conscientious group of people who are doing everything they can to grow your food safely and, at the same time, to protect the environment," added Godfrey. They use as few pesticides as possible and utilize all the latest farming methods (such as micro-sprinklers, which use less water, and frost fans instead of smudge pots), she said. "They're doing everything they can do to be responsible growers in this region."
Executive directors tend to stay in this position a long time, Godfrey noted, and she is no exception.
"It's one of the best jobs in the world because I'm never doing the same thing two days in a row," she said. "It's a really interesting job."
She is married to "local boy" Jim Godfrey, with whom she went to high school at Wy'east, and has two sons from her first marriage, Erek and Brenden Helfeth.