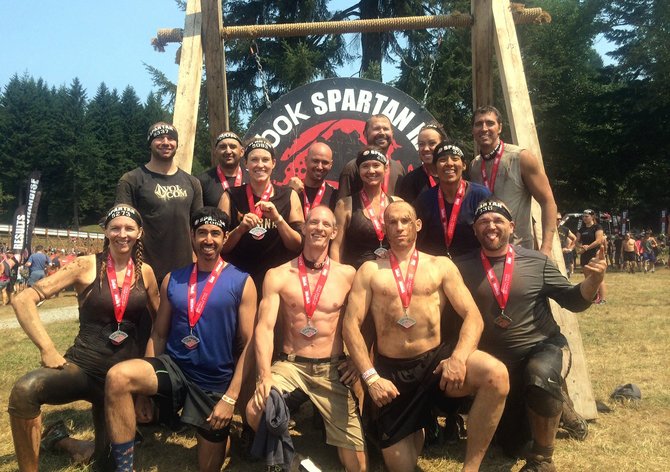 If crawling uphill through the mud under cover of barbed wire, leaping over flames, throwing spears, climbing ropes and walls, carrying buckets of gravel and being hurled out of control into a giant mud pit – all with physical penalties for non-completion – sounds appealing, you should consider signing up for next year's Pac West Spartan Race in Washougal.
"I don't know who devises these courses, but I'd be a little worried to be related to them," Jeff Irwin said this week. Irwin and 12 other Gorge residents were among the several thousand to compete in the third Spartan Race held at the famous Washougal Motocross Park, and after an exhausting five-mile course of physically diabolical obstacles, the group, under the name "Team Adrenaline," wiped the mud out of their eyes and accepted second place medals out of a field of 286 teams.
"If you had to summarize the race to someone who has never heard of one, think of a marine boot camp obstacle course, then add a ton of mud," Irwin said. "It takes a pretty sadistic person to come up with some of the obstacles."
Irwin was the fastest finisher on the team at 29th overall (out of 4,611) and second in his age group. The team contest averages times from the fastest four finishers from each team; Logan Davis (43rd), Josh Adams (111th) and Tim Saur (121st) were the next fastest on the team. Other members were Melissa Walker, Kyle Turner, Levi Beckman, Beth Turner, Abigail Roberts, Alicia Beckman, Todd Walter, Brian Heller, Lauren Bardenett and Brody Schilling.
Irwin says the appeal of an event like Spartan races, which have exploded in popularity around the world in recent years, is that it tests all-around physical fitness and coordination in a fun — albeit punishing – atmosphere.
"It presents a very different set of challenges than what most people are used to," he said. "The pure runner or pure weight lifter will suffer greatly. It's always interesting to see how people with different body types end up."
Irwin said of all the obstacles along the five-mile course, the "most brutal" of them all was called the Bucket Brigade, in which competitors had a five-gallon bucket — without handle — full of gravel that they had to carry around a course without spilling any gravel. As with all obstacles, if competitors fail or are unable to complete it, they have to do a set number of burpees, both as a physical penalty and a time setback.
Other obstacles along the course included a long, uphill crawl through the mud under barbed wire, a giant slip-and-slide with a giant mud pit at the bottom, rope climbing out of a mud pit, a spear throw, military-style wall climbs and more. For info see www.spartan.com.