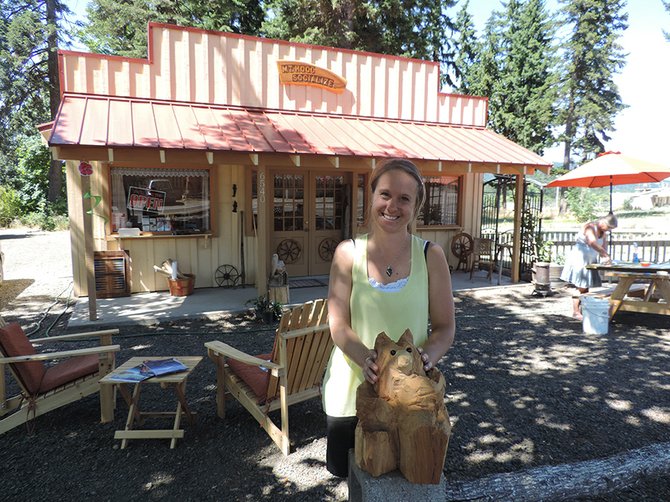 The name is like an invitation.
Mt. Hood Socialize opened in July at the busy intersection of Cooper Spur Road and Highway 35, in a long-vacant two-room structure across from the Mt. Hood Country Store property.
Mt. Hood Socialize owner Janine Ehrentraut said her business is part gift shop, part tasting room, part art gallery, part event booking service, and thoroughly about getting people together, as the name suggests.
Hours are 11 a.m. to 5 p.m. Saturdays and Sundays, and Ehrentraut plans to stay open into September, as business dictates, and during the Christmas season. Ehrentraut, who worked at ski resorts and nightclubs in her native Switzerland, said she was looking "for a place to settle down, where we could surf and ski at the same time," and a Google search turned up Hood River County. She and her boyfriend visited the area, went backpacking, and made their first home at Tucker Park, while Ehrentraut studied business at Mt. Hood Community College.
Ehrentraut is third party booking agent for Wet Planet, and its rafting and kayaking tours on White Salmon and Snake rivers, as well as other domestic and international destinations.
In front of Mt. Hood Socialize is a large shady maple tree, and an awning and table labeled "Sir Cain's," courtesy of Mt. Hood artist Elise Cain, who donated the business's signs. Ehrentraut, who currently lives in Troutdale, sells a variety of gifts, taffy, wood work, and chocolate (Swiss, naturlich). Artwork and cards by her mother, AnneMarie Glover and grandmother, Pam Glover, also grace the shop. Also for sale are ice cream and beverages.
Then there are the oils and vinegars, imported from Netherlands. Ehrentraut provides tastings of the specialties, along with cheese, salami and other delicacies, and the oils and vinegars can be bought prepackaged or Ehrentraut can customize a blend in glassware she sells.
Varieties include white truffle oil, white Reisling, Chardonnay garlic grapeseed oil, and fig balsamic vinegar. She said the latter is delightful with garlic oil as a salad topping, on blueberries, and on avocado and pine nut salad.
She said Mt. Hood Socialize is open for workshops that community members want to put on in the space for classes or workshops — anything not requiring water, such as a weaving class.
"I want to get everyone involved, not only the tourists but locals, too, to learn something and have fun," Ehrentraut said.
On Aug. 15 she will hold an essential oils workshop with Laura Cumming, a registered aroma therapist, from 1-3 p.m. The event is free, but registration is requested
n
Mt. Hood Socialize, is open 11 a.m. to 5 p.m. Saturday and Sunday. The store is pet friendly. Janine Ehrentraut can be reached at 541-400-0481.
Parking is across the road in front of Mt. Hood Country Store.