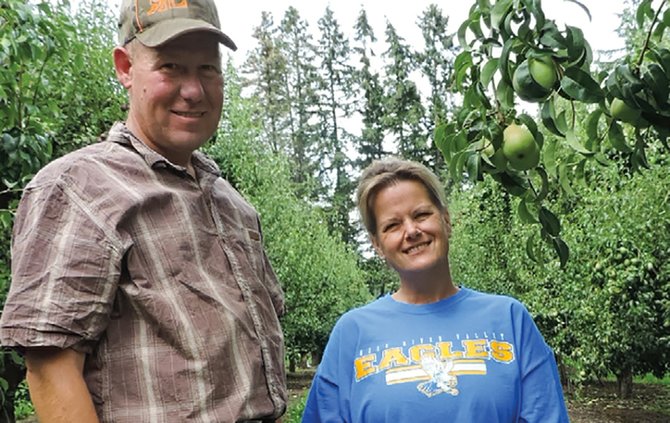 This is a much-extended version of the article that appeared in the Aug. 16 print edition, which was limited for space reasons. Dwight Moe of Odell talks at length about growing up a farmer, dealing with changes in techniques and the market, serving as a firefighter, and the meaning of his trees and the people who help him care for those trees and the fruit that comes from his orchards.
Dwight Moe spends his days in August answering the 65-pound question.
Will the boss help pick the fruit?
The answer is a resounding yes, if only because the owner-foreman-maintenance man of many hats believes in working by example, including taking a shift filling bags with fruit.
"I pretty much eat sleep and drink it. I enjoy it. There's a challenge every day," Moe said.
But there is also a practical reason for Moe to hoist a bag here in mid-August: the critical Bartlett season is underway and Anjous are next, and Moe is down a good portion of his crew.
"Everyone's in the same boat. Another grower will ask, 'you got six or eight guys?' I say, 'Well, I'd love to have six or eight guys myself'." He has about 12 crew members right now and he would like 18 for Bartletts, and will need 30 or so for Anjous.
But the challenge is just one of a variety this dedicated orchardist has faced at Glacier Ranch over the years.
"I've farmed all my life," said Moe, 46, who served as general manager and in 1993 took over Glacier Ranch in Odell from his father, the late Fred Moe. Fred took it over from his father, Forrest, who assumed it from his father, Arthur, who founded the ranch in 1905.
"If you have valued employees, I think being here and with them every day when that first guy is here at 6, you're here at six," Moe said. "My dad taught me that and it goes a long way with the employees, sticking it out with them through the good and bad. You ask yourself, 'should I have my picking bag on today, working with them?' It helps with motivation."
Much has changed in 109 years, and much has stayed the same. Mr. Moe is at work at 6 a.m. with the rest of the crew.
"I eat, sleep and drink it," said Moe. "It's very hard for me to shut it down unless I'm elk hunting or gone on vacation. Other than that it's 24/7. It's hard to get away from it.
"Whether it's farming my pears or cutting hay, if the (irrigation) pumps go down, you gotta go. It's 24/7," Dwight said. His wife, Jackie and his sister, Janet Moe are the other two shareholders in the Glacier Ranch corporation.
As a teenager Moe worked at Cooper Spur ski area, and Gehrig's Chevron, then drove trucks for Diamond Fruit on the swing shift, before taking over the ranch in 1993.
"We've grown a fair amount since then," he said. "We've changed the pruning techniques. Old trees used to be really, really tall, but our pruning techniques have gotten to where we don't have to prop (branches held up by poles)."
"Quality is number one with me. Yes it's nice to have 45 bins to the acre, but quality is number one, not really quantity with me."
The Moes own Glacier Ranch and properties spread out from Tucker Bridge to Straight Hill and over to Lipman west of Odell.
They raise Bartlett, Anjou, Comice, Seckel, and Forelle pears on a total of 95 acres, Gravensteins, Galas, and Fujis on 15 acres, and grow 12 acres of cherries and 40 acres of hay.
Moe also serves as assistant chief of Wy'east Fire District and is now in his 30th year as a volunteer. He gains great satisfaction from farming, and about as much from serving the community by responding to fires and medical calls.
"I enjoy it. I enjoy helping people," he said. He remembered a few years ago responding to a fellow orchardist who had been seriously injured in an accident.
"He told (dispatchers) 'Dwight knows where I'm at.' At first it was, 'How do I know?' You come up with a gut feeling and you find him. He was badly hurt but saying, 'Hi, Dwight, guess I had a little accident here.'
"It's what makes me go back, is people who have that will to live, otherwise it's like … I might not be able to do it.
"I enjoy the fire department, the whole Hood River valley has awesome fire departments," he said.
The best part of farming is what is happening now, in August:
"At harvest time you get to put it in the bin and you see what you've grown and what you've done. That's the real gratification, when you see you did everything right. When it's in the bin."
Asked about the toughest part, Dwight said, "I think it's the hours everyone puts in. I think everyone puts in their own hours."
It all comes down to the state of the trees for Dwight Moe.
"It's amazing, with a tree you prune it and nurture it and it keeps going," he said. "If you don't nurture it you slide backwards. He has increased the number of trees per row, for greater yield, but said his crews worked hard in early 2013 to thin the developing pears to achieve a balance between quality and fruit size.
"It depends on the variety it is, apples can be in the 55-60 bins an acre, pears anywhere from 30-45," he said.
"I think my Dad was on the right track that the big trees had to be cut down. To get workers to work on a 14-foot ladder is obsolete anymore. We use an oddball 11-foot ladder, and a lot of stuff can be picked from 10-foot ladders.
"We manage our soils, through soil testing, and leaf analysis; the field men we hire to scout for bugs," Moe said, referring to pest such psylla and codling moth, which damage leaves or bore into the fruit itself.
"I've tried to be progressive since 1897 on mating disruption which helps us get rid of the organophosphates, and it's very worker friendly and it's worked very well for the entire operation."
Even a large orchard operation such as the Moes' can feel the effects of neighbors' non-commercial trees that have not been treated with non-toxic products that inhibit the pests' ability to reproduce. A neighboring tree can harbor the moths, which mate unaffected and then infect the commercial orchard across the road.
Moe said the understanding of the mating disruption program is getting around, and cited a hobby orchardist neighbor who has instituted the same program and sees no evidence of the moths in his fruit. Mating disruption efforts are coordinate by Oregon State University Extension Service. Essentially, every grower in the area has to subscribe to the same methods for it to work for any one grower.
"It's not 100 percent but it definitely helps. They did area-wide, Tucker Bridge to Summit Drive, and it seemed like it worked, and I think it got some (growers) who were wishy-washy on new technology like that and it got them on board," Moe said.
"It's hard to sell to someone because if you have to spray in addition to mating disruption now your costs have gone up," he said. It still takes "scouting in the orchard," he said. "It's not only my field man scouting it, but myself also."
Psylla is probably the worst pest, because if it drips on the fruit, and the sun shines on it, that leaves marks on the fruit, Moe explained. "It washes off in the packing houses but once it gets into the pigment of the skin it (declassifies the value of the fruit) -- plus the workers don't like to pick in it.
"We've sprayed soap and water and you come back with heavy amounts of water trying to rinse it out of the trees," he said, a labor-intensive, costly process. But sometimes the "psylla goo" is so heavy it needs to be done.
It's not just the bugs that get to the trees. Moe has seen more fire blight this year than the last three years, resulting in the removal of 50 trees this year. Fire blight is a bacterial infection that cracks and dries the foliage so it appears to have been burned.
"It's been pretty devastating this year," he said.
Then, the other day a teenage boy drove into one of his roadside trees, damaging it. The youth came to Moe about it and agreed to pay for the economic loss of the tree.
The weather in 2013 has been nearly perfect for growing fruit, Moe said.
"We had a nice spring, no frost. I think we ran three hours one night. Definitely a different climate. We didn't have those frosty nights. Frosty nights separate upper valley from lower alley. Not sure what it will do the maturity of the fruit; last three weeks have been warm evenings. Overall the fruit's going nice, not been too hot."
He noted that "the fruit is still growing, and will do so until the day you pick it." He added that "no frost and a wet spring can make a little russeting (an uneven brown or golden finish on the skin) but for the most part they are absolutely beautiful."
The recent heavy rains were good for the psylla goo fight, and Moe said, "you don't want the rain as much as sometimes it helps even things out if you get behind on watering.
Moe is ready to start filling his 65-pound bag. He said Wednesday "we're starting a day ahead of when the field man wants us to. We wanted to take the first day, and not push the guys real hard because if haven't been picking for awhile, it's a lot to put 65 pounds on your back, so we figure, 'let's have a warm-up day with 5 hours; then work up to 8-9'." Then it's typically seven-day work weeks until harvest is done.
Moe employs five full time employees with benefits, and their work includes operating sprayers and tractors. The rest of the crew works until Oct. 25 or so, and then starts again Nov. 15 or so with pruning and other tasks that keep everyone busy through the first of April. Then they get another three weeks off before it's back into thinning.
These days, harvest is "kind of drawn out," he said.
"A couple of years we had 18-day harvests, now it's 24-28 days."
He and Janet walked the rows Wednesday, inspecting the pears and randomly measuring the circumference with a card with a two-inch hole in it known as a picking ring.
"We're looking for stem punctures and other marks, and checking the size, to make sure it's large enough for packing and not to be canned," he said. Packing fruit is larger and more consistent in appearance, and thus brings in a higher return than canning pears.
"The stem on a pear is like a stem on a cherry, that's it's life," Moe said, "and if you break that stem off it's not the pear you want to see."
He and Janet will check about 50 pieces of fruit per bin as the picking goes on, looking for punctures, scrapes, or finger nail marks.
"You sometimes have to ask the guys to trim their nails, and we bring clippers out for that," Janet said.
"We can go to a two-bin system and use the picking ring sort fruit into two bins, large and small," Moe said. "My guys thinned rally well this year but I'm checking to make sure they don't slide through there. It's pretty visual. Often I can say, 'every one of these is plenty big'.
"We knew in the first of May we were going to thin the fruit to eight inches apart so we could pack that fruit; packed fruit costs more because of the hand thinning, as opposed to canning," he said. "With the smaller fruit you get a lot more tonnage, but canning fruit is $300 a ton, and I hope if this bin is good it will be $300 a bin, so you're looking at $550 a ton return on packing."
He enjoys a long-standing relationship with many of his employees, some of whom have been with the ranch for 30 or so years.
"It's easier than turnover," Moe jokes. "You know them, whether it was their parents, or you kind of grow up with their kids and you get to know them. You understand them. It's been pretty amazing.
"It's always going to take labor," he said. "It still takes labor to put them in the box. Robotics are being used in apples. I don't want to believe in that era, but it's coming."
"Everything is still visually hand-sorted in the Hood River valley. It still takes the visual person, before the computer or after it.
"It's been a lot of fun seeing a of changes. I just ennoy it. I love where we're at," he said. "I can't really say enough about the employees that do work for me."
The ultimate part of the process is getting the pears into shopping bags and home with the public.
"The biggest thing is trying to educate the consumer," Moe said, on the nutritional value of the pear and how to ready it for eating.
"Today, it's fast, everyone wants it now. Whether it's the computer, or food, it's fast. Pears aren't fast. It takes so long to grow them, and takes so long to ripen them. Apples ready to eat pretty much when you guy them, but pears aren't ready, you put them in a bag with an apple, which makes ethylene gas, and they're ready five days from now."