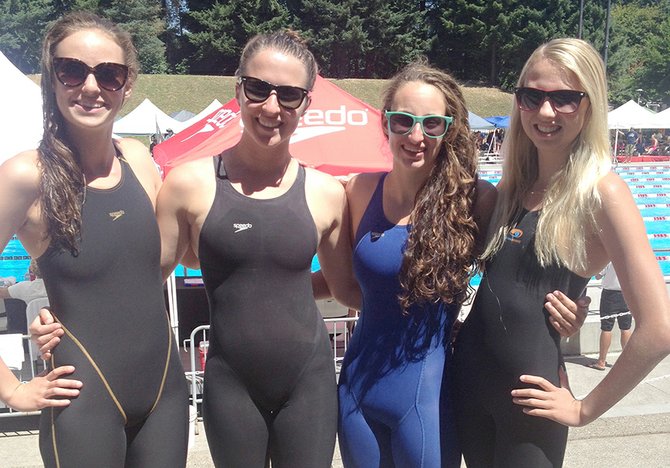 The Hood River Valley Swim Team swam at the Western Speedo Sectional swimming championships in Gresham earlier this summer. The top individual finish for the HRVST was Scott Bergstrom with a fourth-place finish in the 200M butterfly (2:04.64). Meanwhile, three new team records were set at the meet by HRVST members. Kylie Webb broke a record last set by Bethany Pendleton in the 400M individual medley with a time of 5:17.96; the girls 200M medley relay of Danielle Miller, Kylie Webb, Dhani Freeland and Mariah Rawding swam to a 32nd-place finish and new team record with a 2:08.52; and the girls 200M freestyle relay of Kylie Webb, Erin Nelson, Dhani Freeland and Mariah Rawding swam to a team record 1:44.19 and finished 33rd overall.

Also this summer, HRVST sent swimmers to the Oregon Swimming 12 and under state championships in Bend. Sarah Arpag took top HRVST honors by breaking a team record set by Bethany Pendelton in the 10-year-old girls 100M freestyle with a time of 1:11.18. Her time was good enough for a third-place finish. Arpag had six top-6 finishes during the meet. Along with the 100M freestyle, she placed fourth in the 200M individual medley (3:02.40), 4th in 200M freestyle (2:38.27), 5th in the 50M butterfly (37.96), 5th in the 50M freestyle (32.90) and 6th in the 100M backstroke (1:25.26).
Other highlights from the meet are as follows: The 11-12 girls 400M freestyle relay team of Celilo Brun, Dacia Kasenga, Faith Ocheskey and Jade Smith finished 12th with a time of 5:07.14. Emilio Castaneda's top place in the 12 year-old boys division was 13th in the 100M butterfly (1:22.39). Shea Kasenga's top finish in the 10-year-old girls was 14th in the 50M breaststroke (49.41) and 9-year-old Thea Smith's top placement was 11th in the 200M freestyle.