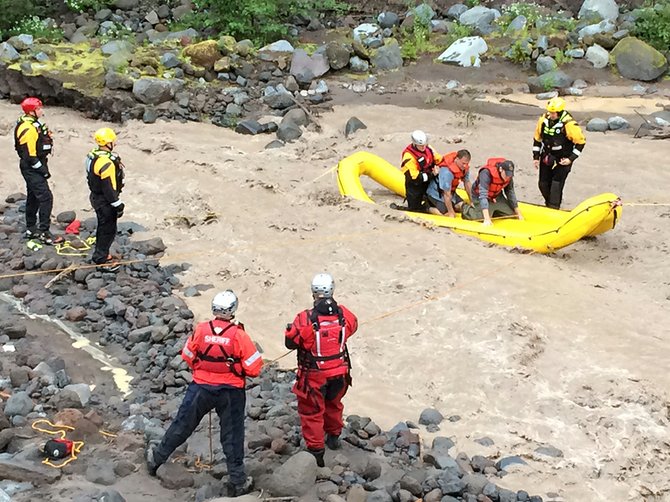 An Illinois man is dead after getting swept away in a flash flood on the Sandy River last week.
On Aug. 12, Clackamas County Sheriff's office received a 911 call reporting a bridge across the Sandy River at Ramona Falls washed out and one person was possibly in the water. Members of the Clackamas County Water Rescue Consortium responded with Search and Rescue deputies and U.S. Forest Service personnel.
The call came in just before 3 p.m., but the incident occurred minutes earlier. Due to the remote area, witnesses had to hike over a mile to the parking lot and drive several miles before they were able to get phone service to call 911.
A thunderstorm in the area caused heavy rain fall which raised the river level several feet in a short amount of time. The high water is to blame for washing out the bridge.
Several teams of rescuers were sent to the washed out bridge location while others searched the river bank downstream. When rescuers arrived at Ramona Falls, they found several people on the other side of the river and unable to cross. There was no sign of the male who fell into the water.
Rescuers discovered a male body in the river over a mile downstream of Ramona Falls. The male was deceased and identified as Brent A. Ludwig, 34, of New Lenox, Ill.

Rescuers worked for several hours to assist the stranded people across the river. Using two rapid deployment crafts, which are small rafts designed for swift water rescue, they ferried 23 people across uninjured.
Multiple agencies responded including: Mountain Wave Communications, Pacific Northwest Search and Rescue, Sandy Fire, Gladstone Fire, Lake Oswego Fire, Tualatin Valley Fire and Rescue, Clackamas County Fire District 1, Clackamas County Dive Rescue, U.S. Forest Service, Oregon State Police, and Clackamas County Search and Rescue.