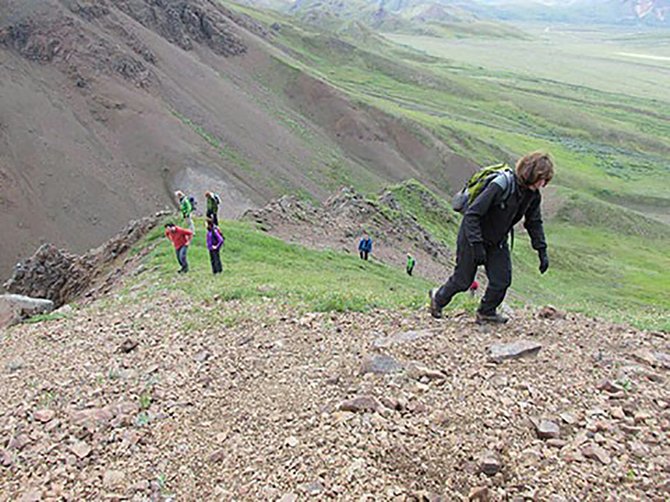 Composer Christina Rusnak wants to let you hear what a wilderness area sounds like.
Since graduating with a Master's degree in composition from the University of North Texas, she has sought to integrate her personal experiences from visiting major geologic landscapes into music that is thought-provoking and engaging.
August 23, at 7 p.m.: Lecture and music performance with Christina Rusnak
A composer's performance explores the idea of natural process through the 2012 fire that ravaged part of Mt Adams. As the only aural artist of the "Art of the Wild," exhibit, Rusnak will discuss how composers interpret the landscape aurally instead of visually.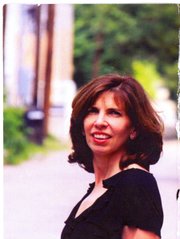 Her music has been used to celebrate Alaska's Denali National Park, it has celebrated the 150th Anniversary at Homestead National Monument, and just this year, she created a piece for Oregon's newest park, Cottonwood Canyon.
Rusnak visited Hood River last September, and saw a poster for the upcoming show "Art in the Wild," and inquired about composing music for the show.
"I sent an email that basically said 'do you want a composer involved in this?' They forwarded the email to David Wickwire of the US Forest Service. The answer came back 'thank you but no thank you,' " Rusnak said.
But then in January, the Forest Service had a change of heart, and asked Rusnak if it was too late to start the process to compose a piece of music celebrating Mt. Adams.
"So I said, no, it's not too late, but you realize I won't be able to get to the mountain until it thaws," Rusnak said.
Rusnak was able to reach an agreement from the Forest Service for her to create a piece she calls "The Life of Ashes," which focuses on the 2012 Cascade Creek fire.
"I tried to get up to Mt. Adams on May 20, but I couldn't go very far because the snow levels were still too low. So I went back the second week of June, and I got up to 4,600 feet, and was able to get into a lot of the burn areas, which I was most interested in," Rusnak said.
"I had decided that I really wanted to focus the music on the language of the Wilderness Act. The specific part of that language which strikes me is the recognition of minimal human intervention, there's a lot more natural cycles that occur — the natural process of nature: life, death and rebirth," Rusnak said.
Since the timing was short notice for Rusnak, the length of "The Life of Ashes," is only 5 minutes long. But Rusnak's presentation on Saturday, Aug. 23, will go into depth on how composers actually create music from the experience of being in a wilderness area.
"It's easy to see how a photographer takes a picture of a burnt forest, or how a painter paints it, but how a composer creates music from the experience of walking through the wilderness — that's what I'm going to talk about," Rusnak said.
According to Rusnak, there many ways composers can interpret the landscape with music. The primary way is to try and imitate the sound of the landscape.
"Historically that's done a lot, with the sound of birds, the sounds of water. My first outdoor or nature piece was called 'Cloudburst,' and I used marimba and vibes to emulate the sound of rain drops, timpani for the thunder, and string bass for the wind," Rusnak said.
"You can also pick a point of view, and this is very important. Are you the observer? Are you a hiker, are you a rafter? Are you a fish in the river? Are you the tree that's experiencing the devastation of this fire? There's many, many points of view that can go into the interpretation," Rusnak said.
Suggested readings on women composers and the natural world
"The Sounds of Place: Music and the American Cultural Landscape" and "Music and the Skillfull Listener," by Denise Von Glahn
When visiting the burn area on Mt. Adams, Rusnak relied on her ears and sense of memory as her "field notes," for this music project. But she also took photographs to use for the cover page of the music score, images that she says can represent the cycle of forest fires.
"I'm selecting one right now, it's a stand of trees which is typical for a fire, but the trees were like onyx pieces of art, they were melted away. The sap in these trees acted as an explosive, and even after the fire was out they continued to spark. But the next image is a totally charred tree where a spider has decided to make its web. So there you have the real re-birth-cycle part of it," Rusnak said.
A large part of experiencing a musical event involves emotion, which, according to Rusnak, is coming from the listener and is a consequence of composing, but that's something she does not add as a direct intent.
"For this piece, I have a roughly one-minute section that represents the fire, and I was trying to do some imitating, to get some of the sounds of the fire. But I couldn't make it work. So what I ended up with is something very cool, but the emotion I felt is the anguish of the fire, the anguish of the observer and the anguish of the place being burned. But the music is not morbid sounding, it's almost hopeful," Rusnak said.
"What is absolutely wonderful about listening to my pieces is that I can't predict what everyone is going experience — they'll have their own filters. I tried to convey a little bit of the story, and I don't want to give away too much before anyone hears it, because I want them to have their own take-away," Rusnak said.
Rusnak said that she will show some images of the areas she visited, but not during the live music portion of the evening.
Rusnak has found that sometimes her compositions may not reflect the same aspects she was hoping to highlight.
For instance, she wrote a piece based on the Teklanika River in Alaska, which is an ancient glacial river in Denali National Park.
"I submitted it for an orchestral performance in Alaska this year, but it got turned down. I thought well, that's the way it goes, but somebody gave me the insight that that's the river in which a lot of the bears bring their big kill, so the people driving on the buses on the tour through Denali National Park often associate that river with carnage of that activity," Rusnak said.
It reinforced the fact that everybody brings something different in terms of emotional response.
"I'm always focusing on the geology of the area, and I'll let other people associate on the bears and what they do there," Rusnak said.
n
According to Rusnak, "The Life of Ashes" is about 100 measures in length, and 6 or 8 measures were still in flux before her first scheduled rehearsal, which involves working with a trio consisting of a percussionist, a flautist and a violist. This band will be performing the piece live on Aug. 23.
"At rehearsal I'm going to ask the performers 'does this work, does this not work' and find out if any of the sections should be modified in terms of being technically difficult."
Rusnak's lecture on Aug. 23 will also feature some recorded pieces of music including a movement of "Reflections on the Nature of Water," by composer Jacob Druckman, which will be played on the marimba.
"I can tell you that the performers are brilliant at the nuances and brilliant at saying 'I think you're trying to pull this section out, or let me help you notate this part.' So I never consider the piece finalized until after the first rehearsal," Rusnak said.
"I have about five weeks of process into this. Some composers write faster than I do, and there are pieces I've done in less than a week. Usually, the pieces I do for outdoor places means there's a lot of planning and research, and there could be weeks before I even write the first note. I didn't actually put pen to paper until mid-June, after my second visit to the mountain," Rusnak said.
When Rusnak composes music, her main instrument is her piano, which is hooked up to a sound sampler which is like a MIDI device but all of the sounds are actually recorded. So if you want a clarinet, for instance, you can replicate any note, even if it's out of the normal range for that instrument.
Rusnak mentioned she does a lot of research on an area before trying to compose a piece of music for it. Sometimes it's internet searching and sometimes it's pouring over land-use documentation, like she did when composing "Canyon Voices" for Cottonwood Canyon.
"I was the composer in-residence for the Cottonwood Canyon State Park, and I met with the Sherman County Museum and some of their writers — I attended the opening day celebrations. I met with the park service, and I read the 200 page master plan by the landscape architect," Rusnak said.
Rusnak will oversee all the details about her upcoming presentation on Mt. Adams, including musician dress code and even obtaining permission from the Forest Service to bring back a small piece of a burned log.
"I'm going out tomorrow, to grab a log, and I'm going to sand some of it down and use it, if I can find one I can carry that far," Rusnak laughed. "I'd like to use it as an instrument. It won't make much sound, but it's going to be a visual tie to the music itself."
Since her lecture is not a formal concert setting, Rusnak stressed that her musicians won't have to wear the traditional concert black.
"I'll pick something else for them to wear, especially at an art center," Rusnak said.
n
Rusnak has gotten encouragement from her colleagues to review the score of the "Life of Ashes," with the audience, and get feedback on what they heard during the performance.
"Whatever the audience feels, whatever I say, I'm thinking about actually showing pages of the score afterwards, and asking 'what did you hear?' Even non-musicians can look at a score and get an idea of complexity and intensity of music. They can tell when performers are playing complex things and it would be interesting to find out what they're thinking about during certain sections," Rusnak said.
"I can't give too much away about my intentions beforehand. I'll talk about my pictures and the things I experienced, let them hear the piece and ask them what they heard."
n
Rusnak said that creating a new piece of music can create a ripple effect by being a good advocacy tool for an area.
"Society has always thought of the visual artist as really having the long-term impact of being advocates for wilderness areas, but music can have that impact too. It's just harder to have live music move around than to move a painting around from gallery to gallery," Rusnak said.
But Rusnak said that she makes her music accessible to potential orchestras by writing clear guidelines on performance.
"I write very detailed performance notes. Whether it's communicating to the musicians who don't know about the place, or to the listeners who are maybe on their first visit or have never been to a place. The score really ends up as a good advocacy tool, to have them played again and again," Rusnak said.
Many times painters and photographers' compensation comes from selling work to art collectors, or get commissions for installations. But compensation for composers' music is protected through performance rights and royalties. Some of Rusnak's work may transcend this business model by actually becoming displayed artwork. She wants her written score for the Cottonwood Canyon park to be framed and displayed in the park's upcoming education center.
"The intent when I composed 'Canyon Voices,' was to have a performance, just as we're doing for Mt. Adams. But due to recent changes in park management, the funding did not come through. So I sent two copies of the score to the director of the park, and I suggested that when the education center is finished, they could put it up on a wall, just like a painting or photograph. People can then see the actual music that was written for the place they're standing in. It would be nice if it was used as background music to a video — maybe a video that shows how other artists have interpreted the park," Rusnak said.
The Forest Service is planning to do a future recording of Rusnak's Mt Adams piece.
"I couldn't get a budget to have my musicians play it, but the Forest Service is planning on some kind of recording," Rusnak said.
"What happened with my score for the Homestead National Monument, which commemorated the 150th anniversary of the Homestead Act of 1862, they actually took the score out of the binding and created a fan and framed it, and put it up as artwork," Rusnak said.
Rusnak was recently selected to do an artist residency for the North Cascades National Park.
"I don't solidify a topic until I get to walk around, but climate change may be a good one because of the presence of the glaciers."
"There's been more fires, and it's changing the patterns of things for sure, since I've been composing music for these places. Not on a daily weather basis, but what plants are growing where, and it's effect on animals. I'm seeing less water in the creeks. I just did a project in California last year, and water was such a critical element there — for people, livestock and plants," Rusnak said.
n
Besides writing scores on outdoor themes, Rusnak has recorded solo piano works and jazz compositions, which she says "just come out of my head." She works with an arranger to bring the pieces to life, some of which were recently featured at a jazz festival in New Hampshire, which she attended.
"I have a CD coming out hopefully in November, which is going to be more of an urban style of jazz. It's about a lot of different conversations and rhythms, and I want to bring out the experience of being in a jazz nightclub. One song of mine conveys the calmness of meandering in a natural space while still having the activity of the city behind you," Rusnak said.