A large crowd gathered at the Columbia Center for the Arts last Wednesday evening to welcome Professor Mark Harvey and his presentation on Howard Zahniser (1906-1964), an instrumental figure in creating the Wilderness Act of 1964.
The arts center and the National Forest Service is celebrating the 50-year anniversary of the act with a special art show, lectures, films, and a musical performance/lecture to bring awareness and understanding of the wilderness areas like the Gifford Pinchot National Forest and the Mount Hood National Forest.
"I'm still trying to wrap my head around what you guys have out here, in terms of wilderness and scenic beauty," Harvey told the audience, this being his second visit to Oregon.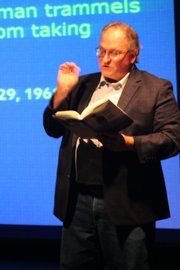 Harvey is a history professor at North Dakota State University who has chronicled Zahniser's life and work in two books, "Wilderness Forever: Howard Zahniser and the Path to the Wilderness Act," and "The Wilderness Writings of Howard Zahniser." Harvey presented a slide show featuring archival photos and copies of letters from the likes of President Lyndon B. Johnson that documented Zahniser's work on creating the scope and language of the Wilderness Act, which led to the preservation of 9 million acres in the United States. Today, wilderness areas encompass over 100 million acres.
The purpose of the law was to "secure for the American people of present and future generations the benefits of an enduring resource of wilderness."
The lecture was sponsored by the National Forest Service and was a combined event with the Gorge Owned Sense of Place lecture series.
After several jobs in various U.S. government offices, including the U.S. Bureau of Biological Survey in 1930, Zahniser eventually became a founding member and executive secretary of the Wilderness Society, a position he kept for 20 years.
"It must have been a hard job, it was just him, and I think he had one staff secretary the whole time," Harvey said.
During that time, Zahniser successfully worked with key legislators and environmental groups to write the text for what was to become the Wilderness Act, a culmination of his life's passion for wilderness and scenic areas he frequented his whole life, especially the Allegheny River and National Forest in Pennsylvania, where he grew up.
Harvey presented examples of some personal correspondence from Zahniser that gave insight to the dilemmas encountered in trying to create the actual language of the Wilderness Act.
"Zahniser was quite the wordsmith; he was very elegant and passionate when he wrote," Harvey said.
Harvey said all drafts of the Wilderness Act included his "eloquent definition of wilderness, which still serves as a central tenet for the Wilderness Society: 'an area where the earth and its community of life are untrammeled by man, where man himself is a visitor who does not remain.'"
The word "untrammeled" caused a lot of public debate in finalizing the text for the Act.
"Zahniser loved the use of the word 'untrammeled' to distinguish wilderness from other lands. One of his central convictions was that nature is part of our world and should be embraced in daily life," Harvey said.
Sources say that readers confused trammeling with trampling, and thought that Congress simply asked the public not to beat down the vegetation. But Zahniser's definition was more profound and far reaching, noting that "wilderness is unlike any other land in the nation, where humans and their technology do not control or restrict the plants, animals and natural forces."
Harvey noted that Zahniser, like himself, was a minister's son, which he thinks may have played a role in why he became so interested Zahniser's life. Harvey mentioned early in his lecture that not many people are familiar with this behind-the-scenes figure.
"I just think I could relate to him perhaps a little better than another author might. When you grow up in a church family with a minister as a father, I think you have a sense of the moral and ethical responsibilities that we are called to do in the world, and Howard certainly had that," Harvey said.