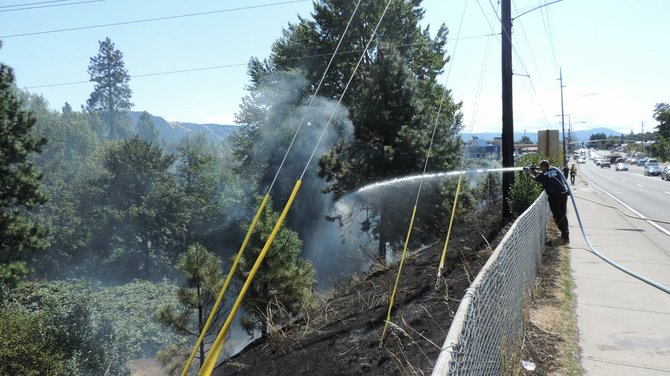 Hood River — Hood River Fire and EMS and West Side Fire responded to a grass fire Friday, Aug. 22, just before 1 p.m., at 12th Street near Pacific Avenue.
The fire burned a 100-yard stretch of grass and small trees overlooking Indian Creek trail on the east side of 12th. Traffic was detoured for about 45 minutes. The fire was quelled about 15 minutes after firefighters arrived.
No structures were burned, but a large pine tree was heavily damaged. The trees and shrubs have been planted and cared for over the past 14 years by Susan and Jurgen Hess of Hood River.
The cause of the fire was a toy kite that flew into power lines - which caused the line to short out, which caused a fire at a transformer, according to Jurgen Hess.
This was the third grass fire since July 28 along a five-block stretch of Indian Creek trail, but the causes of the previous two fires, while still under investigation, were determined not to have been electrical-related.