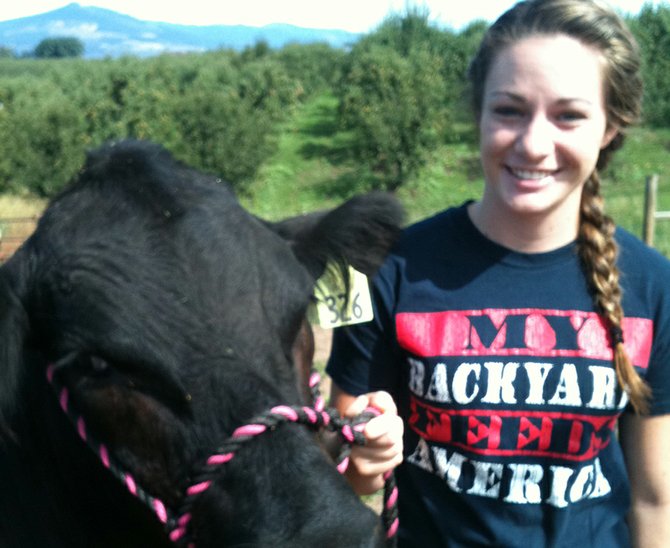 Jenni Packer, 17, will start her senior year at Hood River Valley High School in September. Like many of her peers, she plays sports (right now, it's volleyball; in the spring, it will be softball) and is looking forward to "doing all the senior activities" in the coming year.
What sets Packer apart is her commitment to farming. She's a proud third generation farmer and FFA member who has her own orchard and raises market steer.
She planted 10 rows of yellow peaches, doughnut peaches and nectarines on her family's Dethman Ridge farm the summer before her freshman year of high school, and by the next summer, she was harvesting fruit to sell at Packer Orchards and Bakery — the family's farm stand located in Odell — and at farmers' markets.
"I live in the middle of an orchard, so it's like, my front yard is kind of my orchard," she explained.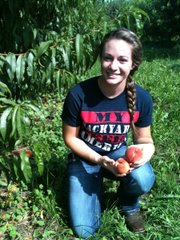 She chose peaches "for the income purposes," she admitted. She's sold fruit with mother Tammi since she was eight, so she knew "peaches make the most money because they're heavy."
Watching father Larry in the family orchard inspired her to start her own endeavor. "My dad is an orchardist, so I've always seen him do his thing out in the orchard, and I wanted to see what it would be like, if I could do it by myself and grow my own crop, and sell it and see what income I'd get from it.
"Mostly it's a learning experience," she said.
While the orchard is hers, she does get help. "I'm not able to do some of the things my dad has a license to do," Packer said. "Dad guides me through about half of it, and I try to do as much as I can by myself with my busy schedule."
Picking peaches and pruning trees are her responsibility, but 10 rows "is a lot and hard to handle by one person, so he likes to help me."
She has the added responsibility of working at the Packer farm stand and two farmers' markets, one in Gresham and another in Milwaukie. "I run the Gresham farmers' market by myself," she said. "It's a lot of work, but it's a good experience. I learned how to be a boss at age 17, which is good for my future."
While she enjoys orcharding, it's livestock she really loves.
"I'm a livestock girl," she said. She started in fourth grade with market hogs, and progressed to market sheep and then market steer. This year, she got the Grand Champion FFA Market Steer award at the Hood River County Fair, and she's thinking her future holds more animals than trees.
Though fair has come and gone, Packer still has a market steer to care for along with her orchard. "I raised two this year, one for the county fair, and I have this other one too, to raise and sell his meat. I'm trying to get him a lot bigger; he hasn't been a very big steer and it's taking a lot of time."
With all her agricultural pursuits, it's no surprise she's been a member of FFA since eighth grade — the first year she was able to join. Packer is currently the Hood River FFA Chapter vice president, a position she also holds with Mt. Hood District FFA. In Hood River, she sees herself as "just setting a role for underclassmen who want to be involved," she said. She enjoys the monthly meetings, as well as FFA-sponsored community events, such as canned food drives, steak feed and silent auction, and farmers' breakfast held each year. "We get a lot of generous donations and we like to give back," she said.
At the district level, she helps "plan and run our district leadership camp; it's pretty fun. I help run district events and competitions, and at district convention, I interview district officer candidates for the next year." She also helps hand out awards at different county and state fairs, and enjoys meeting like-minded kids from around the state.
Packer received her State FFA Degree last year, and plans to apply for her American Degree after graduation — the highest FFA degree a member can receive at the national level. The application will require answering basic questions, she said, such as how long she's been in FFA (going on five years) and her Supervised Ag Experiences (she has 10, including the peach orchard and her steer).
She's hoping to hold a state office again this year, as a way to scope out future farmland and potential work. "If I make state office, I'll travel all around Oregon and other states, to do leadership training, and visit a lot of different high schools," she said. "I kind of want to use that to see what different places are like, what job opportunities are available in Oregon.
"If not, I plan on traveling a bit my senior year, to visit a couple of colleges and see." She's not ruling out moving back to Hood River someday, but she's not ruling out other places, either.
She counts "FFA buddy" Stan Ochesky as her "go-to" for any and all FFA matters. "He's the district president and the Hood River president, and we've been in FFA together since fourth grade," Packer said. "It's good to know someone else will stick with it as long as you do. We give each other feedback and advice. He's really helpful."
FFA isn't just about being a farmer, she added. "A lot of people think that to be in FFA, you have to be a farmer or you have to raise animals to take to fair, but through FFA, there are a lot of career development experiences," she said, including forestry, floriculture, and even public speaking.
For kids just starting out in 4-H and FFA, she has this advice: "Ask an older person, because advice is the best thing you can get, instead of just winging it. Just a minute's worth of talking and getting advice will help you a lot."
Packer hopes to attend Oregon State University in the fall of 2015, and plans to major in agribusiness and minor in animal science "and maybe general agriculture," she said. "It's kind of like the only school I want to go to right now, OSU or Linn Benton Community College. (OSU is) a big ag college, and I would love to take a lot of ag classes because that's what I'm interested in."
How does the high school senior fit everything in? "It takes a lot of work, and it takes a lot of time, but it's really worth it to see how far you can come," she said. "When you get an animal at like two months old and raise it to market weight… doing well at the fair is one of the best feelings ever. When you're raising a market animal — or any animal — fair is what it all leads up to."