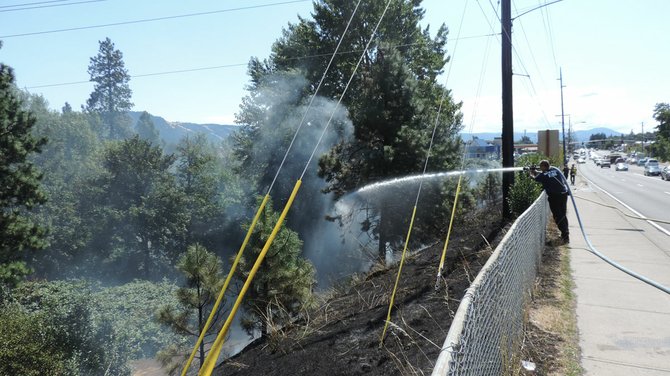 A kite stuck on power lines caused sparks to fly and a grass fire to break out on the Heights on Friday.
Hood River Fire and EMS and West Side Fire responded to the fire just before 1 p.m., on 12th Street near Pacific Avenue.
The fire burned a 100-yard stretch of grass and small trees overlooking Indian Creek trail on the east side of 12th. The property is maintained by Hood River residents Jurgen and Susan Hess, in association with the city and Indian Creek Stewards.
Jurgen Hess said the overall damage to the plantings they have taken care of since 2012 will be known after winter. They will assess the damage particularly to the young pine trees. Oregon grape, now seven feet tall, were damaged but will probably recover. A 25-foot pine was damaged at the base, as was the Pacific Power pole where the main fire broke out.
According to Hood River fire chief Devon Wells, sparks fell at several locations along 12th Street.
"It's unusual to have that many locations where sparks fall to the ground," he said. "It could have been far more severe, but it happened in the middle of the day and we got a number of calls and were able to get right on it." He said two boys playing with a kite on Nix Drive, to the west, were counseled about the dangers of doing so. They were unhurt.
"We know that accidents will happen," Jurgen Hess said, adding that the damage will give them an opportunity to plant new and better native grasses and other fire-resistant species.
Traffic was detoured for about 45 minutes. The fire was quelled about 15 minutes after firefighters arrived. This was the third grass fire since July 28 along a five-block stretch of Indian Creek trail, but the causes of the previous two fires, while still under investigation, were determined not to have been electrical-related.