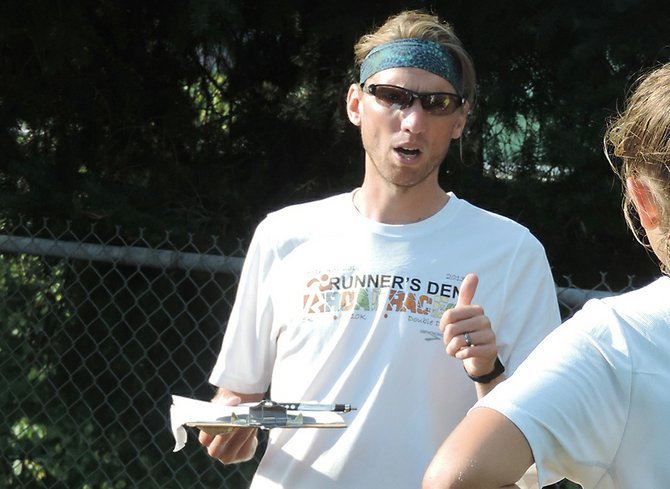 Hood River newcomer Brandon Bertram has truly nailed the concept of hitting the ground running. The 30-year-old Fargo, N.D. native moved to town a few weeks ago and is already over his head, literally, with his new job.
"If you've ever seen a PE closet packed full of stuff you'll know what I'm talking about," Bertram said from school Monday. "It's pretty exciting to see everything I'll have to work with."
Like all Hood River County teachers, Bertram was busy this week preparing for the start of the new school year. He will replace retired teacher Randy Yoshimura, affectionately know by many as "Y," as the physical education teacher for May Street and Westside elementary. He'll also be replacing longtime Hood River Valley High School head cross country coach Kristen Uhler, who is retiring from that role after more than 25 years of dedication to the program.
Bertram moved to Hood River with his wife, Erin, this summer after spending seven years in Phoenix, Ariz., where he worked as a physical education teacher and cross country and track coach at Trevor Browne High School. He came into that job after graduating from Black Hills State University in Spearfish, S.D., where he competed on the university cross country and track teams.
"We knew that Phoenix wasn't a permanent spot for us," he said. "My wife got a job offer in White Salmon and when we came out to visit I decided to contact Kristen (Uhler) and see what my options would be as a coach if we did decide to move out here. I think we both liked how much we have in common, with our backgrounds and our coaching philosophies. That kind of got my foot in the door. I came back a few weeks later and interviewed for the teaching position."
Although dramatically different than the inner-city Phoenix environment he was most recently in, Bertram said Hood River reminds him a lot of Spearfish, which is also famous for its active population and many outdoor recreation opportunities; both towns, in fact, made National Geographic's recent list of Best Adventure Towns in America.
"This is an absolute dream job in an area that is just awesome," Bertram said with enthusiasm.
Along with getting to know the lay of the land and his new coworkers, he will have precious little time to get to know his squad of HRV runners before the high school season kicks into gear. The team travels Thursday for the first race of the season – the Wilsonville Night Meet – where a few dozen teams will test their early-season conditioning under the faint stars and fading light of the late summer sky. After that the season picks up quickly with the start of the school year, with six meets scheduled between next week and the district meet Oct. 25 in Hermiston.
"I think I have a pretty good assessment of where we are right now, and I'm pretty excited about it," Bertram said. "We're a young team – very deep in the junior class this year – and I'm excited to see that we have freshman runners coming out in droves."
Bertram said many of his runners put in a lot of miles during the summer, which is going to make a big difference for them, and the program, as they start the season with a solid foundation of physical and mental conditioning.
n
The HRV girls team returns to the Columbia River Conference as defending district champions, with individual district champion and sixth-place state finisher Sascha Bockius as one of three girls' team captains; Lauren Robinson (6th in district, 33rd in state) and Denali Emmons (18th in district) will be the other two. The outlook is promising for the girls' lineup this season, which has only one senior (Terri Hewitt) and is anchored by an energetic group of runners with state experience and another couple years with the program.
On the boys' side, Justin Crosswhite and Quinn Fetkenhour, both juniors, have been named team captains. Crosswhite finished fifth in the conference last year and went on to finish mid-pack in the state race, while Fetkenhour finished out of state contention at 16th in the CRC.
"I always like to stress that you don't need be labeled a captain to be a team leader," Bertram added. "My philosophy is, no matter who you are, you should step up and be a leader."
The team has one home meet this season – the annual Hood River Invitational on Sept. 11, starting with middle school races at 3:30 p.m. with JV and varsity races to follow.