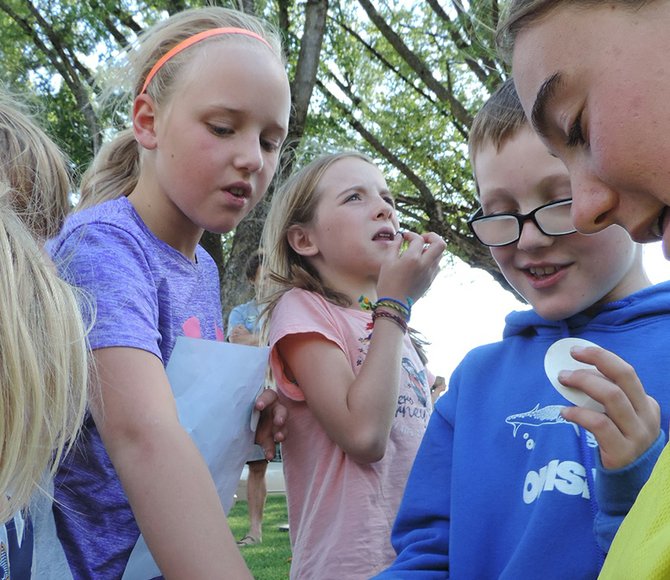 Thinking of an educational adventure for your kids next summer?
Lisa Kosglow's "Let's Get Out Camp" offers fun and new experiences for kids 8-13.
"We got to do a lot of different things, a lot of adventures," said Lucas Elliot.
"We got to do a lot of things we don't get to do usually like rafting and mountain climbing," said Raleigh Bowder.
Such as ice caving.
"Protect your head, and don't step on the ice that looks really dark because it might collapse," advised Wyatt Burkhardt. Each summer Let's Get Out (www.lets-get-out.com) partners with a local non profit to help teach kids 8-13 years old about environmental stewardship topics. Past partners include HRATS and Columbia Riverkeeper. For summer 2014 Let's Get Out is expanding its environmental stewardship focus to include helping children make healthy lifestyle choices and stewarding themselves and their families.
Camp Director Lisa Kosglow said, "we always try to get the kids to think beyond themselves but this year I want to talk to kids about the choices they make when
it comes to what they eat, risk assessment while recreating and trusting themselves to make good decisions." Partnering with Gorge Grown Food Network is a natural fit. Kids are learning about how far their food travels, the impact of spending money locally and how delicious fresh food is. Ideally, this will help kids make healthy decisions for themselves and positively influence their families
The activities for this year's 8-13 year olds are:
hiking and wilderness awareness skills
rafting and teamwork
caving and survival skills
rock climbing and trust
mountain biking and risk assessment
When the campers were asked Thursday if they were looking forward to going back to school, the answers were evenly split between no and yes.
Kosglow described Let's Get Out asa "multi-pronged summer experience" through a variety of adventure sports kids can enjoy in the Columbia Gorge. "While teaching each sport, we focus on equipment, safety, technique and having fun," she said. "We use adventure sports as a vehicle to teach deeper values such as self-respect, compassion for our peers and land stewardship."
"Our goal is for the outdoor adventure to be transformative. We capitalize on interpersonal relationships to maximize teachable moments," Kosglow said. "Our programs typically have a service component. Our intention is to give children the tools and opportunities to think beyond themselves in a meaningful way and to connect with our home in the Gorge. Whether it's a garbage clean up along a trail or learning water quality monitoring skills on the Columbia River, we expose children to the value of stewardship."
n
Let's Get Out for ages 5-7 is an outdoor day camp that focuses on creating a sense of wonder in children and encourages outdoor exploration of the natural world. During camp children will have a combination of guided exploration utilizing activities, games and stories as well as free time to play, move their bodies and work on a nature based craft project. For this group we partnered with the US Fish and Wildlife Service who gave us some amazing resources to explore insects and mammals found in the Gorge. The younger kids also explored native plants and the wind.
Sunsets and Sweet treats:A short list of ways to enjoy the last days of summer
Cool off with Mike's Ice Cream, Yum Yogurt downtown, Froyo on the Heights, Cicci's gelato at the waterfront, or …
EastWest Drive In Cascade Locks: get an ice cream cone, walk down to Marine Park with it and walk it off on Thunder Island, or start with an ale at Thunder Island and make your way east along the river.
Take the Big Art walking tour, downtown Hood River and the waterfront.
While you're at the waterfront, take a stroll from Event Site to Waterfront Park and back
School playgrounds are a great community resource, especially with young ones who don't realize that's where they'll be spending their recesses for the next nine months.
Evenings can be warm, but after dinner this time of year Children's Park is mainly in the shade.
Blueberries are still available at U-pick locations in the valley (and so are blackberries for the more adventurous)
Try the length of Indian Creek trail, now accessible from the east terminus on Hazel Street all the way west to Barrett Park.
Make a point some evening to find a vista point with a wide view to the west – sunsets are amazing this time of year with late summer's dramatic stacks and stretches of clouds.
Snow cones: Behind the town's coolest scene
Families in the Park is defined by hot tunes and cold shave ice.
While the weekly bands provide a steady lineup of rock and roll tunes, the folks at the event's other headliner, Ono Kine, serve up the cold treats.
Jackie and James Kohltfarber and McKenzie Mellow of the family-owned shave ice outfit keep happy a steady string of concert-goers wanting that Families in the Park staple, the snow-cone.
Ono Kine — Hawaiian for "the good stuff" – has been a fixture at outdoor parties in Hood River for 15 years. Mellow, 20, even remembers the Gorge Games gigs they had in the late 1990s and early 2000s.
"We used to be everywhere," Jackie said. Now you can count on them to be at every Families in the Park. The series ends Thursday at Jackson Park, and the snow-cone line is bound to be long.
At about 8 p.m. last week, Jackie said the line had not shrunk since 6 p.m., and still about 25 people waited.
"It's like a hobby — a lot-of-work hobby," Mellow said.