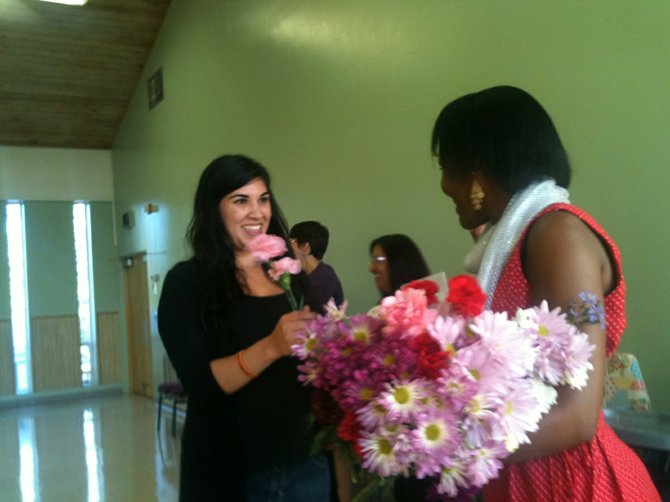 It all started with El Nino Sana.
You could say that "the healthy child" led to a new Gorge wellness program with the same mission: individuals fostering other community members.
That new program is the first organized cadre of certified Community Health Workers in the state of Oregon.
Wednesday was graduation day for 25 men and women from the Gorge who took a 90-hour course under Oregon Health Authority auspices, certifying them as Community Health Care workers in what is known as Region 1 — as in the first of its kind in Oregon.
Community health workers go into homes and work with people to assess their health and wellness needs and do what they can to connect people with programs.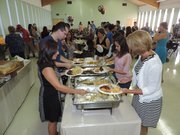 Community health workers are trusted, respected people of the community who, working for agencies or as volunteers, provide a connection between residents and health care and social service providers, according to Lorena Sprager of Next Door Inc., the overseeing agency.
"It really is a collaborative approach," said Elizur Bello, community health worker program director at NCS, a 1999 Hood River Valley High School graduate and a community health worker for the past 10 years. Bello was among the graduates on Wednesday.
"I feel amazing. It's not just for me, but for a lot of people," said Veronica Espe of Hood River, who works as medication assistance program resource coordinator at Providence Hood River Memorial Hospital, one of four funding agencies for the Gorge Community Health Workers program and one of 10 agencies whose workers underwent the 90-hour training this summer.
"It's the first thing that's happening in the Gorge," Espe said. "It's a big step that has been working for years. A lot of people have been coordinating and making it happen. It's been a dream for many years, and now that you see it happening, we want to celebrate."
Community Health Workers "are connectors, or like a health navigator. They are trusted, respected community members who work with people in their homes to identify and provide services for people's needs," said Janet Hamada, NDI director.
"The question is what don't they do," The Next Door's Claudia Montana said. "They can be any kind of liaison from the community to any agency, to make it easier to access and help the agency become more welcoming and culturally adapt the services to the needs of the community. They actually see what's going on at home, see the home and community members in their element."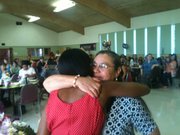 El Nino Sana evolved to Nuestra Communidad Sana — Our Community Health — now a program of The Next Door Inc. NCS was an early example of a model of community volunteers doing health and social outreach, connecting families to programs and providers Last year Oregon authorized the formal certification process for community health workers. NCS is official training center for the gorge.
Primary funders are the Gorge Coordinated Care Organization, Oregon Community Foundation, Providence Hood River Memorial Hospital, and Columbia Gorge Community College. The regional training center is the first partner with the Community Capacitation Center of Multnomah County, which provided the training along with Nuestra Communidad Sana staff. (Capacitation is Spanish for training. Multnomah CCC is a community training center, experts in the nation.) The Next Door, Inc., the largest social service agency in Hood River County, and Nuestra Communidad Sana, is the administrating agency for the Community Health Workers training center in the Gorge, known to OHCWA as Region 1.
"We got funding and agreement with them to be their regional training center," Hamada said. "All the training we do is under their auspices. They will coach us as we did this first round and whole other round funded in January."
The Region 1 project roots go back to El Nino Sana, a grant-funded program started 26 years ago in Hood River County under La Clinia del Carina (now known as One Community Health, a community health service center based in Hood River and The Dalles). Present Wednesday were Dr. Tina Castanares and Noel Wiggins, who worked to form and guide El Nino Sana in its early years. Wiggins joined the OCHWA officials in handing out certificates. She now works with the Capacitation Center and is a national expert in community health care models.
With Wednesday's ceremony, the grassroots Gorge program graduated to an official state program, and has given the community health workers official status. Most are already affiliated with a health or social service agency, or are employing their skills as volunteers or as extensions of their work.
On Wednesday, representatives of the Oregon Community Health Care Workers Association handed out certificates after a dinner at Hood River Valley Christian Church, attended by family members and agency representatives.
"Congratulations. This really is a big feat," Bello said.
"We have quite a bit of resources and hopefully this will help us strengthen the relationship we have created in the past month," Bello said. "This has been a dream for quite some time and I am super thankful to Pacific Source, Providence Hood River, Oregon Community Foundation and Columbia Gorge Community College. They really rallied around to make this happen, and also the support we got from our supervisors at the Next Door, believing in such a great model and program that can strengthen community health workers not just in the health field but in every sector we come into contact with."
Graduate Maria Pena of North Central Public Health District said, "I am so proud to be here today to celebrate with all of you guys because it's finally the time I've been waiting for this for 21 years. We all finally have a voice and be recognized as a real official (group), because every time I say, 'community health worker,' they look at me like I just made it up.
"I'm getting a little more knowledge," she said. "A certification with the state that says I am be able to do what I do know, and get more knowledge and create a bigger network with other people in this community and also creating a bridge to Wasco County, and serve our communities together."
Espe said she will use the knowledge in her work as well as volunteering for activities such as teaching Zumba Fitness at Mid Valley Elementary.
"It's outreach and promoting physical activity. All this will help me get more resources to the people we serve,' Espe said. "It's a lot of hours, we touched a lot of different subjects, mental health, diseases, how to build capacity in a community, a lot of working with other people.
"It's building trust not just with people around you with another organization but also building trust with the community and they believe in you," she said. "I think it's following through with what you say, being honest and open-minded, and listening to their needs. Be honest and go with all the core values you have of compassion, and justice and stewardship, and just letting them know we are there for the community."
Abdiasis Mohamed, president of the OCHWA board, said, "This is a profession that has not died, but continues to survive as it has for hundreds of years. I congratulate you."
Mohamed said "community health workers' work is tremendous, including health cost reductions.
"It is less cost for the state as well as the region where these workers are based, so the people they work with do not have to go through a lot of chronic management," he said.
"They're the forefront, meeting with the people, and walking with them about how to they need to manage their illness, which reduces the amount of cost for the individuals if they had to go to the doctor or ER. That is the main role, and that is part of the Oregon Transformation (under Oregon Health Plan) that we want to see community health workers play a bigger role of decreasing costs, increasing access, and improving wellness for all Oregonians. That's the ultimate goal."