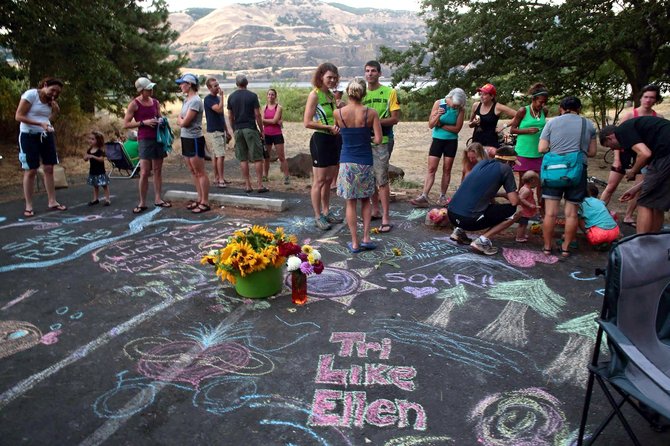 Joyful, exceptional, irreplaceable, inspirational, unforgettable … and absolutely one-of-a-kind, Ellen Dittebrandt leaves behind a vast and saddened network of confidantes who will remember her spirit, determination and moxy for the rest of their lives.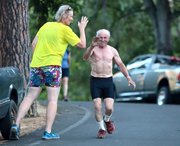 Dittebrandt departed at dawn Sunday morning from Mayer State Park in Rowena on a cycling adventure she coined "Crest to Crown." Sadly, her 120-mile journey from Rowena Crest to Crown Point and back was cut short at about 6:20 that morning, when she was struck and killed by a pickup truck near the exit to Viento State Park.
For many who knew the 52-year-old Mosier resident, the tragedy has sparked an impassioned interest in the completion of the Historic Columbia River Highway restoration project. Dittebrandt, like any cyclist traveling the same route, had to ride about ten miles along Interstate 84, where the final two sections of the restoration have yet to be completed; and like Dittebrandt, the completion of the other sections of the route has inspired more and more cyclists to make the journey, and brave the necessary section of Interstate travel in between.
For those interested in where the restoration process is or finding out how they can get involved, the Historic Columbia River Highway Committee meets four times a year, and the next meeting is scheduled for Sept. 30 in Hood River (location not determined). More information on the meeting will be announced on a Facebook page created in Dittebrandt's honor, called the Ellen Memorial Connector. A tee-shirt fundraiser for the Friends of the Historic Columbia River Highway has also been set up in her honor and can be found at teespring.com/ellendittebrand and teespring.com/ellenbike.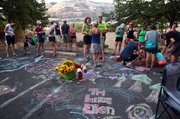 Dittebrandt's last adventure was one of many challenges she had undertaken in the past year. Along with being a well-known artist and firefighter, she was also a zealous athlete and outdoor adventurer who found great solace in the company of groups like the Columbia Gorge Masters Swim Team and the Columbia Gorge Tri Club.
After swimming for a few years with the Masters team, Dittebrandt started working-out with the Tri Club earlier this year, and the connection she found with the group grew quickly into one of friendship, companionship and acceptance amongst a group of athletes — and aspiring athletes — from all walks of life. She wasn't the fittest or fastest athlete of the bunch, but far and away she was most enthusiastic.
In her honor, several friends of the Tri Club and Master Swimmers offered their thoughts and memories of Dittebrandt. They're printed at right.
From friends ...
We have lost a tribe member. Ellen LOVED the Gorge Tri Club. I think with the tri club she found "her people.". I don't recall a tri club member that was so enthusiastic about swimming, biking or running. She was at every group function — typically in something with LOTS of neon colors—and big, happy, ear-to-ear smile you couldn't wipe off her face. In the three or so years I've known her, she lost 60+ pounds, took up running (with an unparalleled passion), ran a marathon, did her first 5 mile open water swim, delivered a personal record in the 1 hour swim, competed in her first swim meet, took up the sport of triathlon and competed at every Gorge Tri Night. In regards to tri-night: she was the first one to show-up, the last one to leave and raced every night like it was the world championships. She threw her heart into everything she did. It's a huge loss to have this playmate, in the prime of her life, gone. I'll miss playing with her.
–– from Clint Bogard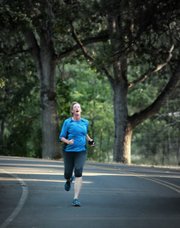 "Ellen gave so much to all sports. She taught me to stop and look at the beauty here in the gorge. It was often on a run that we would stop for scenery photos along with fun "selfies." Ellen loved swimming cycling and running so much that when she overdid she would get frustrated at not being able to keep going."
–– from Kim Brislawn
Over the last year, Ellen took her strong and long-time focus on Masters Swimming to other areas. She started running with the Columbia Gorge Running club and completed her first marathon this year, joined our Sunday morning open water swims in Hood River, and then joined the Columbia Gorge Tri Club and began doing more long biking. She hit more milestones in a year than many of us in several years, and everyone loved what she brought to each group. She was inclusive, and encouraging and funny and quickly became a cherished member of the team — always ready to do longer runs, longer swims and longer bikes and invited anyone to come and join. She widened her circle of friends, became an even stronger athlete and in the running and tri club circles, she found a like-minded group of new friends. It was only when she was gone that I found out how connected she was to so many people I knew outside of the tri club circle.

She was so excited about each new thing she approached. She worked hard on improving her swim times and then was bound and determined to do the 5-mile swim from Mosier to Hood River. She put it out there, rallied the troops and then she nailed it! As soon as that was over, she wanted to swim FURTHER!! She was so comfortable in the water and in the pool that she made it fun for everyone around her, always encouraging them and pushing them and checking in. On our swim 2 weeks ago, she cheered the loudest for those who hit a new milestone.
One of my husband's favorite stories is when she was looking for a solution to painful shoes that just did not fit right. He said that when the toes in toebox get too tight, we had a coach that used to tell us to just snip a few holes in the toe box to relieve the pinchy parts...Ellen improvised and just cut the whole toebox off and sported her 'open toe' bike shoes the next time out. So funny, so adorable, and always on the go making things better and making things work. The last long chat I had with her was at Tri night a few weeks ago, when she was talking about doing longer swims and longer bikes...I told her that "before you know it, you will be doing an Ironman." She said that could be a really fun thing to train for and plan. Forever in my head she will be Iron Ellen, but she had a heart of solid gold. We miss her but her spirit is here.
–– From Michele Reitz
Ellen came to the CG Tri Club after we've shared plenty of stories at swim practice and the obligatory post-workout coffee. Just like myself a few years earlier, she had no idea what to expect and showed up ready for a workout. The CG Tri Club members embraced Ellen's presence with tons of advice and guidance. More importantly though, Ellen raced our weekly tri night workouts with passion as if every night was an Olympic Trial. Each of Ellen's workout finishes was accompanied by a cheering group and Ellen falling to the ground completely exhausted.
During every swim, bike and run, all athletes – fast and slow – were humbled by Ellen's commitment, perseverance and setting of high goals. At times we told her to back-off, since it might be too much at a time, but every time she proved us wrong.
–– From Patrick Hiller
Ellen inspired me. Her determination and dedication to swimming, biking and running was mind boggling to me! She lost 60 pounds in one year and ran a marathon – that's impressive. She was always smiling when I saw her. I liked the chalk mural we did on our Ellen Memorial Tri night on Tuesday; it said 'Tri like Ellen.' This sums it up for me: If she can do it, I can do it - anybody with enough determination and dedication can do it!

–– From Carola Stepper
Ellen and I met when she joined the Columbia Gorge Masters Swim Team. Not many people are willing to jump in a pool at 6 a.m., especially in January, but Ellen showed up, and immediately asked the coaches to help her improve her technique to become a better swimmer. We swam in the same lane for a while, and while she would have me go ahead of her, it wasn't long before she was touching my toes!
Ellen was a force to be reckoned with - in and out of the water. Her personality dominated wherever she was, and you couldn't help but notice her. As she gained more strength and confidence in the water, she was the first to boom in the locker room, 'You are AWESOME!' when I would lament about my own capabilities. Her personality transformed the more she swam, and delved into the tri club. She glowed, she became happier, and her radiance was evident by all who surrounded her. The tri club purchased her a wetsuit for open water swims, and her ear to ear grin when telling me that story made me feel as if she had won the lottery. She became a different person because of this group, which accepted her for who she was.
–– From Carolyn Welty-Fick
Dear Ellen, I've been thinking about what to write about you. While our friendship was fresh new since May at tri-night, I think we bonded.
As you knew, I only take pictures of you guys at tri-night. I enjoy every moment, every face of sacrifice and every drop of courage to do what you do. The first time I saw you I was amazed by your performance, I don't think there was a time I didn't think "gosh, if Ellen can make it, I can do it too!" You were an example of motivation and do-ability. Friend, you proved many wrong, you were stubborn in your own way and that was absolutely a quality of you. I think everyone in the group bonded with you. You were not the first in finishing, or the last, but you earned your stripes. You didn't wait until being 'perfectly fit' to start playing. One time I remember when you wanted to do the Mosier-Hood River swim and a couple of people thought you were not ready, I was happy to see on the tri-page that you made it while I was overseas.
I think a special moment in the tri-club was when we all got you a wetsuit. For me, that was a perfect example to share the spirit of the team, sharing was caring! Of course I will never forget how dramatic your work out ended: you spread on the floor, relived for being finished.
I didn't want to see you leave this way my friend, but we have to accept this as part of life. We all come and go at certain point, under different circumstances. No regrets sister, I enjoyed every molecule of your presence, every laugh and the talks we had. Have a good journey and rest in peace.
–– From Paloma Ayala