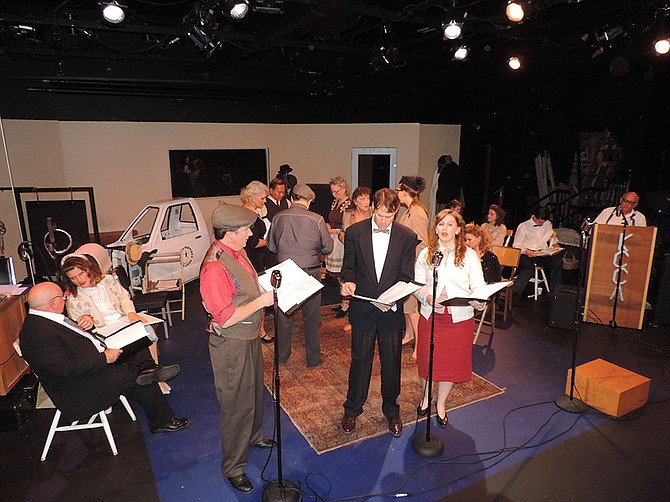 Take a step back in time- be a part of a live radio show audience for the CAST Theater production of "It's A Wonderful Life" at Columbia Center for the Arts Dec. 6-20. Sponsored by Jeff Sacre of Director's Mortgage and Ruby Mason of Windermere Realty this is the first performance of the play in the Columbia River Gorge.
In keeping with the season, donations to The Christmas Project, which delivers food and gifts to local residents in need, will be taken at all performances of the play. (See Tickets and Times, page B12.)
"It's a Wonderful Life", a radio play by Philip Grecian based on the film by Frank Capra, is directed by Gary Young, with Associate Director Kathy Williams and Producer Adrian Chaton and staring the ensemble cast of the Columbia Gorge Radio Players of CAST and Columbia Center for the Arts.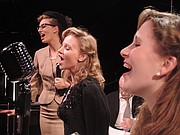 Attendance notes
Though the show is suitable for families, audience members are asked not to bring small children or babes in arms, Young said.
Cell phones did not exist in 1946; please them turn off before you enter the auditorium.
Get there on time: "Once the doors close, that's it, no one allowed in until intermission — it's a live radio broadcast, after all."
Through crisp dialogue, most of it familiar to anyone who has seen the classic Jimmy Stewart film directed by Frank Capra in 1946, and funny, engaging performances, the world of 1940s radio comes to the CAST stage.
Director Gary Young wanted to recreate the sense of excitement felt by studio audiences and radio listeners akin to the pre-television days 70 years ago. Fifteen actors take on 64 separate roles.
"The live audience was basically experiencing television without cameras. For the home audience you were closing your eyes because you could imagine in what you were seeing, to see the reality of what you were hearing, and that's what we hope to accomplish, and give to the audience the experience of what radio was like in its golden age," Young said.
Michael Beckner, one of many CAST newcomers in the production, said that in the radio era, "all those people were dying to know how Fibber McGee's closet really worked," referring to the popular "Fibber McGee and Molly" program with the famous junk-laden closet that noisily came falling down on a regular basis.
"I think it's genius, really, the way Gary's making a true radio play like they did in New York and Chicago," said Beckner, who plays greedy "Old Man Potter," among other roles. "He has left no stone unturned." The feel of the 1940s is conveyed through the set, designed and decorated by Douglas Hawksworth and Irene Fields, and the sound effects by Marty Newcomb and Gabriel Roth, costumes curated by Robin Allen and Kim Robichaud, and the gleaming rectangular period microphones.
Young hastens to say that his actors are not playing versions or Jimmy Stewart, Donna Reed or Lionel Barrymore, but developed their own back stories and are bring a sense of themselves and how they think they would feel and act in those situations circa 1946.
Tickets and Times
Shows are Dec. 6, 12, 13, 19 and 20 at 7:30 p.m. and Dec. 7 and 145 at 2 p.m.
Tickets cost $18 for adults; $15 for student and seniors (62-and over); $10 for children 11 and under; $12 for groups or 10 more
A special family price of $40 includes two adults and two students or children.
Contact www.columbia arts.org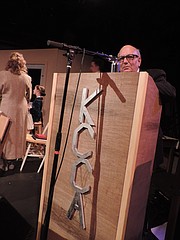 The George Bailey and Mary Bailey roles went to first-time CAST actors Matt Rankin and Maza Brady.
"I was so nervous but they've been nice been when they probably didn't need to be nice -- super supportive, ust and feeding on their energy is great," Rankin said of his fellow actors.
"I love the movie and I love George Bailey. He's my favorite character of all time, Christmas or anything. I felt like I was maybe biting off more than I can chew, but just getting the chance to pay him is incredible," Rankin said.
His mother-in-law, Brenda Hering, plays Violet, the girl with a childhood crush on George who grows up to be something more, and less, than what is expected. Hering's been in a number of CAST shows in recent years, and gets to show her comic range as the younger and older Violet, and several other small characters, as well as paired with Beckner in a commercial break. Radio veteran Franklin Levin ties it all together as announcer, and singers Charlie Mortensen, April Sampson and Maza Brady provide musical harmonies as "The Columbiaires."
Michelina Roth and her sons Gabriel and Nathaniel (all seen a few years ago in "Best Christmas Pageant Ever") add more family flavor to the production.
Among the more veteran performers is Bill Weiler, who assembled the traditional music for the play, which he performs on keyboard along with his original "Hood River Christmas," sung by the cast at the end of the show – words are provided in the program and the audience is encouraged to sing along.
"We're hoping Bill's carol will become a true Hood River standard," Young said.
The play is a show-within-a-show-within-a-show, in that the audience is watching the radio play as well as the actions of the people presenting it, all the while imagining the audience of radio listeners at home.
As actor Joe Garoutte explains it, "There is an audience of radio listeners, they're there; in Gary's mind, the way he has conveyed to us, is this is the set up before TV and people are here to see what's going on, and so this is as much a show for them as the people at home. And when they're at home listening they're also envisioning the fact that they may be missing a bit here and there that the studio audience is catching, not that we're leaving anything out or that they're left out, but if there's a laugh line that is maybe a little funnier than the radio audience, they think, 'gosh I really wish I could be there in the studio'."
In the CAST "studio", actors carry their scripts, and do little stage movement but they do interact in character and sometimes hug, dance, and square off in argument as if it was a stage display – all while making sure to place themselves at just the right distance from the three stand-up microphones they share.
"You will see them get ready for the part, and move from their own personhood to the character they will be playing," Young explained.
Garoutte plays Harry Bailey and Mr. Bailey, in the same scene, rapidly changing his voice and taking his hat on and off.
"That's to help him and his characterization and to help the studio audience see that transition," Young said.
He suggested, "for those coming to the show, try closing your eyes and just listening to the radio broadcast and then opening your eyes and seeing what's going on, and all those sound effects that are going on and have to be cued in right, footsteps on a bank floor, a door opening and closing, the 1946 style phone ringing at just the right moment.
(For those 30 or younger, that boxy black thing with the rotary dial on it? That's what phones looked like in 1946.)
"The cool part of this show is that's the different challenge," Garoutte said of playing multiple characters. Other than Rankin as George Bailey and Michelina Roth as the angel-in-charge Josephine (Joseph in the film) most of the actors take on two to five roles. "Everyone one of these you do is a challenge," Garoutte said.
All that made the back story process critical, Young said.
"I told everyone to take 1946 and subtract your age and that will give you your birth year and then write your story based on the world events and personal events, and see how that turns out," Young said. "They did that so wonderfully well. There were surprises. In 1946, a person my current age could have been born during the presidency of Ulysses Grant. It just helps us to see how short our history really is and in that case, I would have come into life at the end of the Civil War, lived through World War I and the upheaval in Europe and the Russian Revolution, the effects of the Dust Bowl and Great Depression and World War II, and invention of radio.
"Radio is such a magnificent thing. Every station had its own band, orchestra, its own programs and employed a lot of people. As people began to listen to the radio shows they wanted to go see the radio shows, and that is where the live studio audience came into being," Young said. "That is still part of what we see particularly on television situation comedies. Seinfeld is basically a radio show in its format."