Cristina Garcia and Megumi Mosaka Moehlman Hosaka, both seniors at Hood River Valley High School, were chosen as November Students of the Month. Each student was presented a check for $100 at a recent Lodge meeting at the Hood River Elks No. 1507.
Cristina Garcia is extremely active at her high school, where she is a member of the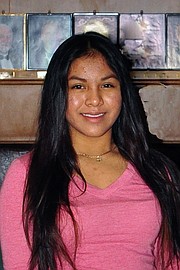 following clubs: Health & Media Club, bringing awareness to teens, parents and the community about the abuse of alcohol, tobacco and other drugs; HOSA, here they discuss the future of health professionals; AVID, helping students prepare for college, where she comes up with strategies to solve homework questions; Link Leaders, giving orientation to incoming freshman and introducing them to campus life; Inspiration Circle, in which they discuss problems that teenage girls face in high school; OSU Underwater Lego Robotics Camp, where she learned to design and build robots with Legos to maneuver underwater; OSU World of DNA and Bioinformatics Camp, extracting DNA molecules from plants and working in a laboratory to isolate DNA from bread wheat; Fashion Club, where they design outfits and present them at the GALA Fashion Show; and MEChA, where Chicano students build friendships and do fundraisers to help senior members go to college.
Cristina's community service includes camp counselor for Camp St. Mary's, where she worked with a group of 7- and 8-year-old girls playing games, doing art and craft projects, helping clean and organize the kitchen and other areas that required an extra hand; she volunteered to clean at La Casa de Guadalupe at St. Mary's Catholic Church; she did fundraisers for Hood River Leos, collecting bottles and cans; she played board games, bingo and visited the elderly at Parkhurst House; she helped with the distribution of food, stocked shelves, picked-up and unloaded donations from local grocery stores for the FISH Food Bank; she was a volunteer at Providence Hood River Memorial Hospital answering phones, greeting guests, sorting papers, and bagging IV fluids for nurses; she worked in the kitchen for Hood River Middle School Outdoor School; she participated in a summer science program, where they hiked, backpacked and camped near Mt. Adams for Field Ecology Academy, where she also helped the Forest Service collect data from endangered Aspen trees in the Gifford Pinchot National Forest, presenting a power point presentation with a group of other students; she volunteered at the St. Frances House after school program held at Mid Valley Elementary School; and she served as a judge for Teen Court.
Cristina is the daughter of Luis and Rosa Garcia. She plans on studying Health Studies at either Oregon State University or Portland State.
Megumi Masako Moehlman Hosaka maintains a 4.0 GPA and is also very active in at school. She is member of the Winter Competitive Varsity Cheer Team; she volunteered to teach 19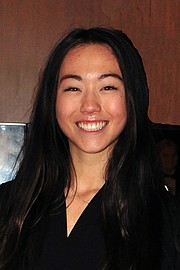 third graders at Junior Cheerleading Clinic; she is a member of the National Honor Society; she participated in Anti-Bullying Committee, where she went to meetings at the courthouse to explain the goals of the committee; she was one of the team responsible for the choreograph and organizing of rehearsals for the Homecoming Air Guitar Competition; she has been treasurer and is currently co-president of the Asian Club, educating the student body about different Asian cultures.
As part of her EA project, she taught a dance class at the Migrant Summer School in Mid Valley. She is a member of the Biology Book Club and was awarded the Biology Student of the Month, and won Honorable Mention at the Oregon College of Arts and Crafts Juried High School Art Show. She belongs to The Columbia Gorge Dance Academy taking pointe, ballet, elite jazz, advanced hip hop, advanced contemporary and modern dance.
Megumi's community service includes the following: she volunteered at the FISH Food Bank and the Canned Food Drive, sorting and bagging food and collecting money; she participated in Community Work Days, cleaning up the Japanese Gardens at the OSU Extension Center; working with younger kids teaching them different types of dance; she also puts on birthday parties for little girls which includes making shirts, playing dance games and learning some choreography; she helped on Link Day, introducing new freshman to the high school environment; she painted faces at the May Street Lasagna Feed; she helped with registration at the Rural Rampage; she changed trash bags at the Harvest Fest; she baked good to sells for a fundraiser at Salon Visio for a high school student with cancer; and she was in three dance performances for the Nutcracker Fundraiser.
As well as all these activities, Megumi works approximately 20 hours a week at G. Willikers Toy Shoppe. Megumi is the daughter of Terry and Tammy Hosaka. She plans to major in either dance or art and would like to attend University of San Francisco or Pace College in New York.
Both Megumi and Cristina will be eligible for the Elks Student of the Year awards, which will be held at the end of May. Congratulations to both of these amazing students.
Submitted by Linda Sanders, Elks Scholarship Chairman.