In the spirit of doing the absolute minimum for Christmas this year, I'm re-posting my blog from last year, featuring the best holiday songs, in my opinion, that you've never heard.
Now, when I say minimum, I mean the most decorating I've done this year is wear a Santa lapel pin, at work, today, Dec. 24.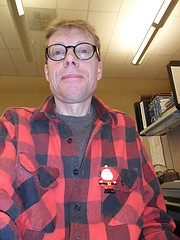 Anyway, a gracious thanks to everyone who's been on the blog this year, and here's looking forward to 2015.
And speaking of 2015, I hope you saw the announcement in the paper that my old band, mile marker 6, is getting together for a reunion show on Jan. 6 at Springhouse Cellar. Emails, text messages and old set lists have been flying around the interweb, (that's what we old people call it, anyway) in preparation for what should turn out to be a very fun evening of music.
Rumor is we're actually going to practice, and that in itself, for me, would be the best Christmas gift ever.
Enjoy and Happy Holidays!
Jim Drake
Audio clips
Happy XO Holidays 2014
2014 Holiday Blog Post
What a fun year!
Tons of music, a 5-year anniversary special and best of all, no signs of slowing down. For instance, last weekend I found out about a really cool show coming in Feb. 2014, so stay tuned. It's gonna be a fun one.
The end of the year is always a nice time to reflect, relax and regroup. One way I do that is by listening to music. Is there better way?
I think not.
Not too long ago, I recieved an email from a publicity company in Portland called XO. For 6 years in a row (I think), these guys have sent a batch of holiday type music from underground bands, a yearly collection called "XO for the Holidays."
And this year, I took the time to choose what I think is the most accessible from each year.
What I wound up with is a playlist I can't stop listening to.
Get some headphones, carve out 45 minutes of downtime and get these songs in a playlist, preferrably in the order I have them here.
(The best way to do this is to go ahead and google "XO for the holidays" and download the free music.)
Here's a list of the songs and what I think about them.
Enjoy, thanks for reading, have a great New Year and see you again in 2014!
Jim
Merry Xmas Everybody (Service Group)
My attraction to this song is due to an uncanny resemblance to a certain British Invasion band. (And no, it's not the Beatles, but it's close.)
Christmas Diablo (Romeo Spike)
On this collection, one of two odes to the commercialism factor of the holidays. Haunting and listenable.
Maybe Next Christmas (Blue Skies for Black Hearts)
This embodies longing for love in a slightly 50s-rockabilly, soulful way.
Christmas in September (Here Comes Everybody)
See notes for track 2. Hey, maybe I really should get that Nativity Scene going…..
McAdenville (Christmastown) (The Winter Sounds)
If the 80s band Flock of Seagulls made a Christmas song, it would sound like this.
I Lose a Little Bit of You (Jessie Torrisi)
A perfect juxtapostion of loss, the blues and the magic of a NYC christmas.
O Holy Night (Magnuson)
I am not a religious person. But I believe there is no stereo on earth capable of making this song loud enough.
The Anthem Is A Gift (The Winter Sounds)
More 80s sounding holiday music. The imagery of evergreens and mountain towns is beautiful.
Ragtime Manifesto (The Winter Sounds)
Did I mention we have an 80s theme going here?. I wish I knew more about this band. http://www.hoodrivernews.com/audioclips/56/
Carol Of The Bells (Paper Tounges)
Life would be dull if every version of every song was the same.
The Gift (Beneath Wind and Waves)
"What a lovely evening, for dressing forever." Perhaps one of the most poignant statements ever. Think about it.
All songs courtesy of XO Publicity in Portland.