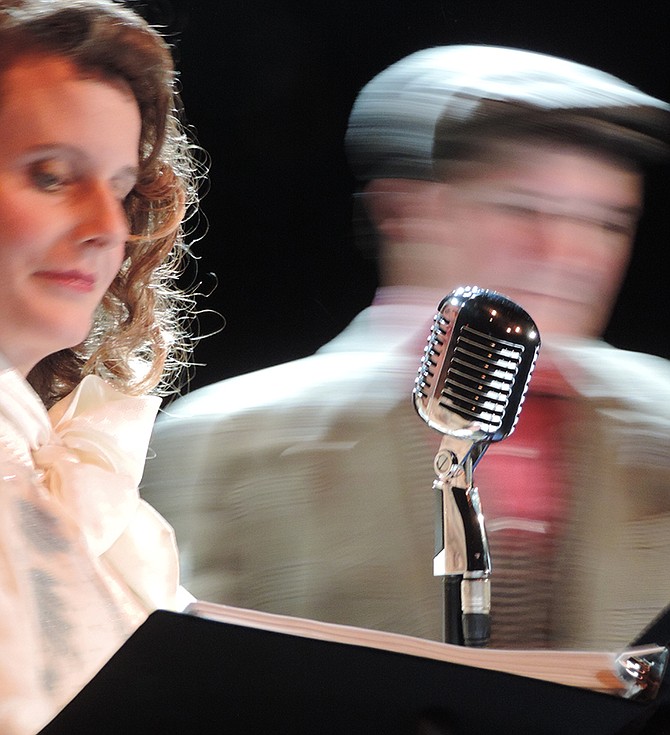 Hundreds of people heard a new Christmas song this season.
"Christmas Pageant Song" came courtesy of Bill Weiler, musical director for the radio play production of "It's A Wonderful Life," by Philip Grecian, which ran through Dec. 21 at CAST theater.
Sold out for nearly every performance, the Gary Young-directed production captured the feel and look of 1940s radio, bringing Bedford Falls, New York, to life through the dialog, songs, props, and sound effects so ably carried out by cast and crew.
"It's A Wonderful Life," with its tale of renewal and connection to community, is a perfect balm for this time of the year, and for our time. Never more than today do we need stories that show us the strength of the individual and the way his or her actions join him to his family, his friends, and his community.
Granted, the film version with Jimmy Stewart might feel like old hat; this is no knock on the Frank Capra film, a classic indeed. But it's been seen before, and even its biggest fans have to admit it comes with a dose of schmaltz.
The Hood River version had a certain edge to it, in seeing the story play out while the actors interact as just that: actors, taking a break, schmoozing upstage and then turning to the microphones just in time for their cues. It was like a reminder that the best of our stories sometimes lose their sense of reality when we forget it's real people behind them. The radio play rests on the premise that this group of 19 people shows up at the studio do the show, and when it is over they will put on their own coats and hats and walk out the door to their actual lives. And which of them will go home to mounting financial debts? To a sick child? To a barren cupboard, or to a lonely apartment? Which of these real people feels the doubts and fears of his or her existence, and wonders about the actions he has taken, or not taken, and how they affect his life now?
By putting the story in the hands of real people playing actors whose role it is to perform in an invented role, reminds us that the crises faced by George Bailey, and the people he works to help, are real things and not just some invented set of problems. A Christmas Eve surprise, let alone a miracle, is not something to count on, but it's also not something to dismiss.
And, often, peoples' individual crises and fears are underscored at this time of year. "It's A Wonderful Life" does have a happy ending, because it shows that by turning to our neighbors and friends, bad things can be overcome. Does the happy ending always happen? No, but sad endings don't always either.
Actors playing actors give us a sense of reality, and in "It's A Wonderful Life" those SRO audiences were sent home with a parting song, a new one that's like a gift from Lyle's Bill Weiler.
Here, with our Best Christmas Wishes, are his words:
"It's Christmas in Hood River
A most special time of year
'Tis the season of giv - ing
'Tis the season of good cheer
A Columbia Gorge Christmas
Mt. Hood is shining bright
Our wish goes out to every – one
May peace be with you tonight
May peace be with you tonight."
Columbia Center for the Arts and Radio Tierra are joining up to air "It's a Wonderful Life" on KZAS FM. The show will broadcast at 2 p.m., Dec. 25, on 95.1 Hood River, 95.9 Stevenson, and 107.7 The Dalles.