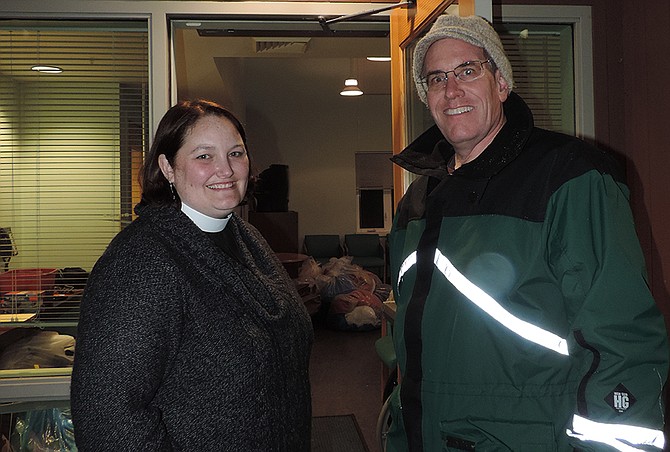 From the middle of November through the beginning of March, the homeless of Hood River have a warm place to stay at the Hood River Warming Shelter.
Now in its fifth season, today's shelter looks much different than it did in its first inception, said Rev. Anna Carmichael of St. Mark's Episcopal Church, the program's steering committee chair.
The idea for the shelter came about six years ago, after a young man was found dead from exposure on the streets of Hood River. Rev. Linda Presley, formerly of Hood River Valley Christian Church, "rallied with some other community leaders and said, 'we have to address this problem, provide some kind of community shelter'," Carmichael said.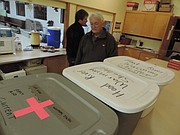 In a matter of three months, "we managed to pull together the very first version of the Warming Shelter," said Carmichael. All that was provided were sleeping bags and mattresses on the floor — and was only open if the thermometer dropped below 35 degrees.
Presley was the shelter's original steering committee chair. Carmichael, who has been with the program from the beginning, coordinated meal ministers, "most of whom are members of St. Mark's, and responding to supply requests as needed," she said. When Presley moved from Hood River earlier this year, Carmichael was asked to step into the committee chair role.
"I've continued to do this part of the ministry (food coordinator) because it reminds me that every part of the 'puzzle' that is the shelter is important ... even if it happens behind the scenes," she said.
These days, the shelter provides not only sleeping bags and cots for its guests, but hot showers, medical care and more.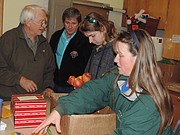 Riverside Community Church, Immanuel Lutheran Church, Mid-Columbia Center for Living, Hood River Nazarene Church and St. Mark's Episcopal Church serve as host sites, but there are other partners, too: The shelter receives bread from Rosauers, shower passes from the Hood River Aquatic Center, and laundry passes from Ecolaundry. Sleeping bags are cleaned weekly at Providence.
Dr. Laura Starrett of Providence also comes weekly to provide medical care. "If someone is sick, she'll work with other doctors who take patients without medical insurance; if she has the resources, she'll offer flu shots as well.
"…We have a lot of partners now, so we offer a lot of basic care for our guests that they would not otherwise have access to," Carmichael said.
When guests come for the first time, volunteers go over the rules — no violence, no sexual contact with another guest, no weapons, no alcohol or drugs — and they must sign a contract of understanding.
Afterwards, they are invited to pick out a sleeping bag and find a place "to set up camp for the night," said Carmichael. Once they've settled in, they have dinner and relax until lights out at 9:30 p.m., although the doors are locked at 9.
"But most of our guests are pretty tired, so they usually go down around 8 o'clock," Carmichael added.
Volunteers begin waking everyone up between 5:30 and 6 a.m. Both guests and volunteers help get the room back together and "clean anything that needs to be cleaned." Oatmeal is provided for breakfast, as are snacks guests can take with them, like peanut butter and jelly, granola bars, or fruit.
The shelter closes at 7:30 a.m., and the process repeats itself that evening at 6 p.m.
"Traditionally, it's mostly men" who frequent the shelter, Carmichael said. "We've had two women this year almost every night, so we need to negotiate space. In the past, two seasons ago, we did have a family that had children, and theirs was a unique situation — they had housing, but couldn't afford heat. At night, they would come to the shelter…
"I'm just glad we were able to help them in a very simple way, just say, 'come on in.'"
There are 132 Warming Shelter volunteers this year, said volunteer coordinator Andy Wade, who, like Carmichael, has been with the shelter since its beginning. It takes six volunteers each night to operate, or 42 per week.
Though there won't be another volunteer training until January — Wade is currently offering "on the job training" — he is taking applications, which can be found on the shelter's website (hoodrivercares.org).
There are three volunteer shifts at the Warming Shelter: the opening shift runs from 5:45-10:15 p.m., the overnight shift from 10:15 p.m. to 5:15 a.m., and closing from 5-7:30 a.m.
"I encourage the volunteers to bring a good book or a laptop, if they have work to do," Carmichael said.
Volunteers help set up cots and unload supplies, heat food, and "be a warm and welcome presence to the guests," said Carmichael.
SLICE, 2014
See every person profiled in The Slice in 2014 in Kaleidoscope, Dec. 31.
Also, we'll unveil our new plan for the page A1 weekly feature.
"We're often very surprised by the life stories that our guests share with us," said Carmichael. "Some of our guests do have employment; however, because it's working a very low wage job, they can't afford housing. We provide the opportunity to continue their employment, have a shower and a good meal, and save money to eventually get themselves into housing. Traditional housing is an issue in Hood River for folks who can't afford to buy a house in this town.
"This image that all of our homeless people are unemployed, drug addicts, alcoholics — that's really not the case. We need to listen to the stories of our people."
For those who don't feel called to volunteer, financial donations are welcome. It takes $25,000 to run the shelter for four months, "and almost all of that goes straight back into service," Carmichael said. "We're not making a profit."
The best way to donate is by visiting hoodrivercares.org, where there are several options available — a simple cash donation (click the "donate" tap), or by purchasing specific items in the virtual store (click the "store" tab).
"Someone can go on and say, 'I'd like to purchase three pairs of socks,' or 'I'd like to purchase a sleeping bag,' or "I'd like to buy shower passes,'" said Carmichael. "Yes, we will use (cash donations) in support of those things, but if they want to say, 'our church bought 50 pairs of socks,' they can say that with confidence by purchasing that through the store."
Carmichael has been priest at St. Marks since June 2010; before, she was priest at St. Margaret's in San Juan Capistrano, Calif. Her husband, Matt, has family in the Salem/Keizer area and had been hoping to move back to Oregon, so when St. Marks put out a call for a new priest, she decided to submit her name for consideration.
"This is a beautiful area," she said. "We live in the most beautiful place in the world, so I have no complaints."