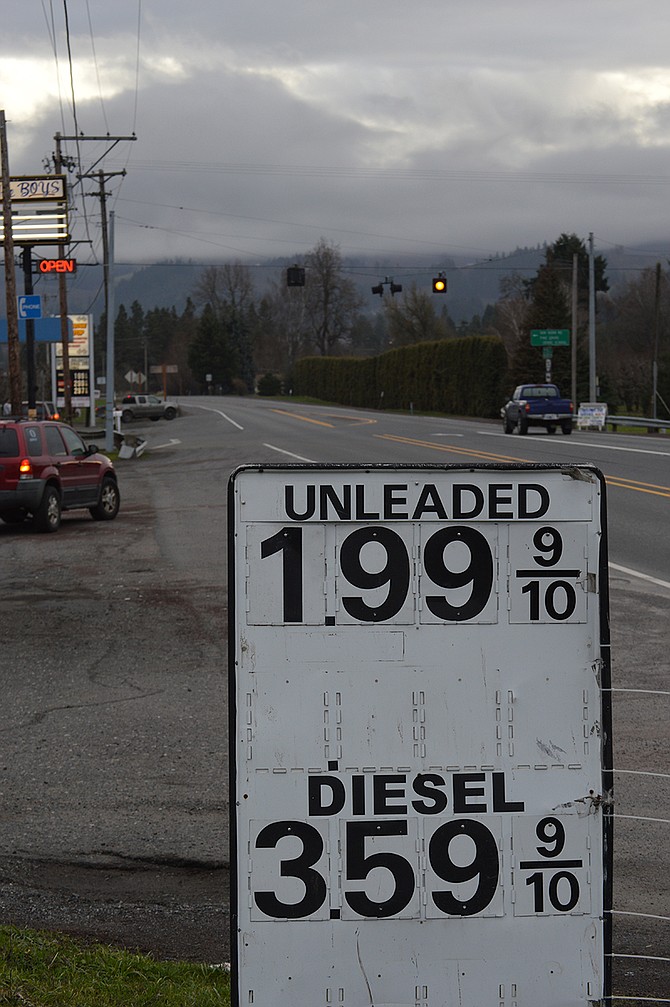 The anguish of holiday driving was likely a bit more tolerable this season for many American motorists as gas prices continue to fall to levels that haven't been seen in several years.
Gas prices are the lowest they've been in nearly six years, according to a report from AAA, dropping precipitously over the past month. Prices started declining in September and broke a record earlier this week, falling for 86 consecutive days, the longest streak that has ever been recorded by AAA. As of Friday, the U.S. average had fallen to $2.32 for a gallon of regular.
In the Portland Metro area, gas is at $2.62 — more than 60 cents per gallon lower than it was a year ago ($3.28), and 40 cents lower than where it was a month ago ($3.02). Gas in the Portland Metro area was at its highest June 2008 when it hit $4.27 a gallon. Diesel has also fallen, from $3.63 a month ago to $3.24 on Friday.
Although prices seem low in Oregon, they're not low when compared to the majority of other states. According to AAA, on Christmas Eve, when many fuel up their cars for holiday traveling, a gallon of regular averaged $2.61 in Oregon, making it the ninth-most expensive in the U.S. By comparison, Missouri had the cheapest fuel at just over $2 a gallon, while Hawaii, as you might imagine, had the most expensive at $3.56. In general, gas has been cheapest in the Midwest and the Deep South and most expensive in the Northeast and on the West Coast.
In Hood River, prices have been a little cheaper than the state average, hovering just below $2.50. South of Hood River at The Boys Pine Grove Grocery, gas dipped just below the $2 mark at $1.99.
The drop in gas can be a cost savings for both private citizens and local governments. Hood River's Wyatt Wall, an independent contractor who operates a truck driving business called Blue Streak Transportation, said his own rates are adjusted to what the fuel prices are — a contractual arrangement used by many, but not all, small trucking outfits.
"Overall, it's tremendous," he said of the falling fuel prices. "There are lot of truckers out there to who didn't have the foresight to work that into their contract, or they didn't adjust fully.
"It's a big benefit to not have that cost," said Wall. "And even for those who do have that adjustment, not having that initial cash outlay really helps."
Decreased gas prices will also lower costs for Hood River County, which supplies fuel for not only itself, but also for the majority of city of Hood River departments. County Administrator David Meriwether explained the county purchases approximately $600,000 in fuel annually, with some of that fuel sold to the city to operate their fleet. Meriwether estimated that the county puts out bids once a month for fuel, which is bought in bulk and stored in two 12,000-gallon fuel tanks located at the Hood River County Public Works Department facility on 18th Street. He noted that since the county buys in bulk, "we're paying below pump price anyway."
Mikel Diwan, director of public works, said there is "definitely the potential for savings," although the county hasn't seen the full impact of price reductions yet.
"Since we buy in bulk, we have not seen the price drop as immediately as it has at the pump," he explained, and added that the county is still "using gas we bought at last month's prices."
Hood River City Manager Steve Wheeler said the cost-savings was certainly a benefit to the city, although he indicated the decreased fuel prices would merely balance out an increased cost in some other city fund.
"The ending balance would be higher assuming a higher increase somewhere else didn't wipe it out. Over time, things seem to balance out," he said.
AAA estimates that the lower fuel prices are helping consumers save more than $450 million per day on gasoline compared to the highs earlier this year. They also forecast that 98.6 million Americans will travel 50 miles or more for the holiday season, which is the most on record.
Increased fuel sales prompted by the low prices could also mean higher revenues for the city, which has a 3-cent per gallon gasoline tax. The News contacted management of multiple local fuel distributors and gas stations about their sales, but did not receive responses as of press time.
So what exactly is driving low gas prices? While there are many theories to the ebb and flow of the cost of fuel, many industry experts seem to agree that a glut in production from both the U.S. and petroleum producers in the Middle East, chiefly Saudi Arabia, is responsible.
And although there is skepticism that the relatively low prices will last, AAA report that "barring any disruptions in domestic production or unexpected spikes in the global price of crude, consumers could see prices drop another 10-15 cents per gallon to ring in the New Year."