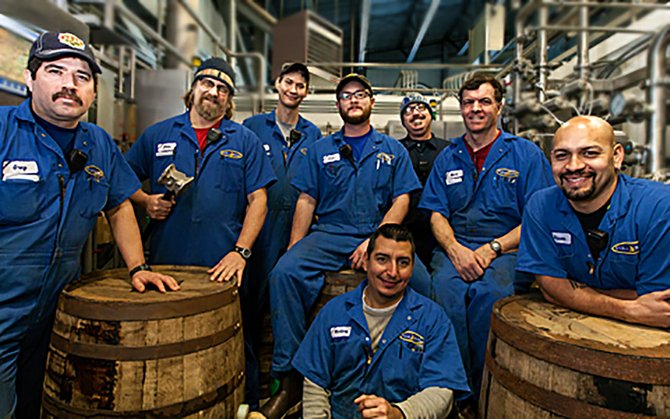 The sixth-annual Zwicklemania Oregon Brewery Open House takes place Feb. 15, 11 a.m. 4 p.m.
Zwicklemania is the term for a once-a-year backstage pass to sample special releases and tank- or barrel-aged beers. Breweries throughout the state are participating (oregoncraftbeer.org).
Participating local breweries are Double Mountain Brewery and Taproom and Full Sail Brewing of Hood River and Logsdon Farmhouse Ales, near Odell.
Meanwhile, Full Sail and Logsdon are launching landmark beers.
Logsdon Farmhouse teams with Widmer Bros.
Zwicklemania will bring a special event to Logsdon Organic Farm Brewery, 4785 Booth Hill Road (turn east on Neal Creek Road at Mt. Hood Forest Products).
Logsdon will release its World Beer Cup Gold Medal-winning Peche 'n Brett, a seasonally made beer with fresh local organic peaches.
Also featured will be its other award-winning beers paired with oysters on the half shell kindly provided by Cooper Spur Resort and a variety of charcuterie provided by Olympic Provisions of Portland.
They will also be sampling the Ensemble Pale Ale, a collaboration beer brewed with Logsdon and Widmer Brothers Brewing Company of Portland. The collaboration is the result of Logsdon Farmhouse Ales winning Brewbound's Startup Brewery Challenge held in Portland in August 2013.
The breweries are holding a launch party for Ensemble Pale Ale at the Tin Bucket in Portland on Friday, Jan. 31, at 5 p.m. Brewers from both breweries will be on hand to talk about the beer and the Startup Brewery Challenge.
Ensemble Pale Ale is a Belgian-style pale ale that brings together two pioneers of the craft brewing industry in Oregon. Dave Logsdon, founder of Logsdon Farmhouse Ales, also founded Wyeast Laboratories, now in Odell, in his Northeast Portland basement in 1984; Kurt and Rob Widmer were Wyeast's first customer when they opened their brewery later that year.
Wyeast Laboratories is one of the country's leading suppliers of yeasts for brewing and winemaking, and Logsdon Farmhouse Ales is on the leading edge of fermentation science.
The Ensemble recipe was designed to highlight Logsdon's expertise with yeasts and Belgian styles, along with Widmer Brothers' extensive experience with hops.
As part of the August 2013 Brewbound Startup Brewery Challenge, four Oregon-based breweries presented their brewery plans and beers to a panel of industry experts. Logsdon Farmhouse Ales won the challenge, which resulted in its collaborating with Widmer Brothers to brew Ensemble.
This special release was brewed with organic ingredients, has a floral, fruity nose and a complex ester profile from multiple Belgian yeast strains.
For more information on Widmer Brothers visit widmerbrothers.com, and for more information on Logsdon Farmhouse Ales, visit farmhousebeer.com.
Here's the Ensemble specs: malts: Pilsner, C-40, oats; hops: bittering – Hallertau; flavor – Hallertau, Sterling; aroma – Hallertau, Sterling, Cascade; ABV: 5.8 percent; IBU: 25; OG: 13.6 P; AE: 2.8 P
This complex Belgian-style pale ale is brewed with organic ingredients and fermented with several different Belgian yeast strains that offer a unique tropical fruit and slightly phenolic ester profile. Pilsner and caramel malts, along with whole raw oats from Bob's Red Mill lend a slightly malty character, and a layered hopping schedule that includes Hallertau, Sterling and Cascade hops creates a floral, citrusy nose that really complements the Belgian yeast.
Full Sail Bourbon Aged Stout released Feb. 6
In the 1990s, a master distiller visiting from Scotland and a brewmaster from a small brewery in Hood River serendipitously crossed paths. Over a pint or two, they shared their labors of love and pondered a rather intriguing question: What would happen if beer and distilled spirits met somewhere along the way?
The outcome of their inspiration was Full Sail's Bourbon Barrel Aged Imperial Stout, an annual celebration of the best of American beer and American bourbon. With a tip of the hat to the Scotsman that inspired the idea, Full Sail offers this finely crafted beer for a limited time.

This week, Full Sail Brewing will release its 2014 Full Sail Bourbon Barrel Aged Imperial Stout. The release has received numerous accolades over the years, including gold and silver medals and five star ratings.
This beer was brewed in December 2012 and aged in Kentucky bourbon casks from Heaven Hill, Four Roses and Makers Mark. This extended aging presents hints of vanilla and allows the Imperial Stout to pick up the flavors of the wood, bourbon and oak.
The aging accentuates the robust character of the Imperial Stout and brings out the depth of flavor from the bourbon, creating chocolate and caramel notes and an overall elegantly sophisticated beer. The beer is racked in small batches and is available in only very limited quantities.
The beer (ABV 9.84 percent, IBU 40) is suitable for cellaring and is available in early February in 22-ounce bottles and draft.
To celebrate the release of this beer, Full Sail is planning two horizontal tasting events that highlight the individual bourbons.
"Bourbon Barrel Aged Imperial Stout is a blend of the three barrel varieties, Heaven Hill, Four Roses, and Maker's Mark, so we thought it would be interesting to try a bit of each before blending. We kegged off a very small stash of each variety for the release," said Full Sail Executive Brewmaster Jamie Emmerson. "Join us to celebrate the release and taste the differences between the three individual bourbons and the final blend."
The special tapping will take place at 5 p.m., Feb. 6, at Full Sail's Brew Pub in Hood River and at Full Sail's Riverplace Brewery in Portland on Monday, Feb. 10 at 6 p.m. in the Pilsner Room. For more information call the Full Sail Brew Pub at 541-386-2247.
n
Logsdon is planning its first Trippel Belgian ale, with brewing to start next month, and release this spring.
The trippel is titled "Straffe Drieling" – Flemish for "excellent triplets" (shtraw-fuh dree-ling) — for Logsdon's triplet daughters Tamara, Katrina and Alisa.
Tamara did the label for Logsdon's Kili Wit label, featuring the tallest mountain peak in Africa, Kilimanjaro.
The mountain theme continues on the Straffe Drieling label, which will feature — what else? — Oregon's Three Sisters peaks.