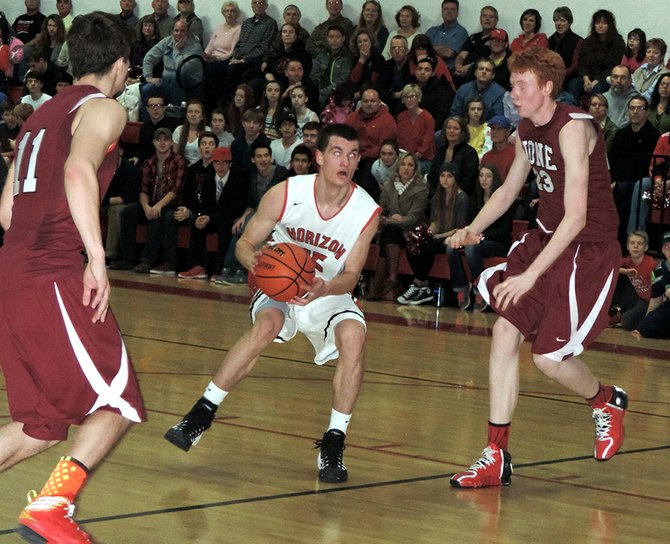 The Ione Cardinals had high expectations going into Friday's Big Sky Conference showdown against the Horizon Christian Hawks. Prior to the anticipated matchup, the 1A No. 7-ranked Cardinals (13-3 overall, 7-1 league) were riding a seven-game win streak and appeared to be the biggest roadblock the 1A No. 1-ranked Hawks (17-1, 9-0) would have on their way to the post season.
Using seemingly insurmountable momentum and an at-capacity home court advantage, the Hawks demonstrated that they undoubtedly belong in a league of their own. The 88-57 victory is the 17th straight for the team and the ninth by 30 points or more.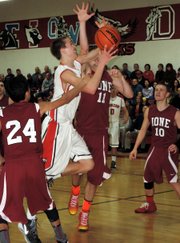 The trio of juniors Jared Davis (29 points), Mason Bloomster (20 pts.) and senior Matt Totaro (29 pts.) combined to score 78 points to fuel the blaze in Horizon to the overwhelming performance.
"We came into the game thinking that it's going to be a war and you have to go into every game with that same outlook," said Totaro. "We played great defense, which really helped get our transition game going for us. We did everything pretty well and the scoreboard kind of took care of itself."
Ione came into the game with the higher-ranked offense averaging 76.2 points per game, but Horizon's athleticism, quickness and aggressive defensive pressure proved to be more than Ione could handle.
Totaro (team-high 13 rebounds) helped ignite the Hawks offense as he scored on a reverse layup and then on the Hawks' second possession he launched a long-range three to give the Hawks an early 5-0 advantage. Horizon's full court press helped create Ione turnovers and totally disrupted the team's offense. The Hawks transitioned nicely into their offense to get good scoring opportunities with layups and short jump shots as they took an 11-4 lead midway through the first quarter.
"We have lots of offensive weapons and when everyone on our team comes out and plays with a strong effort like we had tonight, there's not much teams can do to stop us," said Totaro. "The beautiful thing about our team is than when everyone is in synch, we're hard to stop. I'm real proud of all my teammates for playing so well."
Horizon extended its lead to double digits at 16-6 on a Davis three-pointer with two minutes, 53 seconds left in the quarter. Following a 10-2 run, Horizon went up 26-8 at the end of the quarter.
"It helps our team that I'm able to score, but when I have Matt and Mason who I can rely on to score too, then it helps take the pressure off me," said Davis, who had four assists. "All five of our starters are actually very elite players who are all capable of scoring well. We don't really pay much attention to rankings. We prepare for every contest like it's the championship game. We play every game with the attitude that our opponent is the best team and we have something to prove."
Ione had a flicker of hope in the second quarter with a 12-2 run, trimming the margin to 28-20 to stir Horizon coach Darrin Lingel to call a timeout. That was as close as the Cardinals would get, however, as Horizon stepped up its intensity level and maintained control for the remainder of the contest.
"We were focusing on what we needed to do defensively and we had some letdowns, so we had to make sure that we tightened things up on defense," said Lingel. "We're going to be in games with single-digit margins where we'll need to make adjustments and that's what we did. The kids came out and did a good job of executing well and we were up for the challenge."
A 13-0 offensive surge, including a Davis three, his layup on a fast break and a jumper in the lane by junior Nick Anderson helped propel the Hawks to a 41-20 margin. Freshman Ethan Evans (two pts.) scored inside late in the second to help Horizon build a 44-24 halftime advantage.
The teams traded baskets early in the third as Horizon continued leading 52-32. A 9-0 Hawks' run, including threes by Bloomster and Davis made it 61-32. Ione came back with a 15-4 run, narrowing the deficit to 65-47 after three
A 7-0 Hawks run, including a Davis driving layup and his three-pointer at the beginning of the fourth, made it 72-47, forcing an Ione timeout with 6:42 left in the game. The Cardinals lost their composure and their tempers midway through the fourth when they were whistled for two technical fouls in less than a minute.
"They (Ione) just ran into kind of a buzz saw with us and we were hitting on all cylinders and we were ready to play," said Lingel. "The challenge for us this year has been motivation. We need to keep the guys going by making sure they stay focused and passionate about playing basketball."
Junior Wes Johnston (three pts.) sank two free throws to give Horizon a 79-55 lead on the first technical. Johnston later sank a free throw on the second technical, making it 81-55. A Bloomster jumper in the lane near the conclusion of the game provided Horizon with the final 31-point margin.
Horizon's 88 points scored was a Hawks season high, while their shooting was 54 percent (28-for-51) from the field and 50 percent (5-for-10) from the three-point line. The win was the team's 24th straight league victory over three seasons.