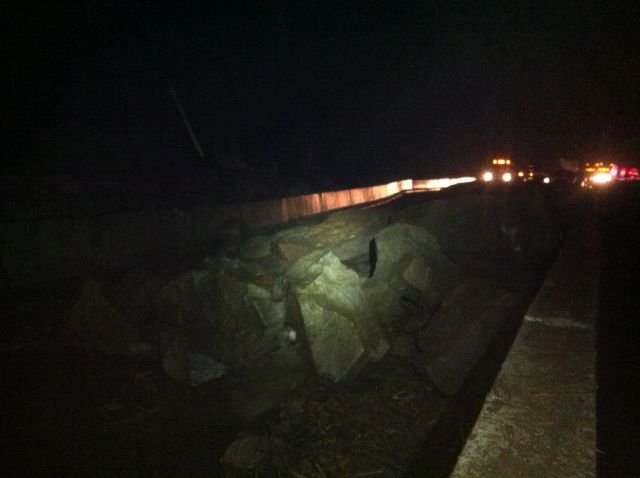 A large landslide has closed both east bound lanes of I-84 and 1 westbound lane at milepost 61.
According to Hood River Fire, one car was hit by a large falling rock but no one was injured.
ODOT and emergency responders are currently on scene.
More info, from OSP:
One person was uninjured Wednesday night after their vehicle crashed into a several large boulders during a landslide on Interstate 84 about one mile west of Hood River. The slide is blocking the eastbound lanes and one westbound lane. ODOT personnel are on scene to begin work on clearing the slide before deciding when it is safe to re-open the eastbound lanes for traffic.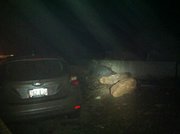 On February 12, 2014 at approximately 7:26 p.m., a passenger car driven by an adult male was eastbound on Interstate 84 near milepost 61 when a landslide occurred from the south side of the freeway lanes. Large boulders and debris slid across the eastbound lanes, pushing the concrete center barrier into the left westbound lane. The car's occupant was not injured. That person's name is not available for release.
Oregon State Police and local emergency responders went to the scene along with ODOT personnel. According to ODOT's TripCheck.com, eastbound lanes are closed at milepost 17 and travelers are asked to use an alternative route until further notice. The suggested route for travelers on Interstate 84 is to cross into Washington State at the Bridge of the Gods in Cascade Locks to Highway 14. Eastbound travelers can return back into Oregon at Hood River. Westbound traffic can also use an alternative route and should expect delays if using Interstate 84.