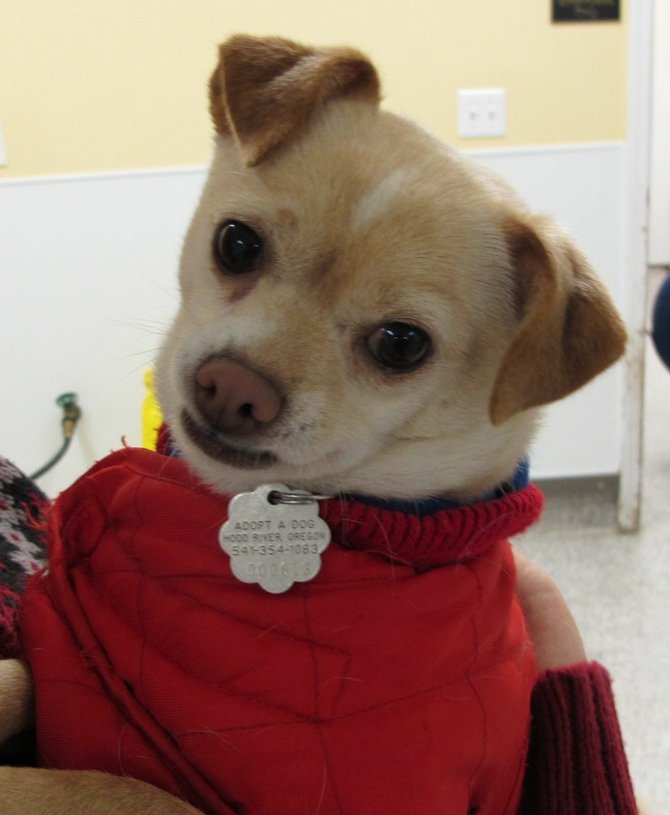 This week volunteers at Adopt A Dog have selected Paolo as the program's adoptable pet of the week. They describe him as follows:
"Paolo is about 5 years old, maybe 15 pounds, and some kind of Chihuahua mix. He's among the group rescued from a bad living situation in way back in October, where they were kept outside in a small shed, cold, dirt floor, 14 other dogs scrambling all over the place, and little human attention.
"Paolo was the most scared and most difficult to take care of. He's been through a lot, but has come through the other side and has decided being a lap dog and going for walks is the best life for him!
"He has settled into this new life filled with food and warmth and hugs, and Paolo thinks this is just fine! He seems to be OK not having to fight for food or space to himself. Paolo now enjoys fresh air, the feel of grass on his little feet, and a cozy lap all to himself!
"Snow, though? Not so much! He's a trooper, and will even play for a little bit in the cold powder, but he's really built for the great, warm indoors! He is ready for his new loving home anytime!"
Paolo is housetrained, current on shots, microchipped and neutered. His adoption fee is $185. The fee to adopt is charged to recoup standard veterinary expenses.
Since many of AAD's dogs are in foster care, please call ahead to meet Paolo at the Hukari Animal Shelter, 3910 Heron Drive, Odell; 541-354-1083. Adoption hours are Wednesdays from 5-7 p.m. and Saturdays from 9-11 a.m. Applications may be downloaded at hoodriveradoptadog.org and faxed to 877-833-7166.