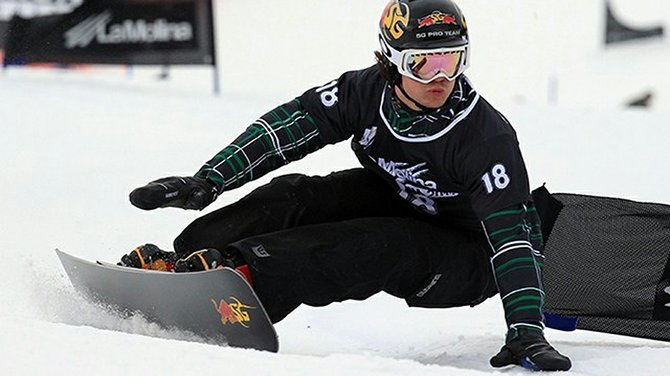 He might be competing for Team Russia, but Vic Wild's hometown will always be White Salmon.
Wild, 27, was raised in White Salmon and got his start 20 years ago at Mt. Hood Meadows Ski Resort. Now he is the first American-born athlete to compete in the winter Olympics for Russia and will be racing in the snowboarding Parallel Giant Slalom on Feb. 19 and the new Parallel Slalom on Feb. 22. The finals for both events will broadcast on NBC Primetime (channel 8 for Charter customers) starting at 8 p.m. on those days.
It's safe to say his mother, Carol Wild, who taught in White Salmon Valley Schools for 27 years before moving to Yakama in 2007, is just a tad excited for her son, especially because he gets to compete in one of 12 events making Olympic debuts this year.
Before alpine snowboarders only had the Parallel Giant Slalom to choose from during the winter Olympics.
"It's really cool that they've given the alpine snowboard racers another event, so instead of just one race they'll have two," Carol Wild said.
The addition of Parallel Slalom to the Olympic lineup suits Wild. At the Jan. 12 FIS Snowboard World Cup in Bad Gastein, Austria, Wild came out on top in the event and at the Parallel Giant Slalom competitions in Rogla, Slovenia; Carezza, Italy; and Sudelfeld, Germany, Wild took fifth, seventh, and eighth place, respectively.
After all that excitement, Wild is taking it somewhat easy before he competes next week.
"I talked to him on Monday. He's doing really well. I think he's just kind of cooling his jets. World Cup racing is finished and now he has a couple of weeks to relax and gather himself prior to the Olympics," Carol Wild said.
Wild snowboarded for Team USA until 2011 and made the switch to competing for Russia when he married Russian snowboarder Alena Zavarzina, who will compete in the women's versions of the Parallel Slalom and Parallel Giant Slalom.
The pair currently live in Moscow, but are staying in the Olympic Village in Sochi until their day to compete arrives. Despite widespread media reports of sub-par living conditions in hotels recently built for the influx of athletes and the media in Sochi, Carol Wild said she believes much of it to be exaggerated after hearing from her son.
"My understanding is that the athletes are happy with their living conditions. I've seen the reports, of course, from various news media, but I think the media tends to hype things up and make a big deal out of nothing," Carol Wild said.
As for being the mother of a world-class athlete, Carol Wild is leaving for Russia on Feb. 14 and says she isn't nervous to watch her son in either race.
"I'm excited for him and Alena both. I know they will both give it 100 percent and I hope they both come home with some medals," Carol Wild said. "I know Vic still considers White Salmon home. He has a home in Moscow now, but he'll always be one of White Salmon's greatest fans."