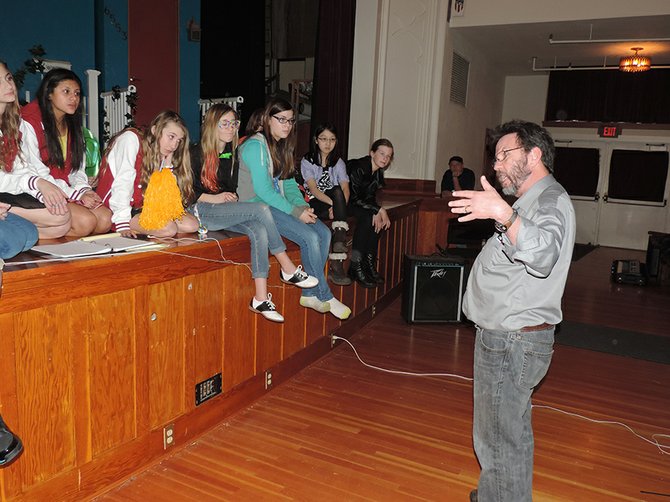 "The Kid Next Door," a community collaborative musical production, opens Friday at Hood River Middle School auditorium, presented by the Hood River Middle School Performing Arts Department.
Shows are at 7 p.m. on Feb. 21, 22 and Feb. 28 and March 1 at 7 p.m. and at 2 p.m. on Feb. 22 and Feb. 29.
Rebecca Nederhiser directs the musical, written by Mark Steighner.
Adult cast members, including Principal Brent Emmons, join a large ensemble of middle school students, led by Ella Van Cott and Kaitlyn McAllister in the lead roles.
ON STAGE AT HRMS
Shows are at 7 p.m. on Feb. 21, 22 and Feb. 28 and March 1 at 7 p.m. and at 2 p.m. on Feb. 22 and Feb. 29, at HRMS auditorium.
Tickets are $5 for adults, $3 for those 14 and under.
"The Kid Next Door" is the third part of a trilogy of original productions Steighner wrote for the HRMS performing arts department.
In it, friendships are tested and formed and young people learn compassion and acceptance. Peer judgment, divorce, identity, and self-image are themes explored in the story.
The previous shows were "The Princess Slob" and "Three and a Half Wishes" in 2012 and 2013.
"I like to think of this as a trilogy, even though none of the stories or characters connect," Steighner wrote in his composer's notes.
"What does run through each of the musicals is the basic situation: young women who a bit outside the mainstream, learning to find and accept their strengths. Whether they are unkempt royalty (Princess Slob), unwitting genie masters (Three and a Half Wishes) or artists, they all find insights and courage through their friendships and self-acceptance.
"'The Kid Next Door' doesn't have any supernatural or fantasy elements about it, but is instead more or less rooted in 'real life,'" Steighner said.
Nederhiser writes, "It's hard to believe that this journey all started with a seed … a small idea/comment to Mark Steighner three years ago — inquiring about doing a musical here at HRMS. Three shows later, here we are at 'The Kid Next Door,' featuring yet another creative and dedicated cast of adults and kids alike. It has been a delight to see this show come to life and to explore all the creative and imaginative elements in doing so."
Emmons said, that "Each musical captures emotional and development concepts that people begin to work through as young adults. The musicals are both tender and funny with memorable songs," Emmons said, noting Steighner's hallmark themes include as individuality, accepting differences, and assuming control of your own future.
"I feel blessed to have been a small part of these works," Emmons said.
"A special feature of each musical has been the actors. Adults act as adults and the students play the kid roles. This has been a great addition to our school," Emmons said.
"Students and staff are working together to create something special — as equals. Kids frequently help the adults with their lines and the adults help the kids in many other ways not commonly found in a traditional teacher student relationship."
"I am so grateful for the amazing dedication of Rebecca Nederhiser," Emmons said.
Nederhiser expressed thanks to Steighner and to Henry Kapp, who provides piano accompaniment.
The school engineering class, led by Andy Angstrom, constructed the set, which rotates for the neighboring front porches and the school cafeteria. Numerous items from Gorge Rebuild-It Center went into the set pieces.
Teacher Anne Marie provides narration, district technology specialist John Vann provided lighting, and Laura McAllister and Andrew Kirschbaum worked hours on set construction.
n
The story begins on an early Monday morning as students gather to catch the bus for school. As various characters emerge, Molly Williams (lead) runs out of the house, slow to start her day. At the bus stop, the conversation revolves around Molly's new neighbor, the kids' lament for school, and the latest news that they have a substitute bus driver. With the sound of a crash nearby, the kids find Mr. Binder disheveled from driving the bus into a near-by lawn. Walking single-file off to school, the kids are anything but enthusiastic to start their day.
The following scene opens in the lunchroom, where the kids are gossiping about the weird intercom announcements and Molly's new neighbor, Stella Grant. As Stella enters the room, the kids immediately start judging her appearance and lack of fashion, even comparing her to a zombie in one of their comic books. While Molly tries to stop her
friends' rude comments, she proves unsuccessful.
Eventually, the announcements call both Molly and Stella away from the lunchroom, allowing them to escape the drama. Walking down the hall, Stella learns of Molly's passion for art and she becomes hopeful that she has found a friend.
The week quickly passes as other students at school (ensemble) sing about their adventures in math, P.E. and choir. Now Friday, a familiar site emerges as the kids are again gathered for the bus to return home for the weekend. Excited for the chance to sleep and play video games, their conversation again comes back to the new girl Stella.
Commenting on her ability to excel in everything, the kids go from stereotyping her as a zombie to now a superhero. As Stella enters the scene, she is again caught off-guard by the student's reaction to her.
Back home, Stella finds Molly coming out of her house to escape her parents' continued bickering. As her and Stella talk, Molly confesses her jealously over Stella's successes in school, feeling inadequate of her own artistic talent. Stella confides in Molly that her achievements are not based upon any superpowers, but rather by her constant practicing and pressure from parents.
Stella's comments ring true, when her conversation with Molly is interrupted by her parents' request to come inside and finish her on-line language lesson.
Following another peculiar announcement from the intercom, we find the kids are gathered in the cafeteria for their annual Halloween dance. While the students continue to tease Stella's odd behaviors, they eventually see her loosen up as she joins them in the chicken dance. Stella's happiness is soon interrupted however, when Molly discovers that her parents are getting a divorce and she will be moving away.
While Stella tries to comfort her, her lack of social grace offends Molly, leading both girls to leave the dance upset and hurt.
On her front porch, Molly's parents attempt to console her about the move and explain that the divorce is the best solution for everyone. Molly learns that her dad will be pursuing his dream of being in a band, while she will be moving up to Seattle with her mom. Walking outside, Stella joins Molly on the porch and apologizes for her earlier behavior at the dance.

As the other kids greet Stella and Molly outside however, Stella's mom confronts her daughter about practicing her violin. For the first time, Stella finds herself standing up for her friends and herself, leaving her mom bewildered at what has gotten into her "perfect" child.
As time passes, we find the kids once more at the bus stop, but this time without Molly, as she is now in Seattle. We learn from their conversation that despite her move, Stella still entered Molly's painting into the competition, resulting in a first prize for her friend. As the kids reflect on their past and view the new for sale sign up on Molly's house, they comment the need to show compassion and acceptance to new people in their life, especially for the kid next door.
CAST LIST
Stella Grant: Ella VanCott
The "new girl" that moves in next to Molly. Stella is talented, athletic, shy, awkward and extremely disciplined. She dresses with no regard for style or color.
Molly Williams: Katelyn McAllister
Lives next door to Stella. Molly is artistic, colorful, sloppy, disheveled, undisciplined, a little forgetful, but very smart and talented too.
Richard Stover: Bradley Long
Nerdy boy who reads a lot of comic books and plays a lot of video games. However, very imaginative and generally kind.
Ronny Ortiz: Liam Baker
Like Richard, Ronny is a bit of a nerd — he loves gory horror films and TV — but he also has a vivid imagination.
Ramon: Mateo Campos-Davis
Friend of Ronny and Richard, who isn't as into comics and video games, but still enjoys being a part of their adventures at school.
Lanie: Atari Gauthier
Dylane: Carly Wyatt
Michelle: Francis Dickinson
Dawn: Meaghan Wahl
*All girls at school, who are, to some extent, are a bit superficial and snobby. Dylane and Lanie, in particular, are very cliquish and intolerant to outsiders.
Ensemble/Chorus: Emma Berens, Lyric Emmons, Aleeyah Enriquez, Sadie Fetkenhour, Sarah Hall, Emily Mitchell, Mariah Roberts, Sarah Wang, Amy Webber, and Devin Youngblood
ADULT CAST:
Announcer Voice: Anne Marie Untalan
The voice of the school intercom, often invoking humorous and embarrassing events about the students at school.
Mr. Binder: Jack Sprague
Mr. Binder is the school bus driver who is scatterbrained, partially blind, but also funny and quirky. He is generally kind to the kids.
Mr. Grant (Stella's Father): Brent Emmons
Mrs. Grant (Stella's Mom): Sarah Segal
Both Mr. and Mrs. Grant have one function, which is to promote, develop, and obsess over Stella's abilities and talents. They are mega-helicopter parents who distrust any kind of light entertainment or distraction.
Mr. Williams (Molly's Father): Adam Smith
Mrs. Williams (Molly's Mother): Rachel Fortgang
Molly's father is an early middle-ages ex-rocker who is creative, friendly, caring and unemployed. Molly's mother is the bread winner of the family. Both of Molly's parents are kind toward their daughter.
Mr. Daubs: Andy Holmes
Art teacher at school who encourages Molly to send in her work for the art competition.
Backstage Crew:
Sara Hamada
Amber Kennedy
Muir Emmons
Katherine McElderry
Grace Schlemmer
Jade Dowdy