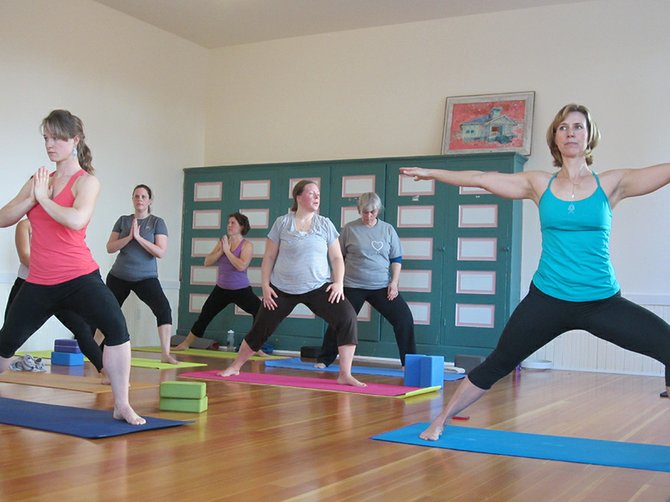 Christina McGhee has a lifetime of experience to share during her fitness classes at the historic Mount Hood Town Hall, located at 6575 Highway 35 in Mount Hood. The 10-year board member is one of three who teach morning, afternoon and evening classes that are catered toward the Mount Hood-Parkdale community, although everyone is welcome to attend.
Incidentally, 10 years is also how long McGhee has been teaching her classes at the Mount Hood Town Hall. She first approached the board about leading a fitness class 14 years ago, shortly after moving to Parkdale — she thought it would be a fun way to get to know people — but ultimately, the timing wasn't right.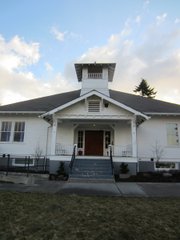 "I wasn't ready to teach at that time and then a child was born somewhere in there," she said. "I kind of investigated and took a year or two to get ready."
Sometime after she joined the Town Hall board, the idea for a fitness class came up again.
"We were trying to get classes there, and sometimes, you get to do them yourself," McGhee laughed.
She teaches boot camp every Monday at 9:15 a.m., and yoga every Friday at 8:15 a.m. She keeps her classes intentionally inexpensive — $7 for a single class or $25 for a book of five — to encourage participation.
"This last year, attendance has really gone up," she said. "We've built a great audience and group of people who come. It's fun."
She enjoys the classes she's teaching ("I teach what I like to teach because that means I get a really good workout"), but didn't start out with her current offerings; those have evolved with time.
"I didn't do yoga at first," she said. "I used to teach more of an aerobics class, a general fitness class, and that morphed into more of a boot camp, which seems to fit people's interests here. We laugh and have fun and do all kinds of crazy things."
Boot camp might sound scary — and it can be a really intense workout, McGhee notes — but participants are encouraged to go at their own pace.
"You can modify it to your fitness level. It doesn't have to be high-impact or -intensity." Exercises include jumping jacks, football drills and obstacle games. She added yoga three years ago; moves vary from gentle stretching to intense poses.
Her classes are attended mostly by women who range in age from 30s to 70s. "It's very multi-generational," she said. "I'll have my mom and her friends, right alongside my peers." Because of this variety, her classes are aimed for beginner through intermediate levels.
McGhee grew up in Portland and has been interested in fitness for as long as she can remember. Her father is Covert Bailey, author of the "Fit or Fat" books and a legend in the fitness world, so being active was simply a way of life.
"With my dad's background, it's always been a part of our lives, being active and healthy and into sports," she said. "Both my parents were very active parents. I've always done some form of something."
She graduated from the University of Oregon in 1993 with a degree in exercise science and went to work with her father, counseling clients over the phone ("It was before the Internet days," she explained). She set up specific exercise and nutrition programs based on her father's books, and would call once a week for personal coaching sessions.
Her clients were "people who had a lot of weight to lose, or struggled with weight loss and needed one-on-one coaching," she explained.
And then she decided to try something new.
In 2000, McGhee moved to Parkdale, where she lives today with husband John and children Patrick, 9, and Ella, 6. She continued her tele-coaching business for a couple of years, but her focus was now on the Gorge Games, where she had been hired as an event coordinator.
The Gorge Games (held in the late 1990s and early 2000s) led to a joint employment with the City and Port of Cascade Locks, where she expanded Sternwheeler Days, created new events, and did "anything and everything to bring attention to Cascade Locks," she said.
Even after her official event planning stints ended, she was still organizing events. In 2008, she decided to start her own company, and Simply Events (gosimplyevents.com) was born. Her business centers mostly on wedding and fundraiser events, but she has continued to keep ties with fitness — she offers yoga and women's wellness retreats in addition to her other services.
Despite her growing business, she continues to take an active role in fitness for a variety of reasons.
"It's a wonderful service to the community (to have classes at the Mount Hood Town Hall)," she said. "And I really wanted to have something that was local, meaning Parkdale local, so we don't have to drive all the way to Hood River to do things.
"It's also a way I can continue to be active. There's nothing like having to show up at 8 o'clock and have people waiting for you at the door."
Those interested in joining McGhee's classes can either drop in or visit the Mount Hood Town Hall website (mthoodtownhall.org) for information and updates.