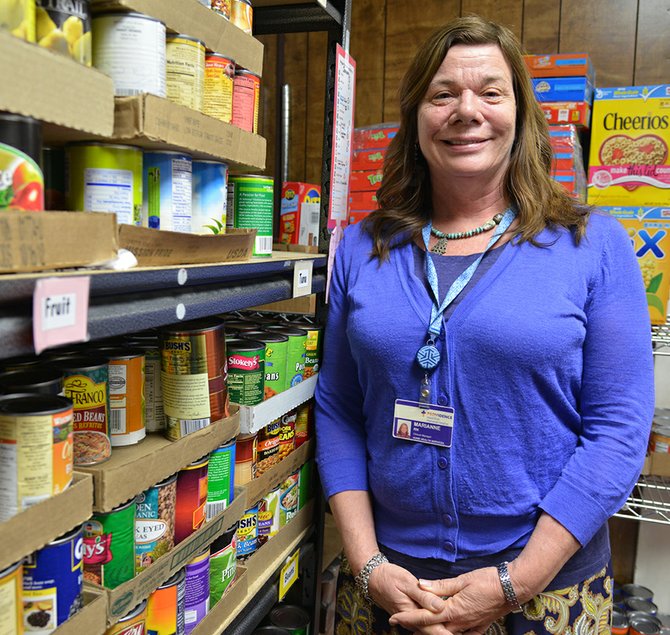 Marianne Durkan grew up in a household of volunteers. As the oldest of seven, the native of Schenectady, NY, watched her parents volunteering in both the Catholic Church and in area homeless shelters. Helping others, she said, was just part of her family's values.
Perhaps that's why Durkan, who moved to Hood River in 1986, has been volunteering since her arrival. She serves as the president of FISH Food Bank's Steering Committee, and has seen Hospice of the Gorge grow from a group of volunteer nurses to a Medicare-certified program—and those are just two of her many volunteer activities.
Durkan's involvement with FISH stems from her work with Gorge Ecumenical Ministries (GEM), of which she's been a board member for the past 25 years; FISH functions under the umbrella of GEM. About 20 years ago, she began volunteering at the food bank as part of St. Mary's Catholic Church's rotation.
Then, 13 years ago, she became president of the FISH Steering Committee, explaining that the FISH program had become more complex and had petitioned GEM for additional help. The Steering Committee oversees all the food bank's operations, such as ordering food and coordinating volunteers.
In the last 10 years, FISH has extended service to low income individuals and families by opening small satellite food banks in Odell, Parkdale and Cascade Locks in addition to the Hood River site. Volunteers man each of the locations, said Durkan, as well as pick up items from Safeway and Rosauers and stock pantry shelves.
"We live in a great community that has been able to support us this way," Durkan said. Three hundred volunteers help man the sites, whether that's once a year or five days a week. "We could not manage this organization without the volunteers."
FISH is funded solely through grants and donations, most of which are received between Thanksgiving and New Year's. The trick is to make those donations last for the year—Durkan said FISH spends $8,000 on food purchases alone each month, and funds are need to cover both food and each site's utility costs. She'd like people to remember FISH all year long, not just in the wintertime.
"We are concerned as a board because there's been such a big reduction of the SNAP Federal Program (the food stamp program), so the number of people coming to the food bank is increasing," she said. Another issue is that many individuals FISH serves work a couple of different jobs in the tourism industry, which has its ups and downs.
On average, FISH serves 400 families each month. Demand was up 3 percent since 2012 — and 65 percent since 2008. Because of this, GEM has encouraged FISH to apply for its own 501c nonprofit designation. "We're still going to maintain our close connection to GEM, but we've grown so much that we need our own 501c," Durkan said.
Besides FISH, Durkan has also volunteered regularly with Hospice of the Gorge, and was very involved at its inception 25 years ago. The Durkan family moved to Hood River from San Francisco in 1986 — that's where husband John did his orthopedic residency — and "they were just starting to form a Hospice," Durkan said. "I had had some experience in San Francisco taking care of AIDS patients there, so I came on board."
She volunteered with Hospice of the Gorge until they were merged with Providence, "so it's kind of a full circle for me because now I manage Providence Hospice of the Gorge," she said. The Medicare-certified program now serves patients in eight counties in Oregon and Washington.
As Nurse Manager for Providence Home Health and Hospice of the Gorge, Durkan oversees 35 to 38 employees: Nurses, nurses' aides, chaplains, physical therapists, occupational therapists, speech therapists, and social workers provide skilled home visits to patients. "We do thousands of visits a year," she said. "Maybe 8,000 this year."
She received her nursing degree from Maria College in Albany in 1976 and her bachelors in nursing from Boston University in 1978. "I'm very proud of being a nurse," she said. "I love nursing. It's always been a great privilege to help others in their time of need."
What keeps her volunteering? "I love seeing people work together," she said. "When you're doing these kind of buildups of organizations and using people's strengths, you can do much more together than separately.
"I've enjoyed working in a small community as a volunteer, and bringing something to fruition through the work of volunteers," she said. "I've seen that with Hospice and with the food bank. I'm amazed at all the efforts people put into making our community stronger."