1924 — 90 years ago
Rory Collins, of Dee Flat, has had a number of calves out in the hills across the West Fork and has spent several days trying to round them up for the winter. On Tuesday he spent several hours trying to get near the calves, ten in number, and after a long hunt thought he had located them on the hillside. When he got near — he was leading a cow with a bell attached — he found the "calves" were two does, which, hearing the bell, were curious to ascertain what kind of animal it was that made so much noise. Rory is still in hopes that the bad weather will convince the calves that a nice warm barn is better than wild life in the hills. Failing that, he may be forced to persuade the Oregon Lumber Co., whose land the calves are ranging, to arrest the animals on a trespass charge.
1934 — 80 years ago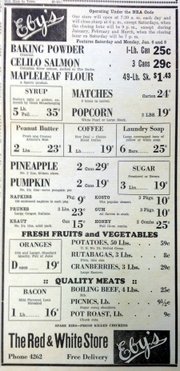 As reported in last week's News, orchards of the Upper Valley, with but few exceptions, escaped with very light damage from the recent sliver thaw. One of the exceptions was the orchard of Eugene Euwer, located several miles south of Parkdale. In this orchard, states its owner, more than 100 bearing Delicious trees were irreparably damaged, when they were split several ways under their crushing burden of ice.
The two main halls of the high school were freshly kalsomined at the time students returned from the holiday vacation. The work was made possible by funds from the CWA, said high school custodian Glenn McConn. Five painters were hired to do the work. This week they were at the junior high, painting the gym. They will be back at the high school to kalsomine the auditorium.
1944 — 70 years ago
When you go to the polls today, to vote for or against the $175 million Revenue Bond issue, sponsored by the Hood River People's Utility District, you may refrain from reading the prelude to the "Yes" and "No," without any apprehension that there may be a catch in the long description of the project on the ballot form. Your X alongside "Yes" will mean that you favor the PUD Revenue Bond issue. Your X alongside the word "No" means that you are opposed to it. It's that simple!
To give their friends an opportunity to join them in a celebration of their fiftieth wedding anniversary, Mr. and Mrs. Geo. W. Thomson will hold Open House at their residence on West Sherman Avenue Tuesday, from 7 until 11 p.m. All friends are extended a cordial invitation to visit them on this auspicious occasion.
1954 — 60 years ago
Under ideal winter building conditions, the George H. Buckler construction firm is making rapid advances on the new Hood River County Courthouse. The bulk of the concrete work for the roof of the three-story building was poured last week. Workmen this week were pouring additional concrete for portions of the upper walls and over the circuit court room.
(Cascade Locks news by Mrs. Ben Scott) One of the largest crowds in Cascade Locks history gathered at the school gym Tuesday for the annual Christmas program presented by students of the elementary and high schools. The theme was "The Christmas Album of 1953." The elementary group sang popular Christmas songs and carols. The school band, under the direction of Clifford Gibbs, played several numbers. The high school chorus, under the direction of Mrs. Mona Harrison, topped off the program with a selection of Christmas songs.
1964 — 50 years ago
Ralph McDaniel, who takes care of Hood River's USS Banning, had good reason to think the ship was under attack Friday. About 8:15 p.m., McDaniel heard an explosion that sounded to the ex-Navy man like a depth charge in the distance. He ran outside, saw smoke rising and a ripple in the Columbia River water. One conclusion: Someone was testing out a new chemical set he got for Christmas. McDaniel said no damage was done and the noise will probably remain an unsolved mystery.
Remember Lisa Bisbee? Maybe not — it's been a year now, and Lisa has changed. Born a year ago on Jan. 1, she was the first baby born in Hood River County in 1963. Now at age 1, she's ready to celebrate not only her birthday, but also the New Year. The celebration-minded young lady is a daughter of Mr. and Mrs. Ben Bisbee of Odell.
1974 — 40 years ago
Mrs. Shizui Iwatsuki will visit her native Japan for the first time in 58 years next week, and she'll do it in style at the invitation of the Emperor. She is one of 10 persons picked as winners in an annual classical poetry writing contest sponsored by the Emperor. Mrs. Iwatsuki is the only person outside continental Japan to be included this year. It will be the first time since 1916 that she has set foot on Japanese soil. "I never thought I'd go back," she said, "but then this came up."
A snowstorm the day after Christmas dumped from 12 to 20 inches of slush on the Hood River Valley, literally playing havoc with power lines. Snow-laden lines started snapping during the late afternoon, causing outages that left some customers without power for more than 24 hours. At one time or another, most power customers throughout the valley were without electric services. Exceptions were in parts of the downtown Hood River area, served by an industrial and business feeder out of Powerdale.
1984 — 30 years ago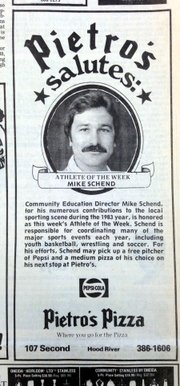 A crew of five divers braved a strong and murky Willamette River current for two days earlier this week to help lift a strayed locomotive from river bottom in Portland, and one of them was Parkdale's Glen Cody. Cody, 27, who has been diving for five years, got a call early Sunday morning from Fred Devine Diving and Salvage Inc. summoning his assistance in locating and helping attach lift cables to a 125-ton locomotive which plunged from a railroad bridge into the Willamette River Saturday night. "It was the spookiest job I've had," said Cody. "We didn't have any visibility. Everything we did was by feel."
(Photo caption) Right Way: Lee Lage concentrates on folding the American flag properly during Social Studies class at Wy'east Junior High School. The flag folding was part of an eighth grade unit on the Constitution. All students in Joannie Van Vlack's social studies classes took turns folding the flag as well as learning proper flag etiquette.
1994 — 20 years ago
Two veterans of the military service whose ages range in the century mark were focal points of special honors here Wednesday. Both residents at the Hood River Care Center, they were recipients of the 75th anniversary World War I commemorative medal, presented by Veteran Service Officer Ed Kelly and Jerry Routson, chairman of the Hood River County Board of Commissioners. Honored were Merril Miller, 100, and Fred M. Meyers, 98.
Dane Wetherell, 35, and Jim Guthrie, 33, both of Hood River, took a waterskiing plunge into the Columbia River New Year's Day. The pair skied the river two hours as a way to greet 1994 in what Guthrie hopes is an annual event.
2004 — 10 years ago
With snow on the ground and a baby on the way, it's a good thing Jack and Krista Vaughan of BZ Corner had four-wheel drive. Their son, Gavin Eugene, arrived at 3:50 p.m. Jan. 1, the first baby born in 2004 in Hood River County. Big sister Gracie, 2, beamed as she looked at her little brother. "He has lots of hair," she said.
They once played on the same football team and, several years later, have discovered that they will also be serving on the same police squad. Don Cheli and Salvador Rivera were recently hired by Police Chief Tony Dirks to fill vacancies on his 15-member city force. "I chose these young men out of more than 50 applicants because they are wholesome 'hometown boys,' and their first education and experience fits in great with my other officers," said Dirks.
— Compiled by Trisha Walker, news staff writer