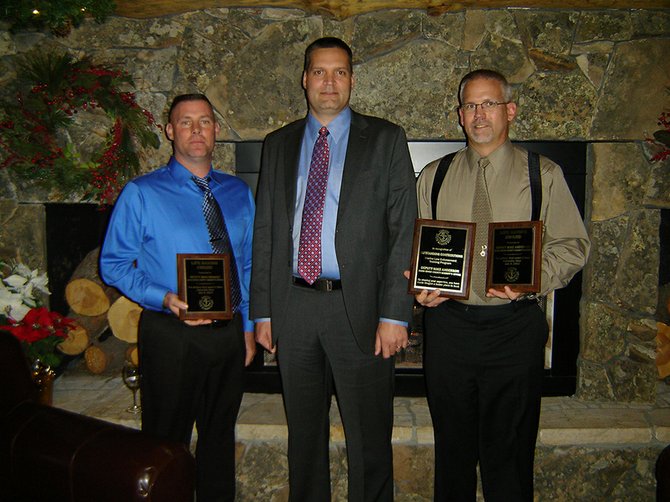 On July 4, 2013, two men and a dog hung onto dear life and the keel of their sailboat as it capsized in the Hood River Marina and began to float downstream on the current of the mighty Columbia River.
Marine Deputy Mike Anderson and Reserve Deputy Mike Renault of the Hood River County Sheriff's Office raced to the scene on their 24-foot patrol boat over the waters of the Columbia River that were about three feet higher than normal. The high water, combined with that day's sustained wind gusts of 20 miles per hour, created five-foot swells, making the rescue operation dangerous and difficult.
After about 20 minutes and multiple rescue attempts, Renault was able to pull the men and the dog to safety while Anderson captained the boat and brought everyone back to shore. The men were shivering and a little banged up, but they were alive.
For their efforts, Anderson and Renault received lifesaving awards from the Oregon State Marine Board last month: a state agency that regulates recreational boating and funds marine law enforcement programs, including the HRCSO program.
OSMB Director Scott Brewen read an account of the incident during the awards banquet last month in Bend and thanked the men for their efforts.
"Deputies Anderson and Renault risked their own safety in the often treacherous conditions of the Columbia River to save the two men on the capsized boat," he said. "Without their assistance and willingness to risk their own safety for the lives of others, this situation could have had a completely different outcome."
Deputies can be nominated for the award by citizens, fellow officers, or their superiors. Anderson originally put in a nomination for Renault to receive the award and said he was "caught off-guard" when he learned Sheriff Matt English had nominated Anderson as well. Anderson also reserved an award for his years of service as an instructor at the Oregon State Marine Academy.
"Sheriff English went behind my back and nominated me for the award," Anderson joked. "I was very surprised."
Renault, who has served as a reserve deputy for the past seven years, was appreciative of the award, but didn't feel his actions that day were extraordinary.
"I kind of looked at this as just a day on the job," he said.
Hahn Huang, a pathologist at Mid-Columbia Medical Center in The Dalles who was one of the men rescued that day, thought both deputies deserved recognition for their service.
"It was a well-deserved award," he said. "I was very appreciative of their efforts."
It's not every day HRCSO receives lifesaving awards, either. English reported the last time his office received the award was in 2005 during another Columbia River rescue, this time near Mosier. Anderson, then a reserve deputy, was once again on the scene and was recognized for his part in the rescue along with Hood River Police Sergeant Don Cheli and Oregon State Trooper Mark Jubitz, who Anderson said was serving as a HRCSO marine deputy at the time.
English said he was glad to have men like Anderson and Renault in his department.
"We're very fortunate to have a marine division like this one because we have so many water sports here in the Gorge," he said.
"It's a well-deserved award," English added. "That river is really treacherous. It's real deceiving."