A local man is behind bars after allegedly shooting and injuring a teenage woman at his residence Friday evening.
Joseph Gene Murray, 25, was arrested Friday by the Hood River County Sheriff's Office after allegedly shooting Christina Edwards, 18, of Hood River, sometime before 7:30 p.m. at Murray's residence located a few miles west of Hood River at 4876 Mitchell Point Drive.
HRCSO reported Edwards was transported to Providence Hood River Memorial Hospital with non-life-threatening gunshot wounds to her arm and leg. Sheriff's deputies arrested Murray at the hospital and transported him to the Northern Oregon Regional Correctional Facility in The Dalles without incident.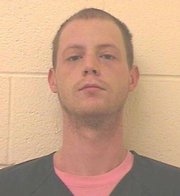 Murray was arraigned before Judge John Olson in Hood River County Circuit Court Monday morning on charges of second-degree assault, third-degree assault, and unlawful possession of methamphetamine — all felonies. Olson advised that second-degree assault is a Measure 11 offense in Oregon that requires a mandatory minimum sentence of 70 months in prison if convicted.
The alleged shooting on Friday is not the first incident involving Murray and a firearm in Hood River. Last year, Murray pleaded guilty to unlawful possession of a firearm and received a year of probation for an incident where he allegedly shot and broke a picture window in the Cascade Avenue Subway sandwich shop on Aug. 5, 2013. A second-degree criminal mischief charge stemming from the broken window was dismissed, but Murray was ordered to pay $200 in restitution to the victim.
Olson noted if Murray were convicted for last week's shooting, he would be violating the conditions of his probation and may be subject to an additional year in prison. Murray is currently being held at NORCOR on $5,000 cash bail.
HRCSO reported Monday evening that the office was still "continuing the investigation surrounding the circumstances of the shooting."