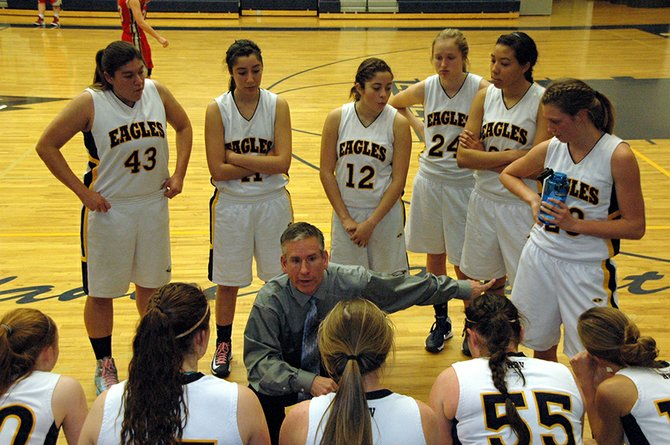 Hood River Valley High School varsity girls basketball matched South Albany for three quarters Saturday night before slumping in the fourth and letting the 1-5 Rebels walk away with a victory.
The 51-42 result puts the Eagles at 3-7 so far, with three more nonleague tune-up games left before conference action starts.
Saturday's home game was tight through three-plus quarters, with the score 38-37 midway through the fourth. The Mid-Willamette Conference Rebels had a final kick, however, and outscored the Eagles 13-5 in the final minutes to seal the win.
HRV was hoping to bounce back with a win Tuesday in a 7 p.m. home game against the Sandy Pioneers (4-4); results were not available as of press time.
"I thought the girls had a pretty good performance today and the team has shown lots of improvement recently" said coach Scott Walker. "However, there's some aspects of the game where we just didn't look good, such as free throw shooting (4-for-11, 36 percent) and our defense."
Hood River junior post Lauren Winans (10 points) provided the Eagles with an early edge when she sank a jump shot for the first points of the game. In what was the first of five total lead changes, South Albany gained the advantage with a 5-0 run to go up 5-2 before senior Kainalu Bailey (three points, three assists) sunk a three-pointer to tie the score.
"We played good for three quarters and then it seemed like our defense went flat in the fourth. We can't do that against a team that can shoot threes," Winans said after the game.
After another 5-0 Rebels run made it 10-5, HRV junior Kelsey Wells (season-high 15 points, career-high 19 rebounds) sank a jumper in the key, trimming the margin to 10-7 at the end of the first quarter.
"I felt like we started out strong and we played with a lot more intensity in the first half and also in the third quarter," said Wells, daughter of assistant coach Devon Wells. "We have a lot of room for improvement, but I definitely feel that we're continuing to get better every day."
The Eagles had a 6-0 second-quarter rally to regain an edge and sophomore Kassidy Ellefson-Davidson's (four points) layup gave HRV its largest lead of the game at 13-10, forcing a Rebels timeout with 5:21 left until halftime.
The Rebels went up 20-15 early in the third, HRV went on an impressive 9-2 run to move back out in front. A Winans jumper in the lane and a Mattson three-pointer was followed by a backcourt steal and length of the court driving layup by Wells, giving HRV a 24-22 advantage midway through the third.
Following four consecutive ties, HRV took the lead for the final time at 29-28 on a free throw by senior guard Annie Veatch with 3:21 left in the third.
The teams traded baskets early in the fourth as it remained a hard-fought one-point contest. The Eagles trailed just 38-37 after a Wells jumper, two clutch free throws by Marlie Bloomster and a key basket on a baseline jumper by Ellefson-Davidson.
South Albany took control after that with a rally sparked by back-to-back threes and didn't relinquish the lead again.
The team's next game is Jan. 10, 7 p.m. at home vs. the Sprague Olympians (5-7).