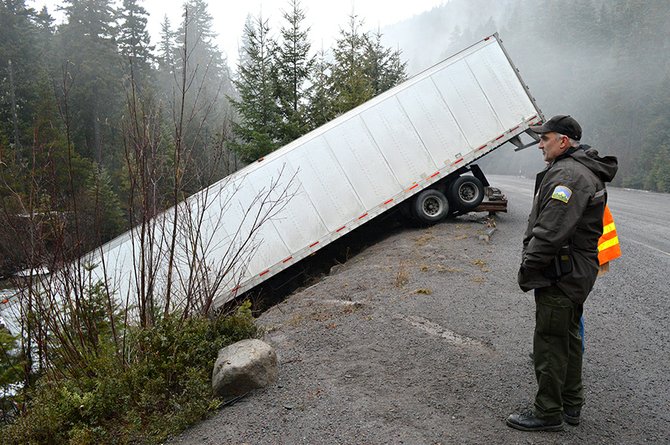 A steep grade and slick road conditions caused a semi-trailer to go over an embankment along Highway 35 Wednesday morning and narrowly miss taking a plunge into the icy East Fork of the Hood River.
Thaddeus Routson of the Oregon State Police reported that a 1997 Freightliner driven by Pablo Delcid, 44, of Mendota, Calif., was traveling northbound on Hwy 35 shortly after 7:30 a.m., when he lost control on a patch of black ice near the Tamanawas Falls trailhead, located approximately 24 miles south of Hood River.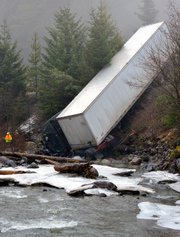 The 53-foot semi-trailer jackknifed as the entire rig slid out of control across the southbound lane of Hwy 35, smashed through a guardrail, and careened down a 35-foot embankment before coming to rest at the river's edge.
Delcid, who was hauling a load of irrigation hoses from Fresno, Calif., to Bryant Pipe and Supply in Hood River, was uninjured in the crash and received no citations, although Routson suggested Delcid may have been driving too fast, given the conditions. No chains were visible on the truck's tires at the scene of the accident.
Dave Purdy of Purdy's Brightwood Towing said Thursday morning that it took three trucks and several hours of labor to pull the semi back onto the roadway. The impact from the crash broke the drive train and the trailer struts, totaling the vehicle, according to Purdy. It also ruptured the semi's fuel tank, causing diesel to trickle into the river. Purdy said some fuel was pumped out of the truck's tanks, but he didn't know how much had leaked. Remarkably, Purdy reported that the truck's oil pan remained intact and no engine oil was lost in the accident.
Oregon Department of Transportation employees placed booms around the semi in an attempt to stem the flow of diesel into the river. Don Hamilton, public information officer for ODOT Region 1, reported that 80 gallons of diesel fuel out of the 100 gallons in the semi's fuel tanks spilled into the river. The current made clean up efforts exceedingly difficult and little of the oil was able to be recovered. Hamilton said no fish kill was witnessed.
Hood River County Sheriff's Office, Oregon Fish and Wildlife, Oregon Department of Environmental Quality and U.S. Forest Service personnel also responded to the incident.