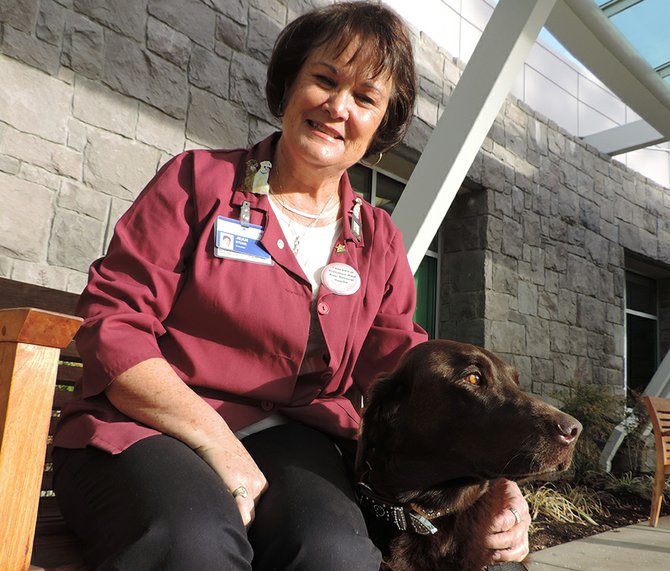 Jean Stone might be known for her volunteer, club and farming activities, but it's her role as "Maggy's mom" that gets her the most recognition.
"People will say, 'I know you from somewhere,'" said Stone. "Then they'll say, 'Oh, you're Maggy's mom!'"
Maggy — a friendly, 90-pound chocolate Lab — is a Delta Society-certified therapy dog. Stone and Maggy visit Providence Hood River Memorial Hospital one morning each week, a routine that has spanned six of Maggy's seven years.
"I call us the social butterflies of the hospital," said Stone. "We're just there to visit with people."
The two visit patients, visitors and staff in areas where Maggy is allowed: the main lobbies, the upstairs rooms, some of the offices, and the x-ray and emergency waiting rooms. Maggy even has her own Providence name badge, complete with photo identification, as one of the hospital's many volunteers.
"The patients are all so happy to see her," said Stone. "I try to rotate my days because the staff likes to see her, too."
Being good-tempered is especially important in Maggy's line of work, as she often interacts with children. When kids are around, Stone has Maggie sit or lay down — and watch as they sneak up to pet (or maul) her, with Maggy's tail wagging nonstop.
Stone has Maggy stickers for children, too. "She's so big so some kids are afraid of her," she said. "They might not like the dog, but they like stickers."
Stone is often asked for information regarding the dog therapy program, but so far, she's never seen another team. Her own start began about 10 years ago, with a different family pet — Merry, the yellow Lab — at the Hood River Care Center.
Stone's mother was living at the care center, and, while she would not respond to people, she would respond to Merry. So Stone began to visit her mother with Merry in tow.
Around that time, daughter Barb Smith, now a nurse at Providence Hood River Memorial Hospital, told Stone of a new dog therapy program under way at the hospital.
"I started with it because Barb mentioned it, and once I started, I enjoyed it," said Stone.
Therapy dogs must be certified. Once Stone and Merry received certification through The Dalles hospital — both handler and dog must pass the required test to be accepted into the program — they began to volunteer.
Stone and Merry visited the hospital together for a little over two years before Merry passed away. But Stone knew she wanted to continue in this capacity, selecting Maggy with hospital visits in mind. And Maggy, with her sweet nature, is a perfect hospital dog, said Stone.
"She walked into it like she was an old hand, with her tail wagging," said Stone. "I've never had to reprimand her at the hospital."
Maggy is a Delta Society-certified therapy dog, as required by Providence. Delta Society is a nationwide certification program for hospitals, and as a Delta dog, Maggy is allowed in numerous establishments, although Stone only takes her to the Hood River hospital site.
As with the certification Stone and Merry received from The Dalles, the Delta Society tests handlers and dogs as a pair — the test covers basic obedience and the dog's ability to remain calm in various scenarios — and both must pass. One dog can also be certified with more than one handler, added Stone.
Stone has continued volunteering with the dog therapy program for the past decade because it's a fun way to give back to the community.
"It's just something that I've gotten into and really enjoy doing," she said. "Maggy is so much fun to do it with, and I've made so many friends at the hospital over the years.
"It does take a special dog and maybe a special person," Stone said. "I don't think of myself as special, but I've worked with (Maggy) the minute I brought her home."
To get ready for hospital volunteer work, the pair enrolled in Community Education dog obedience classes. Stone also received permission to bring Maggy into Hood River Supply for socialization.
"Now I don't dare go in the door (at Hood River Supply) without her because everyone asks, 'Where's Maggy?'"
When Maggy isn't volunteering at the hospital, she is very much a farm dog.
"She's just a Lab," said Stone. "She loves to retrieve. She loves to chase the four-wheeler. But when I put a leash on her, she goes into mode. It doesn't matter if I take her to Home Depot or the hospital.
"She's quite the character."