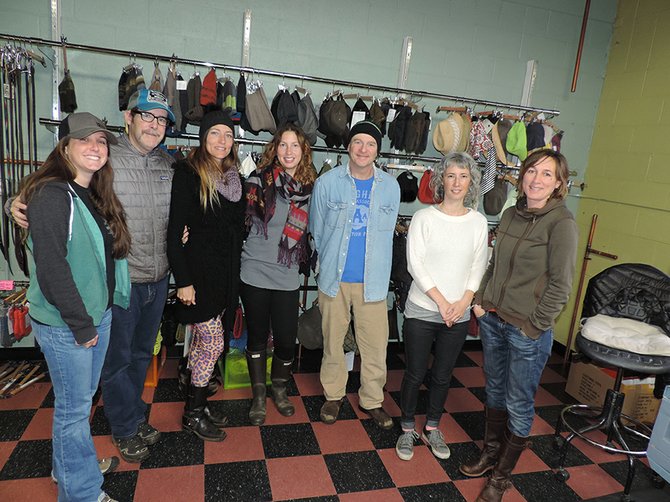 If anyone needed a bigger place to hang its hat, it was the folks at Pistil.
The Hood River hat and garment distributor marked its 10th year in October by consolidating in a larger and more efficient space on Columbia Street in downtown Hood River.
A happy crew got happier — and not just for the new location, next to Full Sail Brewery.
"We needed more space. Even with our two buildings we were maxed," said Pete Hixson, who co-owns the company with Tood Douglass and Forrest Jones. The company started in Hixson's basement on Montello, and a short time later moved to a cramped office/warehouse space on 11th Street, and rented space on Tucker Road was added later.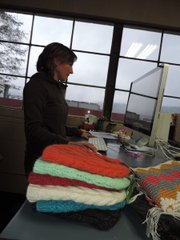 "We were ready; we were really on top of each other, and a lot of our materials were on top of us," Douglass said. "We were getting inefficient." She pointed to a stack of colorful knit hats: "where someone has a file drawer, this is my 'stack of paper' — when a correction or changes comes in, I get another stack."
In the old place, that "stack of paper" was confusingly close to other stacks, and the ever-present concern was keeping inventory organized so that clients received the full and proper order.
Now, design and ordering spaces are separate from storage and shipping, but despite the expanded space, by being in one place everyone knows what goes into the whole process and everyone feels closer to it, as Hixson explains it.
Pistil designs hats, gloves, scarves, headbands, and other recreational gear, and in its beginnings specialized in winter hats but has expanded to all four seasons and numerous products for men, women and children. Production is done in Italy, Peru, India and Asia.
The product comes to Hood River, where Pistil packages and ships to clients all over North America, as well as to Korea and Japan. Its products are also available at retailers in Hood River.
"We've been very fortunate; we've always grown but the number of people we service and accounts we have has grown exponentially," Hixson said. Pistil now has about 1,400 retail accounts.
With the move, instead of being elbow-to-elbow people and product in the same space, the buckets and bins holding past product are kept in a separate room downstairs.
"Each bin holds our life of this product from beginning to end," Douglass said. The previous product lines have to be kept at ready so that new orders can be checked to make sure the product that comes in is the current edition and not an earlier or obsolete version.
Douglass is in charge of design and product development; Hixson handles daily operations; Jones manages marketing and brand management.
"I'd like to say we're just getting better at what we do, we've been doing it so long," Hixson said. "Definitely we are not just a hat company anymore. We have the range of accessories, we do them all seasons, and I like to consider us as an actual brand, with a brand identity in our market place.
"No one knew anything of what Pistil was, so we just hung our hat on 'This is a cute product, you ought to check it out,' and now we're recognized as the name and not just as the product; but we're definitely product-driven, and most of our energy and most of dollars go into product development and brand support," Hixson said.
With orders growing, "The process is kind of the same; just a lot of more of it. In our 10 years, the people we hire are still here. We're not changing over people, just adding in around them, which is part of our success.
"First we added in the product development side, and the employees we added there in four or five years have not left. That's our strength: the people. They're happy, the company is doing well and everyone feels a sense of ownership; and now we have these great new digs — it's kind of like a thank you for them because they've been working hard."
Hixson jokes, "left in my needs, we'd be in 15 different shortage spaces, the cheapest way possible, but this (new space) has been great, and our productivity has improved dramatically. Our products are moving quicker, more organized; it's easier for everyone and as a work space, so much happier, rather than crammed around a bunch of boxes.
"We no longer have to think 'Make it work; it's only four months.' We were living in a sea of product, don't even know what you have because you get lost in it. It would be all around us, and you'd have an order and say, 'I gotta get that,' and then do a lot of digging."
(The building is owned by entrepreneur and inventor Scott Sutherland, who runs several companies including a boat accessories firm called Max Carver, which moved to a different space.)
The move to the expanded space came as Pistil faced its busiest time of the year, October and November.
In its 9,000 square feet is an office, design space, warehouse and shipping.
"Everything we produce and sell we receive in here, we repackage it by order and ship it out. We do five hats to 50,000; there's no order minimum. We did one today for three," Hixson said.
He remembers the company's first order — to Kinnucann's, an Alabama clothing store.
"They are still an account; been with us 10 years," Hixson said. At the time, we thought, 'We're going to need some sales reps,' and we call this guy in the southeast and he said, 'I'd love to do it,' and a couple of days later, our first order, and we're on."
Hixson and Douglass worked for another local hat manufacturer for seven years; which he said gave them "a leg up in the marketplace as far as knowledge," and Jones was a contractor with that company.
"As far as the nucleus of what makes up Pistil, you'd be hard-pressed to find as many people with this much experience in this niche," Hixson said.
(Douglass and Jones deferred almost entirely to Hixson to speak for Pistil; Jones is one of the quietest marketing guys you could ever meet.)
Are there challenges that come with growth?
"Probably just living up to our own expectations and what we want as far as level of service we tell people we're going to commit to," Hixson said. "We still have very high standards for our product and customer service; that is a challenge because you have 1,400 people you're serving in a month, and the chance you get a phone call back from them goes up exponentially.
"It's not like the phone is only ringing once a day; it's a lot more customer service demand on us. Every department starts to get push-push-push; everyone's plate is full and it's all allowing everyone to realize that they can only do so much in one day."
The new location, with everyone in the same building, in downtown Hood River, has been a huge plus for Pistil.
"This idea of when you're small, you take care of everything no matter how big or small, now everyone has a true sense of ownership in their job, and keeping them sane in their growth. Being down here has definitely helped us," Hixson said.
"We are far more visible down here, and that's a bonus, but the biggest asset besides being more productive is everyone is happier, it's cleaner and everyone sees the process; it's not in some warehouse somewhere. It's that cohesiveness, where you see 'That's how big that order was,' so next time they talk to a client on the phone they have literally a visual of what that person means to the business," Hixson said.
"All those things are coming to life now, in the greater work space, the flow or product in and out," he said. "It's been surprising it took us this long. It's like when people have their hip replaced, they keep putting it off and then ask, 'Why didn't I do that two years ago?' That's kind of the way we feel right now."
He said that while Pistil is homegrown Hood River, "we've never made that part of our story." The new location changes that.
"We kind of take for granted the idea we live in Hood River. Our people are happy here, and living here, with what I think is an easy company to get along with, but now that we are in the town, we're in a spot where if someone was in town from Portland or Aspen, they can say, 'This is where Pistil is,' and we'd be happy to show them this, and the rat hole we used to be in, the way we crammed ourselves into the building.
"It definitely had the can-do attitude up there (on the Heights)," he said. "It was, 'We don't need fancy offices and big chairs; we can make it work out of anything,' but then you come to find out when you move into something that is suited to do business, this type of business, as far as warehousing and shipping and a loading dock door and pallet jacks. We used to wrap pallets in the street, and if the truck didn't have a lift gate, we'd have to unwrap them, build the pallets inside of the truck. That part alone is amazing."
The one business piece not found at Pistil is retail. Hixon, Douglass and Jones are not ruling it out, but they have enough on their hands with "getting the product out the door," Hixson said, and they want to avoid competing with the local retailers who sell their product.
But Pistil hats and gloves can be found in plenty of other pools outside of the retail stream.
Douglass explained that the company does a "cleanout once a year;" of outdated product. Examples from each season are kept while still part of the catalog, or for historical reference.
"There are different levels of thing we save; but products such as a bad prototype or second prototype go to Goodwill, or some go to cancer support groups, hospitals, or avalanche clinics," Douglass said.
"All kinds of people in the ski or snowboard industry who have snow event, I save all of them to use for things like that. There are things we have that don't have our name on them so they are not branded and have value and we can donate where they're in need.
"There's a lot of close things, such as Cooper Spur Race Team and Fashion Gala. We've become quite aware of how our product has helped cancer survivors who have had hair loss," Douglass said. "That took on a life here that was totally unexpected."