The History Museum of Hood River County is hosting a special exhibit this month and next, to remember the experiences of Japanese American citizens in World War II.
"What if Heroes Were Not Welcome Home?" opened Jan. 2 and will continue through Feb. 26. The exhibit is curated by Linda Tamura and Marsha Matthews and is on tour through the Oregon Historical Society.
During World War II, Japanese Americans born and raised in Hood River, Oregon served heroically with the United States Armed Forces in the South Pacific and in Europe. At the same time, many of their family members were unjustly incarcerated in concentration camps on American soil. When these soldiers returned home to Oregon at the end of the war, the welcome they received was anything but heroic.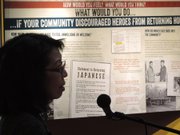 This exhibition uses firsthand accounts, photos, letters, and historical documents to show how wartime events brought national notoriety to the small community of Hood River. Visitors will be invited to make meaningful connections between the past and present — exploring the promise and reality of American democracy and equality.
In coordination with this exhibit, The History Museum of Hood River County will include opportunities for school and group tours as well as special activities for kids in the museum's Exploration Space.
For tour information, contact Education Coordinator Carly Squyres at thmvolunteer@hrecn.net.
For more information related to this and all events and programs at The History Museum of Hood River County, contact Museum Coordinator Connie Nice at thehistorymuseum@hrecn.net or 541-386-6772.