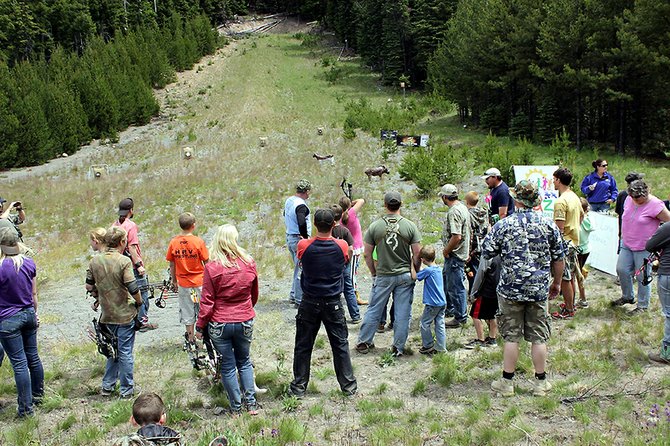 The Hood River-based Appleknocker Bowmen archery club hosted its annual Little John 3D shoot late last month, and the record turnout of nearly 350 people is evidence that the sport is seeing a measurable resurgence, particularly in younger age groups.
"Thanks very much to the Hunger Games," said Bob Kendall, club member and owner of Windy River Archery in Hood River. "We're seeing more females and youth getting into the sport than ever before. It really is a great family sport that just about anyone can do."
The 3D shoot, which Kendall said has been an annual event for about the last 30 years, brings together archery clubs, families and hobbyists from around the northwest for a weekend of camping and well-organized but noncompetitive shooting activities dispersed around the terrain of Little John SnoPark.
A range-style gallery of 3D targets was setup on the open slopes of the grounds where, in the winter, sledders and tubers scream down the hill, often inflicting havoc on themselves and any bystanders standing in the wrong place at the wrong time. Archers tested their distance accuracy from the range, and youngsters had a friendly contest for prizes.
In the forest, archers followed trail courses set up to mimic shooting situations hunters might come across.
"We hold our shoot this time of year because hunting season is getting close and it's a good way to get people excited about that," Kendall said. Oregon archery season starts in about two months, with western and eastern deer and elk seasons running Aug. 30-Sept. 28.
Kendal gave a special thanks to the local businesses and sponsors who donated about $3,000 worth of merchandise as raffle prizes for the event.

The Appleknocker Bowmen club has been around since the 1950s, and Kendall says the resurgence of interest in the sport, particularly by youth, is an exciting prospect. He credits the wildly popular movie trilogy The Hunger Games for a majority of the recent uptick. In the series, the lead character, a young woman named Katniss Everdeen, is a sureshot with a bow and arrow, which she uses to fight for her survival through the four-movie plot.
"It's a lot like how the Rambo movies were a boost for the sport in the '80s," Kendall said.
Appleknockers is a membership-based club for archers of all ages and skill levels. An annual fee of $40 includes usage of the club's course located outside of Odell, which features a sight-in range and a 40-target trail course that tests archers with real-life situations they would likely encounter while hunting.
For more information on the club, or to join, contact Kendall at Windy River Archery: 2680 Dock Rd. in downtown Hood River or call 541-386-1142.
Windy River, one of two archery shops in Hood River, specializes in compound bows and shooting and hunting accessories.
Raptor Archery, located at 919 11th Street, 541-386-4503, specializes in primitive and traditional archery supplies, accessories, classes, seminars and more.