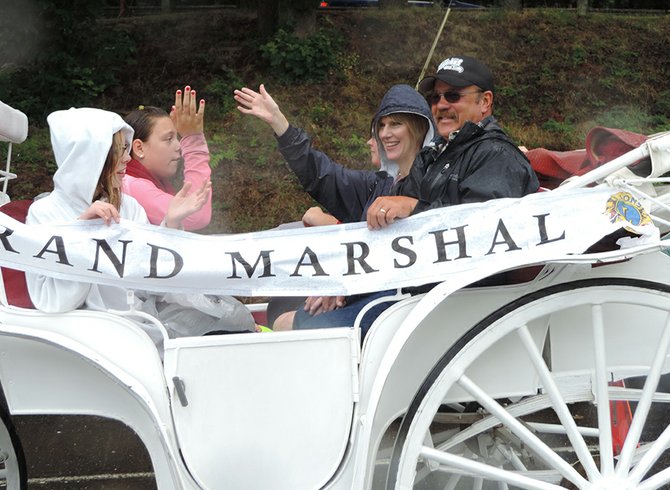 Some big events are coming to Cascade Locks and Stevenson this summer, a testament to Cascade Locks' growing place as a prime adventure sport locale: the North American Laser Masters Championship from July 11-13, the 14th annual Bridge of the Gods Kiteboarding Festival July 25-27, and the first Bridge of the Gods Half Marathon on Aug. 10.
Last weekend, Cascade Locks celebrated its venerable Sternwheeler Days Festival, with the parade on WaNaPa and plenty of music and activity in Marine Park. Participants and visitors came from places such as Portland, Toppenish and Vancouver, Wash., and Monterrey, Calif.
On Saturday, a brief rain dropped on the start of the parade and then pulled back to make way for dry sunbreaks the rest of the day. Parade attendance was light, but participants were game: Bob and Donna McNabb, Columbia Gorge MG Club "put up the top" – an umbrella – as they rode in their convertible.
In her first parade Ahleigha Holden, 2, of Cascade Locks, scooped up thrown candy with help from her mom, Ashley, also a Cascade Locks native.
Saturday the sounds of bagpipes took turns with cannon fire as the Kells bagpipe band of Portland gave a post-parade performance in Marine Park and members of the Mountain Man Rendezvous shot off 18th-century ordnance on Thunder Island, to the delight of onlookers.
"This is the best rendezvous I do every year," said blanket trader Scratch out of Bellevue, Wash. "It's also by far the noisiest. I love the noise," he said, from his trading spot under a tree near the Thunder Island footbridge, 100 yards away from the cannons. As a "blanket trader," he deals in hand-carved knife blades, beadwork and scrimshaw. "Most things go on the ground. I don't believe in awnings, too many ropes and stakes to carry around. It's always a thrill to find something for almost nothing and sell it for a lot more. That's why I'm a blanket trader," Scratch said. "I've put my goods under this tree for many years. It's always the driest spot on this island, no matter what the weather is. But it gets cold." This is his 12th rendezvous of the year, with three or four others to go, including Pasco and Tacoma, Wash. "I used to go down as far as New Mexico to rendezvous, but the gas prices started coming up."
Linda and Dean Lyons of Monterrey Bay, Calif., were visiting the Gorge with their grandsons, Brian and Luka Whiteman, and they stumbled upon Sternwheeler Days.
"We didn't know this was happening. We were on vacation, thought we'd hang around and see what's happening. This is our serendipity."
The Kells Pipe and Drum band provided a rousing rhythm for the parade and performed in Marine Park before forming for lunch at Charburger, with drum major Alexander "Sandy" MacKenzie of Vancouver keeping time with his mace made with smooth, lightweight Malacca cane.
"I love this town, always have," said MacKenzie."We come here quite a bit, always stop for ice cream on our way to our cherry orchards near Hood River." MacKenzie's wife, Victoria Menefee MacKenzie, grew up in Oak Grove, and still manages the cherry orchards. Victoria and Sandy both compete as drum majors, and she was in Tacoma at the Highland Games for the weekend. Sandy said that agriculture is in Victoria's blood, and leading pipe and drum outfits is in his; Sandy's father and grandfather both served as drum majors.
"It's all I wanted to be growing up a boy in Dundee, watching my grandfather lead the regiment out of the castle every day and back in," he said.