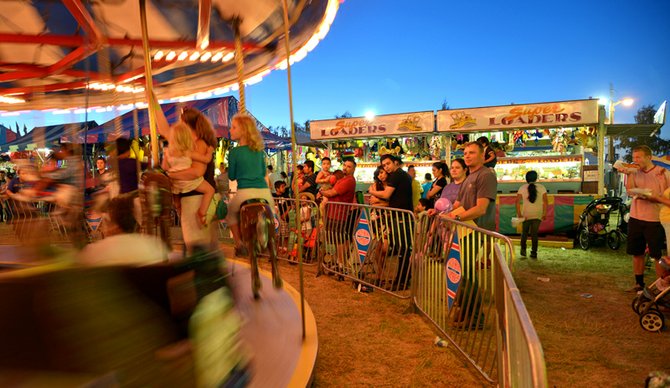 The 2014 Hood River County Fair takes place July 23-26 at the Hood River County Fairgrounds, 3020 Wy'east Road, south of Hood River near the community of Odell.
The fair offers open class, 4-H, FFA, and commercial exhibits of all kinds. There's something for everyone, including carnival rides and midway fun, and special entertainment every evening.
Regular general admission prices to the fair are $7 per adult Wednesday, Thursday and Friday, and $10 on Saturday. Admission for children aged 6-12 is $2. Children under 6 are admitted free. Thursday is "Senior Citizen Day." Hood River County seniors pay $5. Season tickets are available. Parking is free. The fair opens each day at noon, with carnival rides beginning at 1 p.m. Check the schedule as FFA and 4-H events may begin earlier.
On-stage entertainment begins Wednesday evening on the park stage with Toy Gun Conspiracy at 8 p.m. Thursday, a John Denver Tribute Show with Ted Vigil begins on the park stage at 7:30 p.m. The same evening, Carrie Cunningham and the Six Guns appear on the stage near the barns at 8:30 p.m. Banda LM performs on the main stage from 8-10 p.m. on Friday.
Fair headliner John Michael Montgomery takes to the main stage at 8 p.m. July 26, presented by Griffith Motors. He has had more than 30 singles on the Billboard country charts, including five that went to number one and 13 more in the top 10. He received the CMA Horizon award, was named the ACM's Top New Vocalist, received CMA awards for Single and Song of the Year, has been Billboard's Top Country Artist, and earned a Grammy nomination.
All musical performances are free with paid admission to the fair. Also free with admission are many other attractions, including the "Walk on the Wild Side" exotic animal show, displaying a wide range of exotic animals and reptiles in a jungle atmosphere.
The Frank Herman Arena will be a busy place during the fair. Thursday at 6:30 p.m., well-known rider Tony Galvez will perform, and there will be roping and hat dancing with a band. Thursday through Saturday there will be popular Team Penning and Ranch Sorting clinics and competition, Youth Gaming Events, and more. Check the schedule for all of the popular rodeo activities.
Every day is "Bracelet Day" on Cascade Amusements carnival rides. Save money on rides by purchasing a $22 ride bracelet ticket for just $17 in advance of the fair's opening. They're available at the fair office, Mid Valley Market, Hood River Supply, and Clem's Market in Odell, at McIsaac's in Parkdale, at Juanita's Market in The Dalles, and at Juanita's Market, Hood River Supply, and Columbia State Bank in Hood River, and for the lower price must be purchased by 5 p.m., Wednesday, July 23. Each bracelet ticket purchased may be used on any one day of the fair, and is good for rides all day long. Carnival rides begin at 1 p.m. each day, and continue until closing. The fair gates open at noon each day.
Friday evening, beginning at 4:30 p.m., is the 4-H/FFA Livestock Auction in the livestock arena. It's the all-important culmination of a year's work for the 4-H and FFA livestock exhibitors. Check the schedule for all the 4-H and FFA competitions and activities.